Who is Schober? what is he?
Posted by Richard on  UTC 2016-12-09 06:40
Foreword
The hour has struck. We cannot put this thing off any longer, this picking over the life of the most puzzling – the unequivocally most baffling figure with whom we Schubertians have to deal: Franz von Schober (1796-1882).
In Schubert's biography there are puzzles everywhere. Our only confident statement can be that there are surely puzzles we don't even know about – in the Rumsfeld formulation: known unknowns and unknown unknowns. We Schubert fans know of both categories all too well.
Schober is an extremely important figure for Schubert scholarship and a lot of these unknowns relate to him. All in all he was probably Schubert's closest friend, but his life and his relationship with the composer and his friends is a tangled ball of knotty puzzles. At moments he is revered, at other moments reviled. So many questions, so many contradictions! We can only pick an end out of the tangled mess, declare it to be the beginning and start untangling it knot by knot.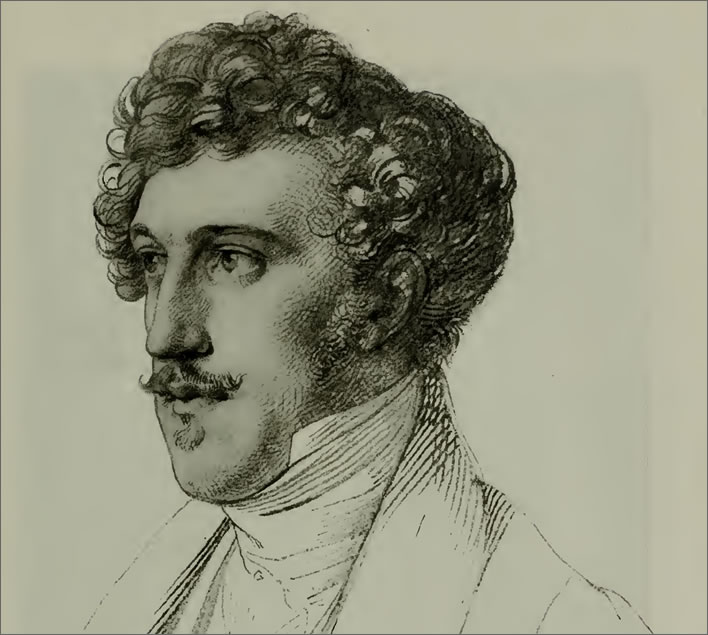 We write 'untangling' because in our other pieces on Schubert we have often had cause to note that biography abhors a vacuum; should one exist at any time, it is immediately filled with speculations, which, when repeated often enough – once is usually enough, though – become rock solid facts, ready for further distribution. Despite recent punctilious archival work, the general Schubert literature is still full of errors concerning Franz von Schober, the legacy of a century and a half of confusion. To make things worse for us, Schober and his family also attracted much defamatory gossip, so even more speculative strands are woven into his biography – yet more threads to untangle. Off we go.
Sources
Only direct quotations from these sources have been attributed in the text. All translations ©FoS.
Deutsch, Otto Erich, ed. Schubert: Die Dokumente Seines Lebens. Erw. Nachdruck der 2. Aufl. Wiesbaden: Breitkopf & Härtel, 1996. [DE]
—, ed. Schubert: Die Erinnerungen Seiner Freunde. Wiesbaden: Breitkopf & Härtel, 1997. [DE]
Dürr, Walther, '"Tatenfluten" und "bessere Welt": Zu Schuberts Freundeskreisen', Schuberts Lieder Nach Gedichten Aus Seinem Literarischen Freundeskreis, Kongressbericht Ettlingen 1997. Frankfurt am Main; New York: P. Lang, 1999. Karlsruher Beiträge Zur Musikwissenschaft Bd. 1. [DE]
Hilmar, Ernst. Franz Schubert. Originalausg. Reinbek bei Hamburg: Rowohlt, 1997. Rowohlts Monographien 608. [DE]
Holland, Hyacinth. 'Franz v. Schober', [obituary], Beilage zur Allgemeinen Zeitung (Augsburg), 22 September 1882, no. 265, p. 3899f. [DE]
—. 'Schober', Allgemeine Deutsche Biographie, vol. 32, Leipzig 1891, p. 202-206. [DE]
Kreissle, Heinrich. Franz Schubert. Wien: Carl Gerold's Sohn, 1865. [DE]
Lorenz, Michael. 'Die Familie Schober und ihr genealogisches Umfeld', IFSI. Mitteilungen Nr. 30 (Januar 2003), p. 129-192. [DE]
—. '"Viele glaubten und glauben noch, absichtlich" - Der Tod der Ludovica Siboni', IFSI. Mitteilungen Nr. 23 (Juni 1999), p. 46-74. [DE]
Steblin, Rita. 'The Schober Family's "tiefe sittliche Verdorbenheit"', IFSI. Mitteilungen Nr. 29 (Juni 2002), p. 39-65. [EN/DE]
—. 'Schober's Love Affair with Marie von Spaun', Schubert : Perspektiven, Jahrgang 8, Heft 1 (2008) [EN/DE]
Waidelich, Till Gerrit. 'Torupson und Franz von Schober' in Schubert: Perspektiven, Jahrgang 6 (2006). [DE]