After a bit of textual deconstruction, the Environment Agency's current advice still seems to mean, most of the time, 'dump the stuff in a deep hole somewhere'. There is indeed a lot of work being done on the technologies for processing such material. Unfortunately, although such processing can work well on a bucketful of well-defined contaminants of a single type, it is completely impracticable on millions of cubic metres of gasworks cocktail. Even just getting men in spacesuits to shovel the contaminated stuff up, let alone treat it, is usually more expensive than most sites could ever be worth.
What was Caborn trying to imply by 'treatment'? Even now, a lot of the literature tells you how to spot contaminated land, how to assess it and the horrors that might be present in it. There's almost nothing on what to do with it, apart from – you guessed it, scrape it up and dump it in a big hole somewhere. 'Treatment' in any normal sense of the word was never an option.
In 1997, as now, the usual strategy was 'containment'. Here's the executive summary for 'containment': Instead of having to shovel all the muck up and dump it in dark holes, just scrape a bit of the top off, dump that in a dark hole, put something down on the stuff that's left behind to stop the smell coming up, and pour a bit of concrete over it, or mix cement in with it, or just bury it under some fresh stuff. You have to scrape a bit of the surface off, because the extra weight of the capping you put down will, over time, squeeze the gunge outwards in all directions. Those of a nervous disposition with public money to spend also build barriers around the area to stop such sideways migration.
Large areas of the Docklands development are resting on such containments, for example the Winsor Park Estate in Beckton and Thames Barrier Park, Woolwich.
Becton, like Greenwich, housed one of the largest gasworks in Europe, with a lot of related gunge-boiling going on. As the London Docklands Development Corporation itself notes:
The waste products were to depths of four metres and included substances which are both toxic and carcinogenic even at very low concentrations.
The 'containment' used in Becton didn't involve carting any of this stuff away, which would have cost money and held things up, but just a 'barrier' of 'a minimum of a metre of clean imported material'.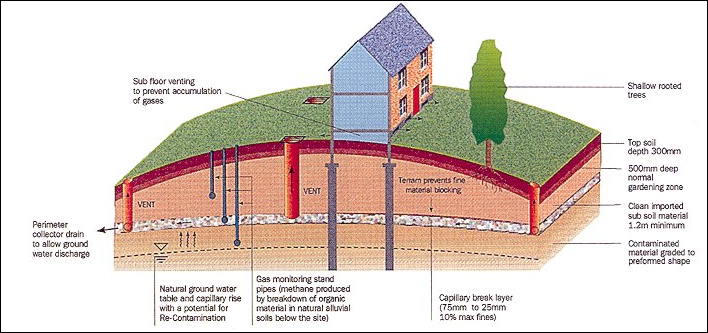 The capping technique used at the Winsor Park Estate on the site of Beckton Gasworks
In practice this turns out to be an inch or so of gravel to stop seepage upwards, a metre of clean subsoil topped off with half a metre of 'gardening zone' and a daffodil bulb's worth of topsoil. Then come the houses, complete with 'sub-floor venting' to prevent the gases building up. Looking out from these houses you will gaze upon 'shallow rooted trees' and various discreetly sited gas monitoring standpipes and gas vents. Dig down the height of a man and you have found Becton gasworks.
At least Becton's muck stayed where it was. What happened on the Dome site?