Die Winterreise, Chapter 1
Posted by Richard on  UTC 2015-12-31 16:11
The birth of the text of Die Winterreise
Wilhelm Müller started writing the verses that would be collected as Die Winterreise some time in 1822. This is an assumption, but a not unreasonable one. As far as I know we have no information about when Müller wrote the individual poems.
The first publication of twelve of these poems took place in early 1823, in the Urania Taschenbuch auf das Jahr 1823. Attentive readers of our earlier piece on Die schöne Müllerin will remember that 1823 was the annus horribilis of syphilis treatment and general rejection that Schubart was enduring, a year that concluded almost miraculously with his creation of Die schöne Müllerin. Müller's work on the text of Die Winterreise therefore overlaps with Schubert's work on the music of Die schöne Müllerin.
Shortly after the twelve poems appeared in the Urania Taschenbuch Müller published a further ten poems in the Deutsche Blätter für Poesie, Literatur, Kunst und Theater in 1823. To the total of twenty-two poems two more were added, 'Die Post' and 'Täuschung'.
Müller then collected all 24 poems, rearranged their order and published them in his book Sieben und siebzig Gedichte aus den hinterlassenen Papieren eines Waldhornisten, Zweites Bändchen in 1824.[1]
In the interests of pedantic clarity, we note that Müller's first volume of 'seventy-seven poems', the one containing Die schöne Müllerin, actually only contains seventy-four poems. The second volume of 'seventy-seven poems', the one containing Die Winterreise, overshoots the mark with eighty-nine poems, twelve poems too many. Whether the overrun was caused by the twelve additional poems for the second half of Die Winterreise is an open point which doesn't really matter: it is clear that Müller's tongue-in-cheek fantasy title for his two volume work was exactly that, a little bit of fantasy in the Romantic taste and not to be taken seriously.
We note also at this point with some relief that Müller did not wrap Die Winterreise in a prologue and epilogue as he had done with Die schöne Müllerin.
Schubert came across Die Winterreise in the Urania Taschenbuch. As far as he was concerned those twelve poems were Müller's Die Winterreise and that is what he set to music during an unknown period before February 1827 (the date on the final clean copy).
Schubert made a few changes to Müller's text, which we shall discuss in detail in our notes on the individual poems. Of interest here, however, is the fact that he changed Müller's title for Die Winterreise to, simply, Winterreise. Since we are performing an analysis on Müller's lyrics we shall usually use Müller's title, reserving Schubert's title for instances when specifically his musical setting is meant.
In the late summer of that year Schubert came across the full set of the twenty-four poems in Sieben und siebzig Gedichte aus den hinterlassenen Papieren eines Waldhornisten, Volume 2. We can imagine his initial consternation at this turn of events, but by October he had set the extra poems to music.
As we noted above, Müller had changed the sequence of the poems in the full set, presenting Schubert with another integration problem. Schubert solved this by keeping the original twelve songs in the order he had composed them, that is, the order they had been in the Urania Taschenbuch and appended the remaining twelve in his own preferred sequence. Of the new poems, Schubert kept a block of eight poems (from 'Der greise Kopf' to 'Das Wirtshaus'), together as an integral unit, kept 'Der Leiermann' as the final poem – how could it be otherwise? – and relocated three poems, 'Die Post', 'Muth!' and 'Die Nebensonnen'.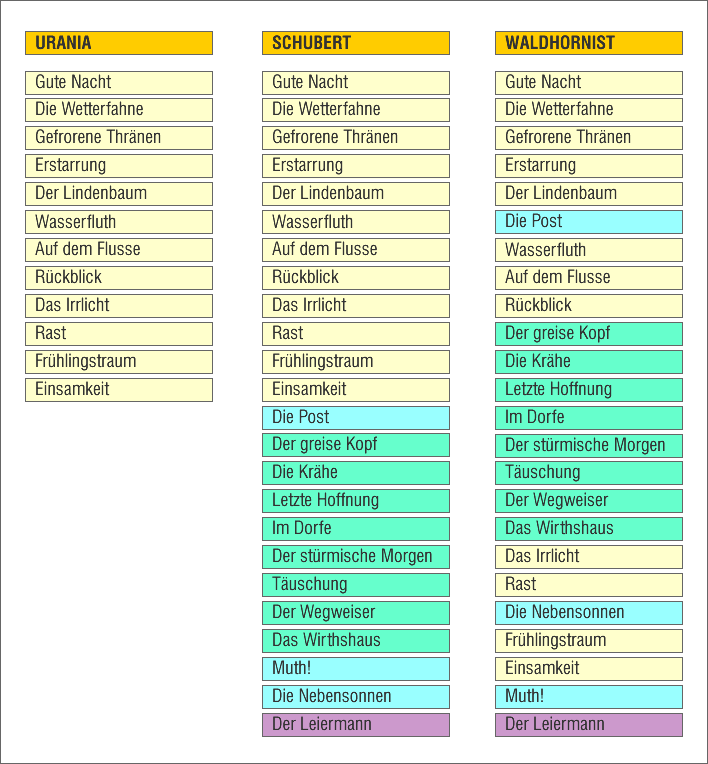 Our textual analysis will look at the poems as they are in Schubert's arrangement, since this is the one with which most people will be confronted. We may occasionally refer to Müller's 'Waldhornist' sequence, though.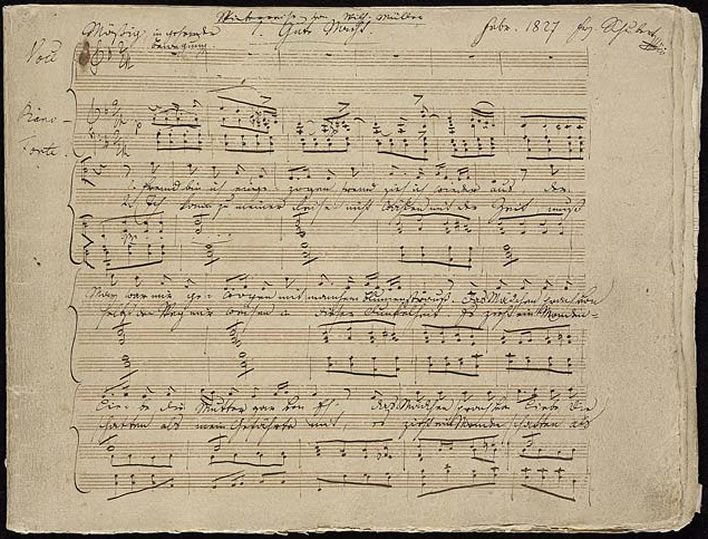 Schubert clearly acknowledged that the song-cycle was effectively in two parts. He published his settings in two Abtheilungen ('sections'), in each of which he numbered the songs independently (1-12). He noted on his manuscript score for 'Die Post', the first song of the second section, that is was a Fortsetzung der Winterreise von Wilhelm Müller, a 'continuation of the Winter Journey, by Wilhelm Müller'. Publishers have usually renumbered the poems to run from 1 to 24, presumably to avoid duplicate song numbers in the single score; some have kept the two 'sections', some not. It is striking that this two-part structure exactly mirrors the two part structure we found in Die schöne Müllerin.
The narrative of Die Winterreise
When we looked at the structure of the previous Müller/Schubert song cycle, Die schöne Müllerin, we followed Wilhelm Müller's lead in calling it a 'monodrama'. We noted that it follows an internally consistent narrative of place, time and action until the halfway point 'Mein!'. After this poem the series breaks down into increasingly non-narrative despair in which most of the action takes place inside the miller's head. Briefly put, the first half is a story and the second a psychological drama.
We also saw that, because of this narrative consistency, it is tricky to leave parts out without damaging the narrative. Schubert chose for whatever reasons not to to set three of Müller's poems and in doing so weakened the narrative development, particularly in the second half of the cycle.
Die Winterreise offers the same difficulties. If the work were just a collection of poems with one or more common themes then that would be straightforward: Housman's A Shropshire Lad and Stevenson's Songs of Travel fall into this category. A comprehensive list of examples of thematic collections of poems in English and German literature would be a long one. Such loose collections are easy pickings for a composer, in that each poem is its own independent challenge and poems can be left out without causing problems. From the 428 poems in Rückert's heartbreaking Kindertotenlieder Gustav Mahler set just five to music.
If only because of the vagaries of its creation the integrity of the cycle is in question. Müller published twelve poems and titled them Die Winterreise, then he published a further ten poems, also titled Die Winterreise, then wrote two more poems, shuffled the now twenty-four poems around and published those under the title Die Winterreise. The reader is entitled to ask which one of these collections is Die Winterreise? Will the real collection please stand up? We just appear to have a collection of poems in search of a structure.
As in Die schöne Müllerin there is in Die Winterreise as Schubert structured it a narrative thread in at least the first half of the cycle. However, unlike its predecessor, the narrative structure is harder to spot than that of Die schöne Müllerin. Following it requires careful reading, which is what we are going to do now.
References
^ The text of Die Winterreise in the version of Sieben und siebzig Gedichte aus den hinterlassenen Papieren eines reisenden Waldhornisten, 1824, vol. 2, is available online in a compact form at zeno.org: Die Winterreise. [Unfortunately there are a number of errors in the zeno.org transcription, so it should not be relied on.]