While most of us can expect at best to gurgle away our last moments on the path to oblivion without distinguishing ourselves in that activity in any way, some individuals manage a more graceful passage.
One of these was the heavy metal rocker Lemmy, who passed out of this tedious world on 28 December last year. Of the manner of his going we read:
Motörhead frontman Ian 'Lemmy' Kilmister willed himself to die after he was diagnosed with the aggressive cancer that would kill him two days later, his bandmate has claimed.

Drummer Mikkey Dee, real name Micael Kiriakos Delaoglou, said the singer was told that he had two months to live after medics discovered the cancer 'in his bran[sic] and neck' on Boxing Day.

But in a typically rock-and-roll fashion, Lemmy accepted his fate, saying 'I've had a good run, f*** it'.

Forty-eight hours later, less than a week after celebrating his 70th birthday, he died while sitting in front of his favourite poker video game at his Los Angeles home. [1]
This exit, a 'triumph of the will' we might call it – conscious of Lemmy's taste in Nazi memorabilia and symbolism – was a surprisingly philosophical one. It brought to mind another thoughtful exit, that of Arthur Schopenhauer 155 years ago, on 21 September 1860.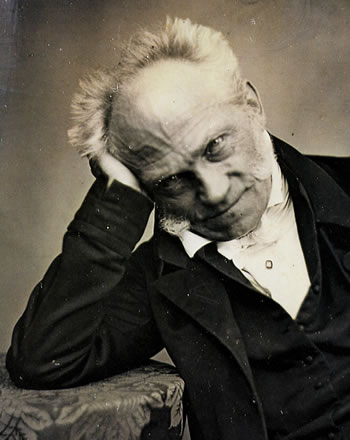 Left: Arthur Schopenhauer, waiting pensively for his morning coffee to arrive. Right: Lemmy Kilmister, waiting for who knows what. The eyes of both of them seem to follow you around.
The 77-year-old philosopher breakfasted as usual, his housekeeper opened the window and left him alone. Shortly afterwards, he was found sitting on his sofa, dead, his face a placid mask.
At its clearest Schopenhauer's thinking was obscure; especially dark was his theorizing about his concept of the metaphysical Will. According to Schopenhauer, at death the individual sinks back into this metaphysical Will. For our philosopher, the dying individual would see in that moment that the world was just an illusion. This moment of transition, this moment with a foot in the world of illusion and the world of reality, would be the awakening from a dream and the beginning of the sleep of death. In that awakening there is no terror and in that descent into sleep there is only calm.
This moment is triggered when the restless metaphysical Will is stilled and itself wills the end of its own existence in this mortal shell. Death is therefore an act of will, or willful suspension of the will to live, if you would prefer it put in a more complicated way. Quite so, Lemmy.
Yeats fans will remember the poet's belief in the Anima Mundi: an idea not a long way from Schopenhauer's metaphysical Will.
Though grave-diggers' toil is long,
Sharp their spades, their muscle strong,
They but thrust their buried men
Back in the human mind again.[2]
With those cheerful thoughts we wish philosopher Lemmy a much deserved rest from all his heavy metal exertions and our reader(s) a happy and willful New Year.
It's a tough life being a philosopher. The lonely, sad looking one on the left is clearly a linguistic philosopher, a job which is notorious for its effect on the ability to pursue normal human relationships: 'Your place or mine?'. 'It depends what you mean by "place"'.