Ingvar Kamprad, skinflint
Our sermon today takes as its text some excerpts from recent interviews in the media with Ingvar Kamprad, the founder of IKEA.
Mr Kamprad, who it is speculated has a net personal worth of around 50 billion pounds, is, despite this immense pile, a bit of a miser. Now 89, we are justified in calling him an old miser, in fact.
As examples of his thrift he tells us that he buys all his clothes from flea-markets and that he tries to get his hair cut in developing countries: his last one was in Vietnam. He wants to 'set a good example'.
I warm to Mr Kamprad. No one apart from profligates likes profligacy. The conspicuous consumption of superlatives: super properties, private jets, super yachts and super cars can get quite tedious for those not doing the consuming.
Moral scrounging
The modest life, far from ostentation, has always been an object of virtue. This is an ethical point of view which comes ultimately from a certain interpretation of Christianity. No one became a saint in the Catholic Church by making money – quite the opposite, in fact. The religious role models were people who lived alone in some wilderness or other and didn't make or spend money. They were, however, not averse to the odd donation from those who did. Repeat after me: 'Charity is not a job'.
Protestants dignified money making, it is true, but never really could get the hang of spending. They were brought up singing:
The trivial round, the common task,
will furnish all we ought to ask:
room to deny ourselves;
a road to bring us daily nearer God.
'All we ought to ask' and an opportunity to 'deny ourselves'. Within reason it is an admirable trait – within reason. Certainly, living within one's means is surely always a good idea. But self-denial as a virtue? Regardless of how great your means are?
Starving the poor with good examples
I'm not sure the barbers of Småland in Sweden where Mr Kamprad comes from, a region proudly fabled for its miserly inhabitants, warm to him. If the Smålanders were all like Mr Kamprad there would be no barbers left in the region. As there would be no clothes shops, shoe shops or probably any other kind of shop – apart from charity shops that is.
And when the hungry ex-barbers and their tearful spouses and hungry children go to the charity shops in Småland Mr Kamprad has probably got there before them and covered his requirements for crumpled jackets and down-at-heel shoes.
Since no one is now buying new clothes the supply of cast-offs to the flea-markets dries up. Even the sweatshops of the world fall still. Their employees, who used to earn a dollar a day, now earn nothing.
Whether the wearers of cast-off sackcloth such as Mr Kamprad like it or not, the basis of economic progress is consumption and the circulation of money. Want to help the poor? Employ them.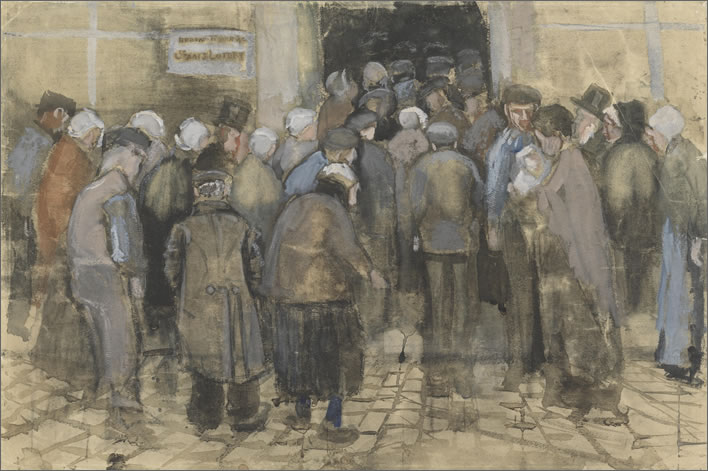 Ingvar is there in the crowd somewhere, going to buy a lottery ticket.
Vincent van Gogh, The Poor and Money, 1882. Van Gogh Museum, Amsterdam (Vincent van Gogh Foundation)
IKEA, the fleamarket?
The financial structure and affairs of IKEA are almost totally opaque. It is a large company, but not a public one with shareholders. Its structure is tax efficient and Mr Kamprad himself has changed his country of residence to optimise his tax affairs. The advice for such financial optimisation for Mr Kamprad and IKEA will not be cheap, certainly not flea-market prices. The company is famed for its tight cost control, much as Mr Kamprad is famed for his Scrooge-like habits. Neither of them spends happily or generously.
Fortunately for IKEA its customers didn't shop at flea-markets, they bought their goods from the company. In turn, IKEA's business model and management were obviously good. Thus, over the decades it has grown and made huge amounts of money from people who lashed out on a flat-pack shelf unit rather than buying one from a charity shop. IKEA and Mr Kamprad have made their fortunes on the circulation of money and human consumption. On this blog we recently looked with some scepticism at IKEA's vision of its future as a second-hand shop.
I might warm to Mr Kamprad for his dotty skinflint life-style, but given a choice for the prize of ethical billionaire of the year between him and a superficially repellent Russian oligarch, I think I would definitely choose the latter. One's nose might have to be held, but at least they cheer us up with their expensive antics, their outrageous homes, yachts, football teams and photogenic companions, but most importantly, their profligacy employs a lot of people who might otherwise be competing with Mr Kamprad in riffling through the hangers in the charity shop.