27.04.2016 – Aide-memoire
Peppermint tea and rosemary are found to 'significantly' improve long term memory in adults.
Did they try lime-flower tea and madeleines? The effects have already been thoroughly researched.
Et tout d'un coup le souvenir m'est apparu. Ce goût, c'était celui du petit morceau de madeleine que le dimanche matin à Combray (parce que ce jour-là je ne sortais pas avant l'heure de la messe), quand j'allais lui dire bonjour dans sa chambre, ma tante Léonie m'offrait après l'avoir trempé dans son infusion de thé ou de tilleul. La vue de la petite madeleine ne m'avait rien rappelé avant que je n'y eusse goûté ; peut-être parce que, en ayant souvent aperçu depuis, sans en manger, sur les tablettes des pâtissiers, leur image avait quitté ces jours de Combray pour se lier à d'autres plus récents ; peut-être parce que, de ces souvenirs abandonnés si longtemps hors de la mémoire, rien ne survivait, tout s'était désagrégé ; les formes – et celle aussi du petit coquillage de pâtisserie, si grassement sensuel sous son plissage sévère et dévot – s'étaient abolies, ou, ensommeillées, avaient perdu la force d'expansion qui leur eût permis de rejoindre la conscience. Mais, quand d'un passé ancien rien ne subsiste, après la mort des êtres, après la destruction des choses, seules, plus frêles mais plus vivaces, plus immatérielles, plus persistantes, plus fidèles, l'odeur et la saveur restent encore longtemps, comme des âmes, à se rappeler, à attendre, à espérer, sur la ruine de tout le reste, à porter sans fléchir, sur leur gouttelette presque impalpable, l'édifice immense du souvenir.
---
And suddenly the memory returns. The taste was that of the little crumb of madeleine which on Sunday mornings at Combray (because on those mornings I did not go out before church-time), when I went to say good day to her in her bedroom, my aunt Léonie used to give me, dipping it first in her own cup of real or of lime-flower tea. The sight of the little madeleine had recalled nothing to my mind before I tasted it; perhaps because I had so often seen such things in the interval, without tasting them, on the trays in pastry-cooks' windows, that their image had dissociated itself from those Combray days to take its place among others more recent; perhaps because of those memories, so long abandoned and put out of mind, nothing now survived, everything was scattered; the forms of things, including that of the little scallop-shell of pastry, so richly sensual under its severe, religious folds, were either obliterated or had been so long dormant as to have lost the power of expansion which would have allowed them to resume their place in my consciousness. But when from a long-distant past nothing subsists, after the people are dead, after the things are broken and scattered, still, alone, more fragile, but with more vitality, more unsubstantial, more persistent, more faithful, the smell and taste of things remain poised a long time, like souls, ready to remind us, waiting and hoping for their moment, amid the ruins of all the rest; and bear unfaltering, in the tiny and almost impalpable drop of their essence, the vast structure of recollection.
Translation: C. K. Scott Moncrieff.
26.04.2016 – #BringBackOurMen
Half of Western European men descended from one Bronze Age 'king'
Dr Chris Tyler-Smith, from the Wellcome Trust Sanger Institute, said: "One of the most novel and exciting things we have found in the study is the extraordinary explosion in numbers of males at specific times.

"In Europe there was huge population expansion in just a few generations. Genetics can't tell us why it happened but we know that a tiny number of elite males were controlling reproduction and dominating the population.

"Half of the European population is descended from just one man. We can only speculate as to what happened. The best explanation is that they may have resulted from advances in technology that could be controlled by small groups of men.

"Wheeled transport, metal working and organised warfare are all candidate explanations that can now be investigated further."
Although not really sure that I understand how an 'extraordinary explosion in numbers of males' is consistent with a 'tiny number of elite males' running the place, the explanation for the reproductive dominance of these 'elite males' seems obvious.
The solution is simple really. We just have to remember that this was a period of specialisation: there was a growing demand for interior designers for huts and caves, men had discovered cosmetics and woven fabrics. Many men decided to stay at home as 'hut husbands' – designing, drawing, painting, weaving and potting – while the women went out hunting and gathering, frequently coming across the odd dominant male whilst they were at it.
Educated druids began developing theories of gender identity, as a result of which many men transitioned to other states. The cultural centres of the villages became LGBT safe spaces from which dominant males were ostracised, which also increased the pressure on lesser males to transition to an acceptable gender role.
Any male attempting to mate with a self-defining female within this safe space would either be in for a shock when the female turned out to be biologically something else or would be accused of sexual violence. Nevertheless, there were still women who through their own foolishness wandered out of the safe space and ended up in the clutches of one of the small group of ostracised, hairy brutes. The outcome requires no further explanation.
That seems to explain it, perfessur.
24.04.2016 – Heartwarming…
…to see what a part-time pilot of a rescue helicopter earns these days. The social revolution rolls inexorably on, Prince Égalité!
Electricity consumption no object: what will your father say? Image: AFP/Getty/DailyMail.
24.04.2016 – Dressing gown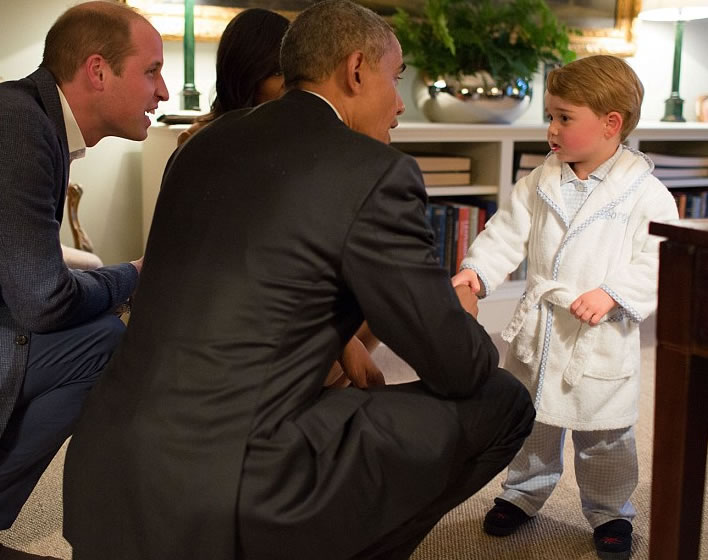 Have you come far? Image: Daily Mail / uncredited.
Neglecting for a moment the brutal exploitation of a child for publicity purposes by the shameless Windsors, the republican rabble on this blog were taken with some aspects of Prince George's reception of the President of the American Republic, who respectfully genuflected into a low squat before the prince who will be king, just as his Kenyan ancestors would have done:
But it was the two-year-old prince who stole the limelight after pictures emerged of George shaking hands with the leader of the free world wearing his nightwear – a pair of freshly-pressed blue gingham pyjamas, monogramed [sic] dressing gown and a pair of slippers with aeroplanes on.
Regretfully leaving aside the delightful ambiguity of a sentence which brings us an image of President Obama in pyjamas and aeroplane slippers, we were much taken with the monogrammed dressing-gown. (It's not really a monogram, though, it's an embroidered name – just pointing it out.)
As a child member of the forelock-tugging classes your author was expected to get up and get dressed in the morning and get undressed and go to bed at night. There was neither opportunity nor heating for swanning around in a dressing-gown –  let alone a monogrammed one  – even at the risk that the leader of the free-world might just drop in.
In fact, I was 23 when I acquired my first dressing-gown. As my friends will tell you, the rot started then.
19.04.2016 – Boaty McBoatface
Yes, it is an unfunny, annoying name – But why?
There is a long tradition of giving ships cheerful or inspiring names: the Santa Maria, the Golden Hind, the Mary Rose and let us not neglect those of ill-memory: Mary Celeste, the Titanic, the Lusitania.
A ship's name is a matter of taste and therefore the name you give a vessel is an indicator of the namer's taste. W.S. Gilbert named the naval vessel HMS Pinafore in his eponymous comic opera, a name guaranteed to strike fear into the hearts of the enemy.
But Boaty McBoatface is inappropriate not because it is silly or jokey. It's not even childish – no child would get a little plastic boat for the bath and call it Boaty McBoatface. Boaty, perhaps, or even McBoaty.
The reason is that Boaty McBoatface is a playground insult, a name thought up by a bully. As such it is inappropriate in any context, let alone the name of a ship, whether a plastic one for the bath or a research ship for polar waters.
Imagine a researcher on that ship adding to their CV: 'six-month arctic research on board Boaty McBoatface'.
But worse, sailing in arctic waters is not without risk. Let's imagine some headlines: 'Sick crew member helicoptered off Boaty McBoatface'; 'Research vessel Boaty McBoatface trapped in ice'; 'Team on Boaty McBoatface faces long wait to be freed from ice'; 'Freak wave capsizes research vessel Boaty McBoatface– search for survivors continues'; 'Our child drowned in the Boaty McBoatface disaster'.
Seemed a fun name when it was first thought of.
18.04.2016 – John Whittingdale, chick magnet