Yesterday evening, after beer o'clock and an additional gap of thirty years, I re-read Martin Walser's (1927-) essay Heimatkunde[1] (1968). How much I had missed in that first reading! I mustn't have been paying attention all those years ago – but then, most of my life has been spent not paying attention.
Since the penalty for inattention is having to concentrate harder, and the best way to understand a text is to translate it, it seemed to me to be the fitting penance to have to render at least a part of the essay in English. Now that Walser has my full attention let's see whether I can do justice to his writing. This is a translation of part four, which describes a walk from Wasserburg am Bodensee to Langenargen, two towns on the south-eastern shore of the Lake of Constance.[2]
The only thing you need to know before you start is that the walk is described through the eyes of a ten year-old (the date of the walk is 1937 and Walser was born in 1927). The grammar and syntax, too, is that of a youngster.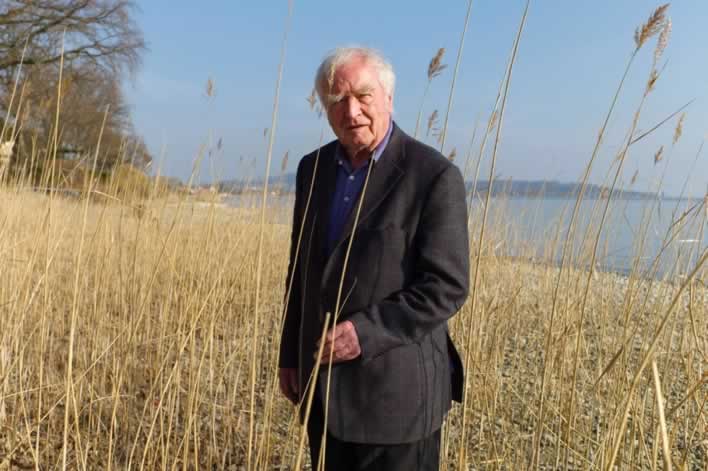 Martin Walser among the reeds on the shore of the Lake of Constance. Image ©Frank Röth, Frankfurter Allgemeine Zeitung
I presume that my growing interest in going for walks arises from the realisation that I am not going to be leaving this place so quickly. For me everything hangs from these walks. I set off without delay. Let's say across the marsh towards Langenargen. I am full of expectation. I can feel it in my legs. I am in pursuit of something. In summer and in winter. Unfortunately I only know vaguely what I am pursuing. And I walk around for a long time, letting myself with uncontrollable zeal register data like a weather station: the continually changing colours and distance of Säntis[3], sometimes it appears to be made of almost colourless silk at the far side of a seemingly endless water surface, sometimes it is just a violet smudge a stone's throw away across a vertical wall of water. And where has the Schesaplana[4] got to, again? What are the Three Sisters[5] planning today? Why are the meadows suddenly so black? That heavy blanket of cloud under which you are walking stretches now all the way to the Grisons. There it stops and beyond it the sky is glowing, a bright Cinerama rectangle, a gold background for black-violet mountains. Now air pressure, air dryness, skin sensations, gurgling marsh at every step; sunken footsteps, which fill up immediately with black; a single cowslip; and an apparition: a girl, in a marsh-coloured, that is, a brown-gold-yellow-black-coloured folk costume trimmed with rabbit-fur, a little bit of boot showing, then the disruption of the walk, we walk towards each other, past each other, begin breathing again much later; the air descending from the Rhine valley, you can lean against it but it is not enough to fly, although the sound is similar; a switched-off organ in hectic flight; and all that together, colours, outlines, distance, air pressure… the thousand data are delivered to you as one moment – whether you want it or not – by that Good Friday 19…, let's say thirty-seven, the single Protestant had protested that the village band should exchange their blue uniforms for the uniforms of the Naval SA[6] (always these Protestants!); the Geography teacher wanted to interest us in the ice age; this Föhn[7] would have ended the ice age; and the birch needed c. 14,000 years to get from here to south Sweden; the Föhn usually comes from the Rhine valley; now it interests me: a three-way rift-valley on the edge of the Alps, within it the ice, which scraped the hollow out that is now the Obersee[8], rose to a thousand metres high, pushed several tongues across the land and left us behind the herds of hills that are so orderly that at Whitsun you can see again the glacial tongues in the giant waves of white blossom. The lowlands have been wet ever since. Every little stream is busy. It is Whitsun. The Celts have been long under the earth. They were taught a new style of burial by the people from the north. Few Celts survived that demonstration. Even the ceramic patterns of those Celts had become confused and were supposed to have been sorted out by the migrants from the north. That's history.[9] A northern people makes immense exertions in war and migration in order to spread a new style of burial. It is Whitsun. These people from the north have come to be called Alemanni or Germans. Christian Celts are popular. Why did they come here from Ireland? In Constance they were called Scots. An entire colony of such spiritual Gastarbeiter[10] settled for a long time. Puzzling. Perhaps the Alemanni had not buried all the Celts in the new style. Perhaps there were still a few types that seemed familiar to the Irish. A Celtic underground under Christian-Germanic rulers. It doesn't matter. We became Christians. On Good Friday 1937 I passed by the costumed girl underneath a dark grey cloud blanket that reached into the next country, over heavy and gurgling ground that filled every footprint with black water; the costumed girl had all the colours of the marsh. Her hair, another marsh colour. The rabbit-fur trimming another marsh colour. At Whitsun, when the drumlins of the ice age are flowering, when the general humming encourages speaking, I did not meet again the costumed girl. Now, for that reason I will go walking. Between ice age, Good Friday and Whitsun. On these heavy, attractive paths. Apparently I am interested. In Heimatkunde.