Those bewildered people who maintain as an article of faith the literal truth of the Bible are, in fact, the book's worst enemies. The immense strength of the Bible lies in its uncertainties, particularly its scope for interpretation and commentary. We would expect nothing else from a Jewish book.
Atheists such as we can dismiss the book –  leaving aside its historical record of the tribe  – as a collection of fairy stories, but we cannot dispute its power to provoke thought. Encountering the Bible in school without forced learning by rote –  such as that required by another religious book we might mention  – is an educational act. It does not supply answers, it supplies questions.
The fact that the Bible is a collection of very different texts from very different authors adds to its value: it is not a religious monologue or rant – unlike another religious book we might mention – it is a library of different books. Can we use the now worn-out word 'diversity'?
On many occasions the biblical texts are profoundly allegorical, their language, too, deeply metaphorical. There is no definitive meaning to be had: what meaning we readers extract says more about us than the text we are reading. The process of extracting meaning is in itself a fundamentally religious process, full of reflection and self-analysis. In this the literalists completely miss the point.
Those desiccated people who want to suppress all pictorial or literary commentary on religious texts –  such as the readers of another religious book we might mention  – miss the leverage that is derived from artistic intepretation, which is ultimately a metaphoric act upon these extremely metaphoric texts. Such works have all the validity of scriptural commentary. More than that, they 'bring the soul of man to God' as Yeats put it.
We looked critically at the accepted interpretations of two biblical stories nearly a year ago: Abraham's (near) sacrifice of Isaac [Genesis 22:1-18] and the story of Doubting Thomas [John 20:24-29].
Caravaggio expressed them so: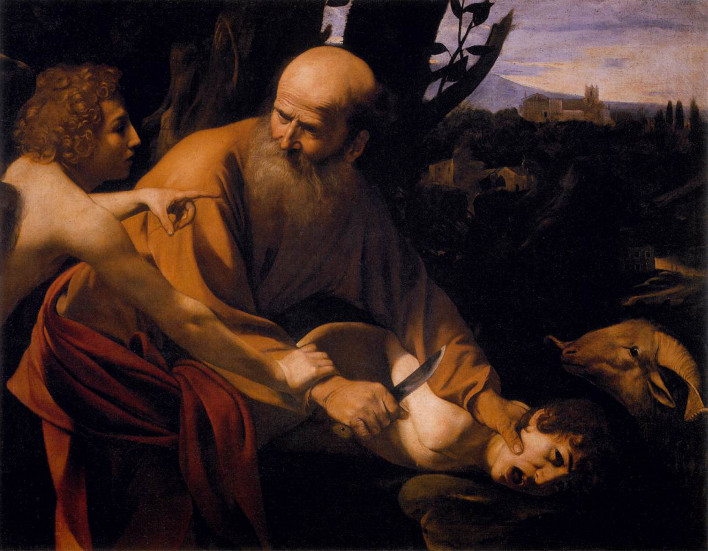 Caravaggio: The Sacrifice of Isaac [1601-02], Galleria degli Uffizi, Florence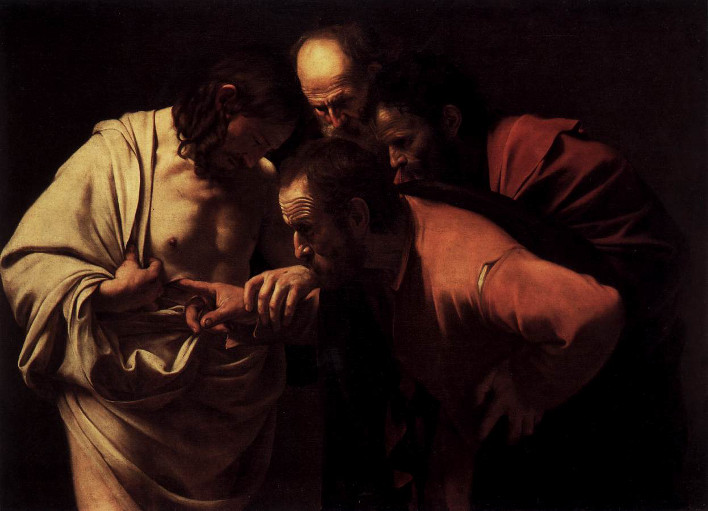 Caravaggio: The Incredulity of Saint Thomas [1601-02], Schloss Sanssouci, Potsdam
Shortly afterwards we invoked the Book of Job against the faithless Archbishop of Canterbury, no less.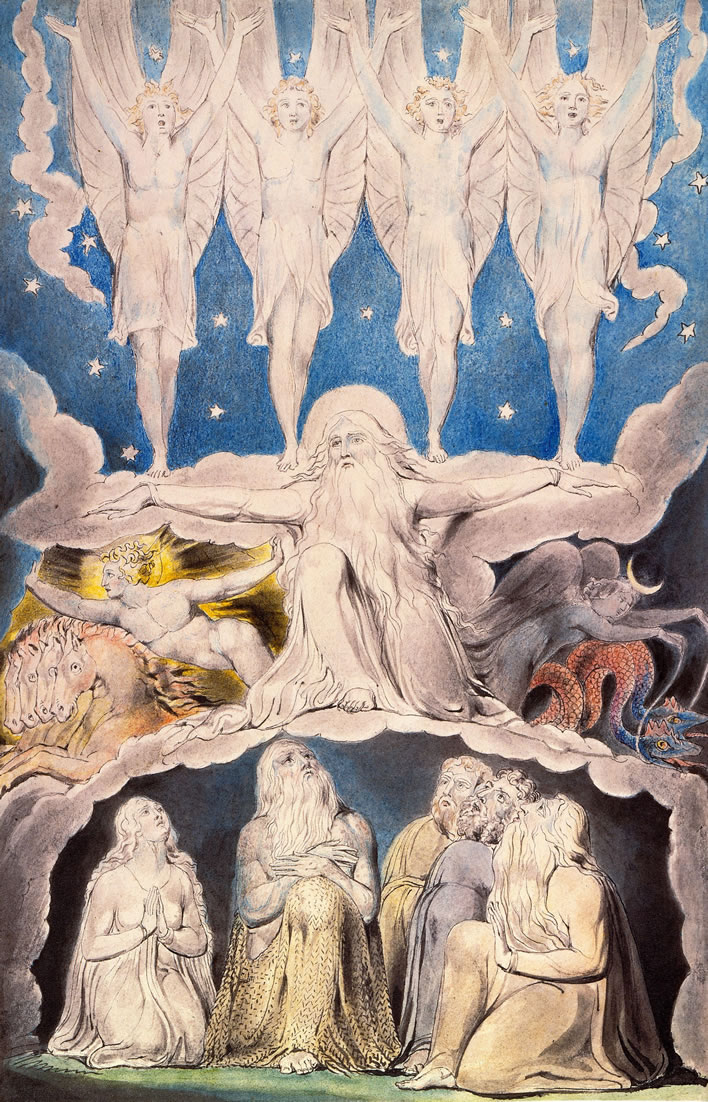 William Blake (1757–1827), Book of Job, no. 14, 'When the Morning Stars Sang Together', c. 1805, The Morgan Library, New York.
When the stars threw down their spears / And water'd heaven with their tears: / Did he smile his work to see? / Did he who made the Lamb make thee?
William Blake, Songs of Experience, 'The Tyger', 1794.
That book alone is a mighty sword of burning gold against the trite, the glib, the bigoted and the over-confident who infest public life these days, one which we atheists are happy to wield, even if Christians won't – and while the other lot are learning their pre- and pro-scriptive lines, hoping their powers of memorisation will get them to heaven.
7– So went Satan forth from the presence of the Lord, and smote Job with sore boils from the sole of his foot unto his crown.

8– And he took him a potsherd to scrape himself withal; and he sat down among the ashes.

9– Then said his wife unto him, Dost thou still retain thine integrity? curse God, and die.

10– But he said unto her, Thou speakest as one of the foolish women speaketh. What? shall we receive good at the hand of God, and shall we not receive evil? In all this did not Job sin with his lips.
The Bible, Book of Job, chapter 2, King James' Version.
Or, as Georges de La Tour put it:
Georges de La Tour, Job raillé par sa femme 'Job Mocked by his Wife', 1630s. Image: Musée Départemental des Vosges, Épinal. We apologise for the poor resolution of our image of this wonderful painting, but the museum – kept afloat on public money – would prefer that you travel to Épinal and pay them €10 for a fleeting glimpse. Where are the painful boils when they are needed?