It's that time of year again. King Carl XVI Gustaf of Sweden, still presumably unwashed, presides greenly and grimly over that fest of modest virtue the Nobel Prize Ceremony.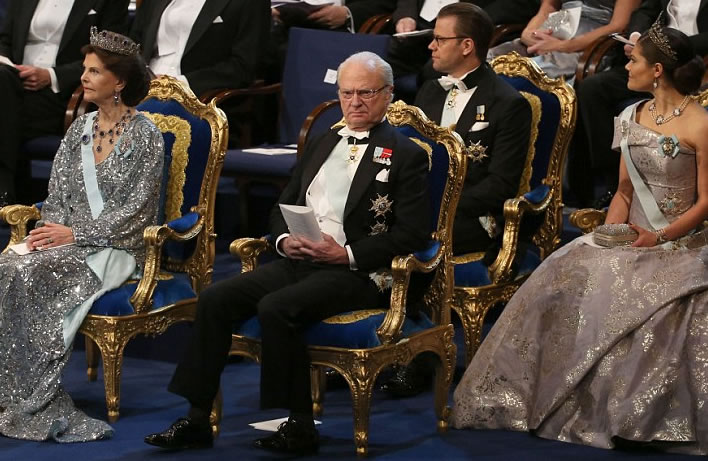 We are glad to see that King Carl XVI Gustaf is also this year staying true to his Green and Social Justice principles. The footprint of this year's ceremony is barely there:
A holistic experience beyond the ordinary is promised by the creators who have worked together this autumn in preparation for the Nobel Banquet. Colour nuances, light and mood will be shared by the entertainment, the menu and the floral decorations. Internationally renowned musicians Martin Fröst and Magnus Lindgren will lead Banquet guests and the TV audience through a divertissement directed by Linus Fellbom. The Swedish Chamber Orchestra and the Adolf Fredrik's Girls Choir will also appear, making this one of the larger ensembles to have performed at a Nobel Banquet. For the second consecutive year, florist Per Benjamin is in charge of the floral decorations at the Stockholm City Hall. Carnations, the signature flowers of Sanremo, Italy, will play a main role at this year's banquet, and reindeer lichen is an element of both the decorations and what is on diners' plates during the evening.
The event is an eloquent demonstration of the power of social convention. The participants dress, eat and comport themselves unimaginatively according to certain historical codes. The surroundings are a display of pomp and spending power – the royal fundaments rest on chairs which would not be out of place at any of the French courts of the 18th century: not a comfy Swedish flatpack in sight. We expect to see the bottoms of Saudi royals and the assorted dictators of the world unashamedly resting on such chairs, but even the rulers of modern, allegedly civilised countries appear not to mind having this execrable stuff in their photo opportunities. The pantomime season is, after all, upon us and the royal house of Sweden leads the way.
The whole thing is a satire that for some reason is still taken seriously. Otherwise 'intelligent' people are happy to turn up and put their conformity on show by parading about in ridiculous clothes. The discoveries that got the prize-winners here were probably made whilst they were wearing old pullovers and gardening trousers.
Even the facial expressions on display conform to certain conventions: Professor Cuthbert Calculus F. Duncan Haldane, for example, does his best to wear a dignified expression despite his recent accident with a Van der Graaf generator. It takes a clever man to remain sternly gracious when a trumpet goes off next to his ear and even the old appendix is playing up, too.
The banquet has been created at immense expense. Its hypocrisy, pretension and affectations are beyond mockery. A full-day Nobel Week Dialogue seminar entitled Your Plate. Our Planet. The Future of Food. is taking place to puzzle over 'today's unsustainable food system, which creates both abundance and starvation'. We only need to note the use of the word 'planet' to know what that will all be about.
Unlike the starving poor of the world the Nobel diners will not exactly go hungry, but after these complex and dainty morsels a takeaway pizza might lighten the spirits.
For the second consecutive year, the Nobel Banquet menu has been composed by chef Sayan Isaksson and confectioner Daniel Roos, both of them celebrated Swedish culinary innovators. Sayan Isaksson operates the Shibumi, Råkultur and Imouto restaurants as well as the Michelin-starred Esperanto. Daniel Roos, who is in charge of the Banquet dessert, runs the K-märkt restaurant and K-märkt Patisserie & Bageri in Stockholm. The menu was developed in close collaboration with the Nobel Foundation's gastronomic advisors Fredrik Eriksson and Gert Klötzke as well as Gunnar Eriksson, Chef de Cuisine at Stadshusrestauranger (City Hall Restaurants).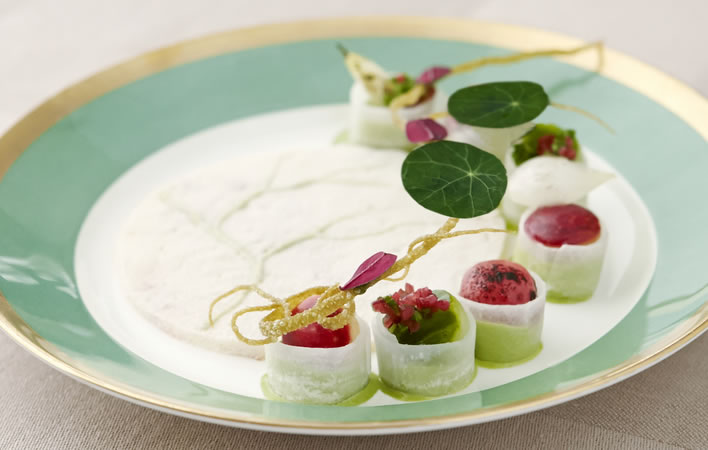 Charcoal baked langoustine and scallop, served with nettles, ramson and pickled winter apples.
©Nobel Media AB 2016, Photo Dan Lepp.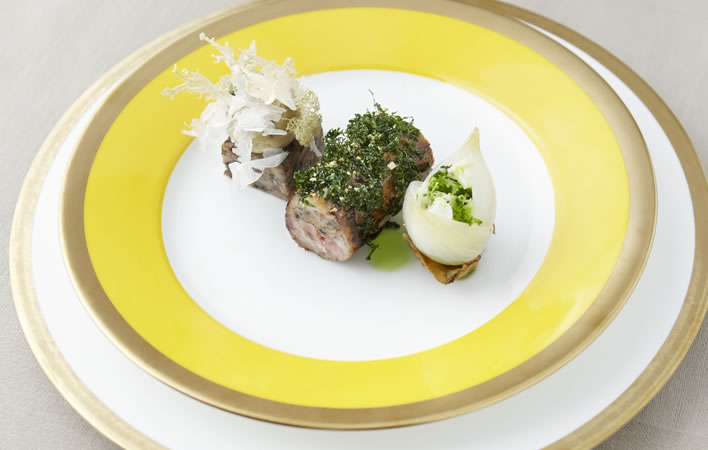 Quail from Södermanland in black garlic and leek ash with Jerusalem artichoke, preserved wild mushrooms and jus of roasted chicken skin and mustard seed.
©Nobel Media AB 2016, Photo Dan Lepp.
Cloud of sudachi fruit, cloudberry sorbet, miso crumbs and deep-fried rice paper.
©Nobel Media AB 2016, Photo Dan Lepp.
Still, we are sure that nearly all the participants arrived on bikes.