Posted by Thersites on  UTC 2017-02-01 10:51
Under the 'News' tab of the MailOnline website we read the headline:
Something fishy? Trump's press secretary denies the president spent 90 minutes watching Finding Dory while travel ban protests raged.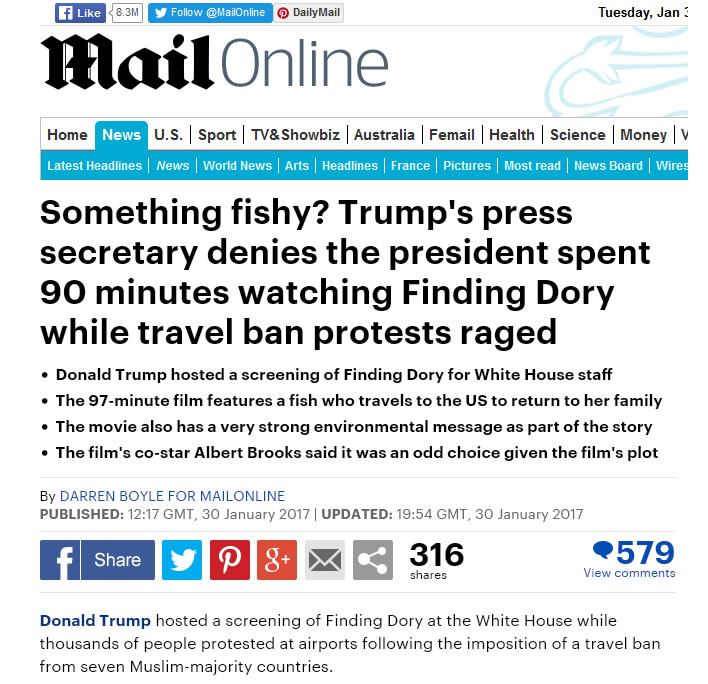 The reader's conclusion:
Trump has a mental age of ten (just like Reagan, in fact – remember?).
Trump is a heartless bastard who watches movies while poor immigrants and protesters are being clubbed senseless by his shock troops.
Trump is a lazy swine who bunks off from work in the afternoon to watch a kids' movie.
Trump is a thicko who didn't really grasp that the movie is about an undocumented alien fish and has a strong environmental message.
BTW: Just in case you hadn't noticed, Trump still hasn't denied that he beats that hot wife of his. Poor Melania!
But always fearless in the quest for truth and accurate reporting, the Mail adds:
However, Trump's press secretary Sean Spicer denied his boss spent 90 minutes watching the movie and instead returned to work after greeting White House staff and their children at the family theater.
The worthless crock that the Mail served up as 'news' was 'denied' – which made no difference to the tone of the report. Instead, 'deny' became the core of the story. Liars and criminals 'deny', honest people 'rebut' or 'refute'. In fact, what Spicer tweeted was:
Actually he spent 60 seconds welcoming & thanking spouses & children of WH staff then right back to work: up next 7pm call w South Korea.
'7pm'? What happened in the missing four hours from 3pm when the film started? Obviously someone is trying to hide something so let's keep the headline in place. Someone will call for a congressional enquiry to interview the kids who were present about the whereabouts of the big scary man with the funny hair and all that popcorn. 'And when did you last see your President?'