Just imagine: Someone knocks on your door at nine in the evening and tells you that you have to leave your home now. NOW means within the next two hours. You are allowed to collect kids and pets, pack a few personal items each.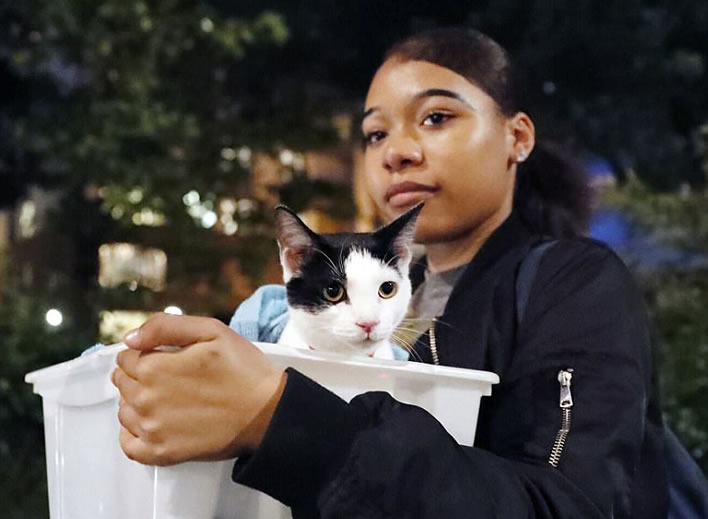 Chalcots Estate, London, June 24. ©PA/MailOnline.
In the course of the night you will be taken to some evacuation centre you know not where, with dozens of inflatable beds on the floor. You might be let back at some time in the future to collect more of your belongings. You may be shunted off to a hotel. You may be out of your house for the next four weeks? two months? four months? Who knows?
This happened on 24 June to 800 households on the Chalcots Estate in Camden, London. One woman sat around for 16 hours with her dog until a hotel could be found that accepted dogs. Incompetent, back-covering hysteria dragged people out of their homes without first having found anywhere for them to go apart from inflatable mattresses on the floor of a sports centre. The risk was so grave, it seems, that the occupants could not be left in place for the few days that would be required to find somewhere for them to go.
Chalcots Estate, London, June 24. ©PA/MailOnline.
Reliable facts are not to be had. It appears that the Fire Safety Officers have now done what they should have done years ago and inspected the block properly. The Grenfell fire concentrated minds wonderfully: rumour has it that the fire doors are ineffective, gas pipes just disappear into holes in the wall and so on, and that the residential fire certification had to be withdrawn. It is, apparently, not just a matter of inflammable cladding. Who knows?
The local council seems to be proud of the fact that it is protecting people from the risk of an inferno, a risk that is to a great extent due to the council's own lethal incompetence. Some stout hearts announce that they are staying put, but once they leave the block to go to work they will be lucky if they are let back in.
The state of hazard causing the hysteria seems to be so bad that the simple, cheap and non-disruptive solution of firewatch patrols and observation stations until the problem is fixed is untenable. This fact tells us that, in the opinion of the safety experts who have failed so badly so far, if a fire started in one of these blocks there would be no chance at all of getting it under control, with or without inflammable cladding.
For the administrators and politicians the fuss about the evacuation is manageable so far. The underclass have always been easy to boss about: they'll adapt to life in temporary accommodation and be silenced with cash, compensation and meal tickets. The fact that there is still a National Health Service in Britain is testament to the helpless resiliance of the populace.
At the end of all this only one thing will help: some retributive justice. The people involved in this entire Grenfell shambles – quite a lot of them, in fact, politicians and functionaries – should be sent to prison for non-trivial sentences. An even larger number should be banned for life from taking responsible posts. It won't bring back the dead or the displaced, but, by God, it will cheer the rest of us up.