Quote and image of the month 07.2017
Posted on  UTC 2017-07-01 01:02
Image of the month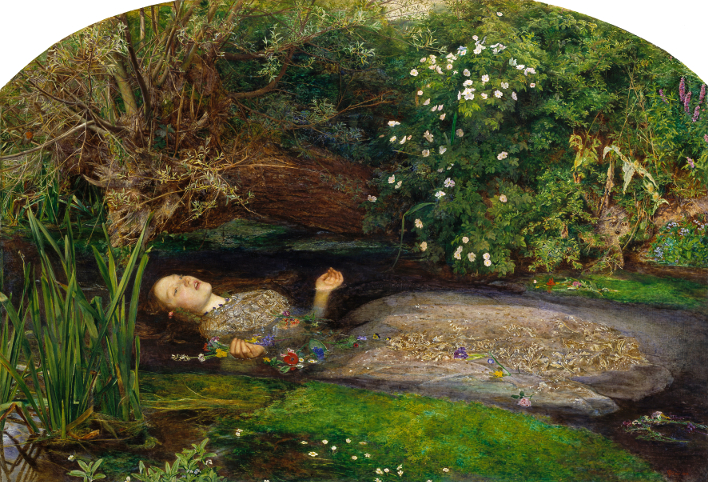 Quote of the month 1: William Shakespeare
Ophelia, driven out of her mind when her father is murdered by her lover Hamlet, falls into a stream and is drowned:
There, on the pendent boughs her coronet weeds
Clambering to hang, an envious sliver broke;
When down her weedy trophies and herself
Fell in the weeping brook. Her clothes spread wide,
And, mermaid-like, awhile they bore her up;
Which time she chanted snatches of old tunes,
As one incapable of her own distress,
Or like a creature native and indued
Unto that element; but long it could not be
Till that her garments, heavy with their drink,
Pull'd the poor wretch from her melodious lay
To muddy death.
William Shakespeare, Hamlet, Act IV, Scene vii.
Quote of the month 2: Georg Heym
The German poet Georg Heym (1887-1912) followed Ophelia along the course of her watery grave from brook to river to sea. He wrote the poem in November 1910. He himself would drown not long after its publication: on 16 January 1912 he was skating on the River Havel in Berlin with his best friend Ernst Balcke. Balcke fell through the ice, as did Heym when he attempted to rescue him. Both drowned.
Ophelia
I
Im Haar ein Nest von jungen Wasserratten,
Und die beringten Hände auf der Flut
Wie Flossen, also treibt sie durch den Schatten
Des großen Urwalds, der im Wasser ruht.

In her hair a nest of young water-rats,
And the beringed hands on the stream
Like fins, so she passes through the shadows
of the great primeval forest that rests in the water.

Die letzte Sonne, die im Dunkel irrt,
Versenkt sich tief in ihres Hirnes Schrein.
Warum sie starb? warum sie so allein
Im Wasser treibt, das Farn und Kraut verwirrt?

The last rays of the sun, wandering around in the dark,
Sink deep into the reliquary of her brain.
Why she died? Why she drifts so alone
In the water, disturbing ferns and weeds?

Im dichten Röhricht steht der Wind. Er scheucht
Wie eine Hand die Fledermäuse auf.
Mit dunklem Fittich, von dem Wasser feucht
Stehn sie wie Rauch im dunklen Wasserlauf,

The wind stands in the dense reed bed. It startles
the bats like a hand.
With dark wings, wet with water,
they hang like smoke on the dark stream,

Wie Nachtgewölk. Ein langer, weißer Aal
Schlüpft über ihre Brust. Ein Glühwurm scheint
Auf ihrer Stirn. Und eine Weide weint
Das Laub auf sie und ihre stumme Qual.

Like nightime clouds. A long white eel
slithers over her breast. A glow-worm glimmers
on her forehead. And a willow weeps
Its leaves on her and on her silent agony.
II
Korn. Saaten. Und des Mittags roter Schweiß.
Der Felder gelbe Winde schlafen still.
Sie kommt, ein Vogel, der entschlafen will.
Der Schwäne Fittich überdacht sie weiß.

Corn. Seed. And the red sweat of midday.
The yellow winds of the fields sleep quietly.
She comes, a bird, who wants to go to sleep.
The wings of the swans cover her in white.

Die blauen Lider schatten sanft herab.
Und bei der Sensen blanken Melodien
Träumt sie von eines Kusses Karmoisin
Den ewigen Traum in ihrem ewigen Grab.

The blue eyelids shade gently down.
And in the shiny melodies of the scythes
She dreams of a carmine kiss
The eternal dream in her eternal grave.

Vorbei, vorbei. Wo an das Ufer dröhnt
Der Schall der Städte. Wo durch Dämme zwingt
Der weiße Strom. Der Widerhall erklingt
Mit weitem Echo. Wo herunter tönt

Pass by, pass by. Where on the bank
the noise of the towns drones. Where through dams
The white stream squeezes. The echo
resounds in the distance. Where down comes

Hall voller Straßen. Glocken und Geläut.
Maschinenkreischen. Kampf. Wo westlich droht
In blinde Scheiben dumpfes Abendrot,
In dem ein Kran mit Riesenarmen dräut,

The reverberation of the teeming streets. Bells and chimes.
The screech of machines. Struggle. Where in the west
In blank windows a dull sunset threatens,
In which a crane with giant arms gesticulates,

Mit schwarzer Stirn, ein mächtiger Tyrann,
Ein Moloch, drum die schwarzen Knechte knien.
Last schwerer Brücken, die darüber ziehn
Wie Ketten auf dem Strom, und harter Bann.

With a black forehead, a powerful tyrant,
A Moloch, which is why the black serfs kneel.
The weight of heavy bridges, which stretch
Like chains upon the river, and hard constraint.

Unsichtbar schwimmt sie in der Flut Geleit.
Doch wo sie treibt, jagt weit den Menschenschwarm
Mit großem Fittich auf ein dunkler Harm,
Der schattet über beide Ufer breit.

Unseen she floats along in the escort of the flood.
Yet where she drifts, hunts far from the human swarm
With large wings a darker grief, that
casts broad shadows on both banks.

Vorbei, vorbei. Da sich dem Dunkel weiht
Der westlich hohe Tag des Sommers spät,
Wo in dem Dunkelgrün der Wiesen steht
Des fernen Abends zarte Müdigkeit.

Pass by, pass by. There to the darkness
the western high day of late summer dedicates itself,
Where in the dark green of the meadows rests
the soft fatigue of the distant evening.

Der Strom trägt weit sie fort, die untertaucht,
Durch manchen Winters trauervollen Port.
Die Zeit hinab. Durch Ewigkeiten fort,
Davon der Horizont wie Feuer raucht.

The current carries her far away, submerged,
Through the sad haven of some winters.
Time downwards. Through eternities away,
away from the horizon that smokes like fire.
Georg Heym (1887-1912), 'Ophelia', in Der ewige Tag, Rowohlt Verlag, Leipzig, 1911, p. 56-57. [Text from Heym Gesamtausgabe, ed. Schneider, vol 1, 1964, p. 160-162.]
Translation ©FoS. The metre and rhyme scheme of the German poem is formal and exactly maintained; there are many enjambements and subtle allusions. All this is ignored by the translation, which only aims to provide as much semantic accuracy as possible.
For those who care about such things…
Ophelia's end was a subject of interest for some French writers of the late 19th century, obsessed as they were by sex, death and suicide. In 1870 Arthur Rimbaud (1854-1891), the French surrealist poet, wrote a rather excitable poem Ophélie that presented her watery decomposition. Nine exclamation marks in the space of a section of 16 lines is going it, even by French standards.
Not to be outdone in Ophelia's transformation, the Belgian poet Georges Rodenbach (1855-1898) wrote a poem also titled Ophélie (1892) in which she was ultimately liquified, leaving only her eyes intact.
There are echoes of Rimbaud's Ophélie in Heym's Ophelia, but Heym's poem stands as a strongly independent creation. The reader will be delighted to hear that there is therefore no need for us to analyse the three works as comparative literature. Nor do we need to delve into the plentiful decomposition themes to be found in German literature of the 20th century. Enough is enough.