Austria would suffer more of this, day in and day out, for another seven years until the whole brutal edifice came crashing down and a new Austria arose from the rubble sometime between 27 April and 1 May 1945. Austria, in agreement with its New-Best-Friend-Forever Joseph Stalin, threw over National Socialism and took up a potpourri of other socialisms and communism. It was supervised by the four occupying Allied powers. It finally became an independent state again on 26 October 1955.
Conclusion
We have experienced through the eyes of Austria's government newspaper only a fraction of the happenings in those seven momentous days. Eighty years after the event the historical nuances of the political background to the German takeover of Austria as well as the military aspects of Unternehmen Otto, 'Operation Otto' are still being discussed and argued over. All this analysis is well beyond the scope of this article. Perhaps when we get to the centenary, we might have a crack at that.
Let's close our eightieth anniversary review with Stefan Zweig's magisterial judgement on the events of 1939 in Austria. We think his attribution of so much to one man, Adolf Hitler, is debatable in the light of the huge numbers of people who were more-than-willing accomplices and who brought their own considerable talents to the cause, but the man can write. Not long after writing this, Stefan Zweig and his wife Lotte killed themselves in exile in Brazil. Faced with such overwhelming evil, what else can a strict pacifist do?
I thought that I had already imagined the horrors that would occur when Hitler's hate-dream came true and he triumphantly occupied Vienna, the city that had thrown him out, young and unsuccessful.

But how timid, petty and lamentable my human imagination proved to be compared with the inhumanity that was released on that 13 March 1938, the day on which Austria and thus Europe fell prey to naked force!

The mask slipped. Because the other states had openly shown their fear, no further moral inhibitions were needed. There was no more need to use hypocritical excuses such as the need to liquidate 'Marxists' – who cared anymore what England or France or the world thought?

Now it was not just robbery and theft, but every private revenge had free rein. University professors had to scrub streets with their bare hands; pious, white-bearded Jews were dragged into the synagogue by howling youths and forced to kneel and shout 'Heil Hitler' in chorus; innocent people in the streets were rounded up like rabbits and dragged off to clean the latrines in the SA barracks. Every pathological, filthy, hate-filled fantasy of many orgiastic nights raged in open daylight.

That they broke into homes and tore the earrings from trembling women – something like that may also have occurred in medieval wars. What was new, however, was the shameless lust for public torture, the spiritual martyrdom, the sophisticated humiliations.

All this is recorded not just by one person but by thousands who experienced it. A calmer time, not like our morally weary era, will shudder when they read what one hate-crazed man perpetrated in this City of Culture in the twentieth century.

For this is Hitler's most diabolical triumph among his military and political victories – this one man succeeded by continually greater violations to dull our sense of justice.

Before this 'new order', the murder of a single human without judicial verdict or apparent cause would have shaken the world, torture was considered inconceivable in the twentieth century, expropriations were still called clearly theft and robbery. Now however, after successive Bartholomew Nights, after the daily torturing to death in the cells of the SA and behind barbed wire, what is the value of a single injustice, what value earthly suffering? In 1938, after Austria, our world had become so used to inhumanity, lawlessness and brutality as never before in hundreds of years.

Whilst everything that occurred in this unhappy city of Vienna alone was sufficient for international attention, the conscience of the world in 1938 was silent or simply grumbled a little, before forgetting and forgiving it.
Stefan Zweig (1881-1942), Die Welt von Gestern: Erinnerungen eines Europäers, 1941, Frankfurt am Main: Fischer-Taschenbuch-Verlag, 2010, p. 415f. Translation ©FoS, [link attribution required].
Ich meinte, alles Furchtbare vorausgefühlt zu haben, was geschehen könnte, wenn Hitlers Haßtraum sich erfüllen und er Wien, die Stadt, die ihn als jungen Menschen arm und erfolglos von sich gestoßen, als Triumphator besetzen würde. Aber wie zaghaft, wie klein, wie kläglich erwies sich meine, erwies sich jede menschliche Phantasie gegen die Unmenschlichkeit, die sich entlud an jenem 13. März 1938, dem Tage, da Österreich und damit Europa der nackten Gewalt zur Beute fiel! Jetzt sank die Maske. Da die andern Staaten offen ihre Furcht gezeigt, brauchte sich die Brutalität keinerlei moralische Hemmung mehr aufzuerlegen, sie bediente sich – was galt noch England, was Frankreich, was die Welt? – keiner heuchlerischen Vorwände mehr von 'Marxisten', die politisch ausgeschaltet werden sollten. Jetzt wurde nicht mehr bloß geraubt und gestohlen, sondern jedem privaten Rachegelüst freies Spiel gelassen. Mit nackten Händen mußten Universitätsprofessoren die Straßen reiben, fromme weißbärtige Juden wurden in den Tempel geschleppt und von johlenden Burschen gezwungen, Kniebeugen zu machen und im Chor 'Heil Hitler' zu schreien. Man fing unschuldige Menschen auf der Straße wie Hasen zusammen und schleppte sie, die Abtritte der SA-Kasernen zu fegen; alles, was krankhaft schmutzige Haßphantasie in vielen Nächten sich orgiastisch ersonnen, tobte sich am hellen Tage aus. Daß sie in die Wohnungen einbrachen und zitternden Frauen die Ohrgehänge abrissen – dergleichen mochte sich bei Städteplünderungen vor Hunderten Jahren in mittelalterlichen Kriegen ebenfalls ereignet haben; neu aber war die schamlose Lust des öffentlichen Quälens, die seelischen Marterungen, die raffinierten Erniedrigungen. All dies ist verzeichnet nicht von einem, sondern von Tausenden, die es erlitten, und eine ruhigere, nicht wie unsere moralisch schon ermüdete Zeit wird mit Schaudern einst lesen, was in dieser Stadt der Kultur im zwanzigsten Jahrhundert ein einziger haßwütiger Mensch verbrochen. Denn das ist Hitlers diabolischster Triumph inmitten seiner militärischen und politischen Siege – diesem einen Manne ist es gelungen, durch fortwährende Übersteigerung jeden Rechtsbegriff abzustumpfen. Vor dieser 'Neuen Ordnung' hatte die Ermordung eines einzigen Menschen ohne Gerichtsspruch und äußere Ursache noch eine Welt erschüttert, Folterung galt für undenkbar im zwanzigsten Jahrhundert, Expropriierungen nannte man noch klar Diebstahl und Raub. Jetzt aber, nach den immer erneut sich folgenden Bartholomäusnächten, nach den täglichen Zutodefolterungen in den Zellen der SA und hinter den Stacheldrähten, was galt da noch ein einzelnes Unrecht, was irdisches Leiden? 1938, nach Österreich, war unsere Welt schon so sehr an Inhumanität, an Rechtlosigkeit und Brutalität gewöhnt wie nie zuvor in Hunderten Jahren. Während vordem allein, was in dieser unglückseligen Stadt Wien geschehen, genügt hätte zur internationalen Achtung, schwieg das Weltgewissen im Jahre 1938 oder murrte nur ein wenig, ehe es vergaß und verzieh.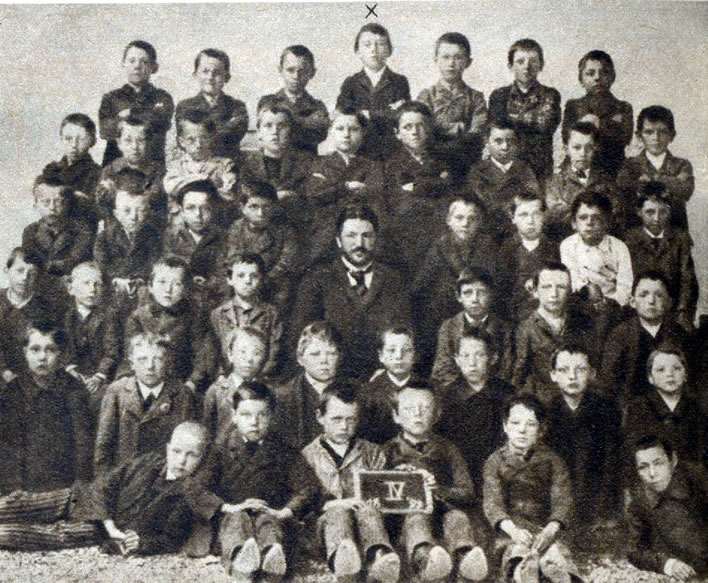 Little Adolf Hitler on the photo of his fourth year class in junior school in Linz in 1899. Just in case you can't spot him from his pose and his position in the group, the 'X' above his head may help. He was around ten years old at the time.