The turnout was very high (72.4%). The CSU lost badly, as did the SPD. The FDP crossed the five percent hurdle for parliamentary representation by only the slightest margin. The Greens received a massive increase in their vote – it seems they got many of the votes that the SPD lost. That Bavarian speciality, the Freie Wähler, the 'Free Voters' (a sort of 'CSU-Light') also profited (2.5%).
The major media outlets choose to ignore the biggest gainer of the election, the AfD, who went from 0 to 10.2% – a very impressive result for a first-timer. It makes them the fourth strongest party in the Bavarian parliament. If it hadn't been for the Freie Wähler offering a Bavarian refuge for discontented CSU voters, the AfD would have done even better. The most remarkable analysis was presented by BILD: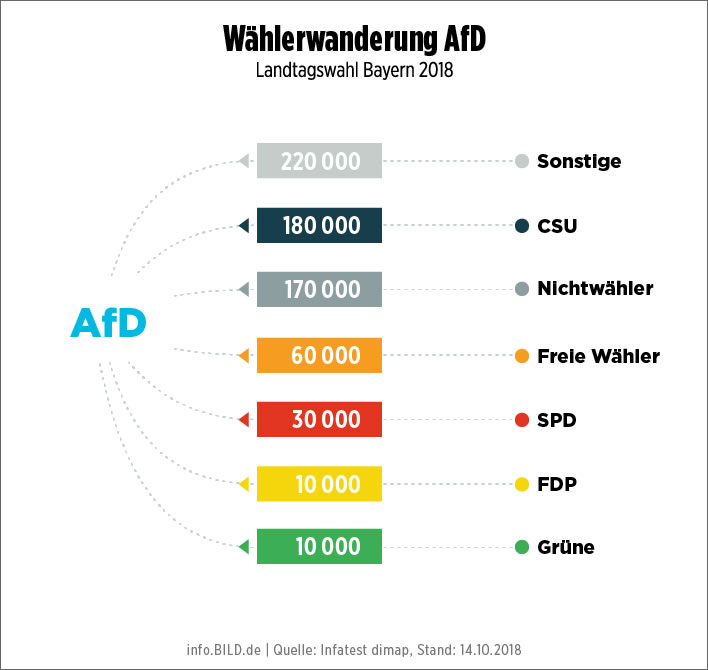 According to this, the AfD start-up gained votes from everyone – even Greens and the SPD. The large number of former CSU voters is understandable, but the AfD also pulled in large numbers of votes from the disaffected – those who previously didn't vote or who had voted for the oddball parties listed under Sonstige, 'Others'.
Breathe deeply
Now we have got all the sensational stuff out of our system we can return to the Figures of Speech paradigm of German politics: nothing ever changes. Once more its validity has been tested and found to be rock-solid.
205 seats are available. The CSU can now form a comfortable coalition with the Freie Wähler, or an even more comfortable coalition by adding in the FDP. Nothing needs to change or will change. The right is right, the left is left – just the labels have been peeled off and re-stuck.
As far as the Grand Coalition of the Federal Government is concerned it will be business as usual. The vote in Bavaria has no effect on the Federal Government at all. Merkel's position on Monday is no more precarious that it was on Saturday.
Go back to sleep. Nothing changes in Germany, ever – unless of course it does, in which case we may all be in for some interesting times.