Posted by Mad Mitch on  UTC 2019-04-28 10:03
So far on this website we have managed to ignore the annual Walpurgisnacht, 30 April / 1 May. No one has yet complained.
A quick pre-emptive piece this year might allow us to get away without mentioning it ever again. Let's concentrate on one particular aspect – the chimney exit.
This striking way of leaving a room is featured in some works of the Flemish painter David Teniers the Younger (1610-1690). He knocked out many genre paintings – no scene was too humble for him. Among his works are scenes of witches' sabbaths and the satanic fun of Walpurgisnacht festivities. Here are details from three of them from around 1640 showing chimney exits: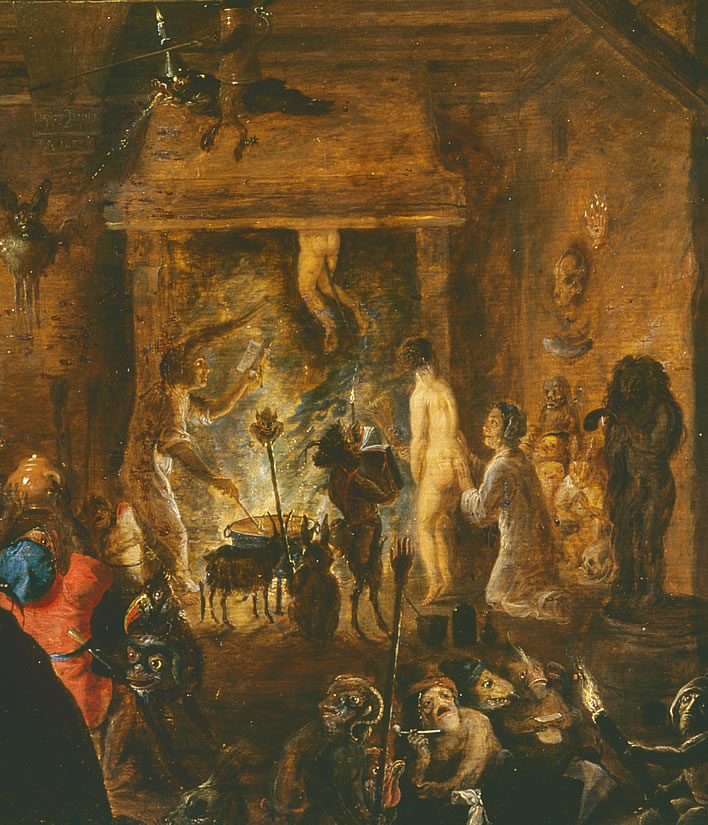 In each case an older, fully-dressed lady is reading something from a book and giving a young, naked woman astride a broomstick a pat on the bottom. This is sufficient to project them up the chimney. Heaven knows what Drs Freud and Jung would make of this.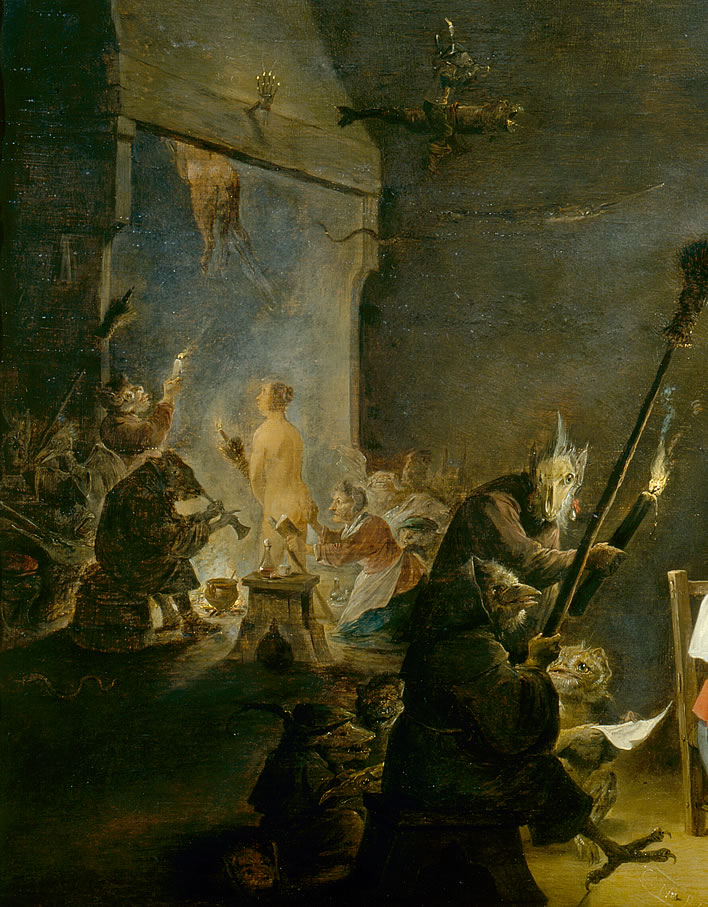 Extensive tests have shown that the pat on the bottom in itself is not enough – the recitation appears to play a decisive role. Further research is needed.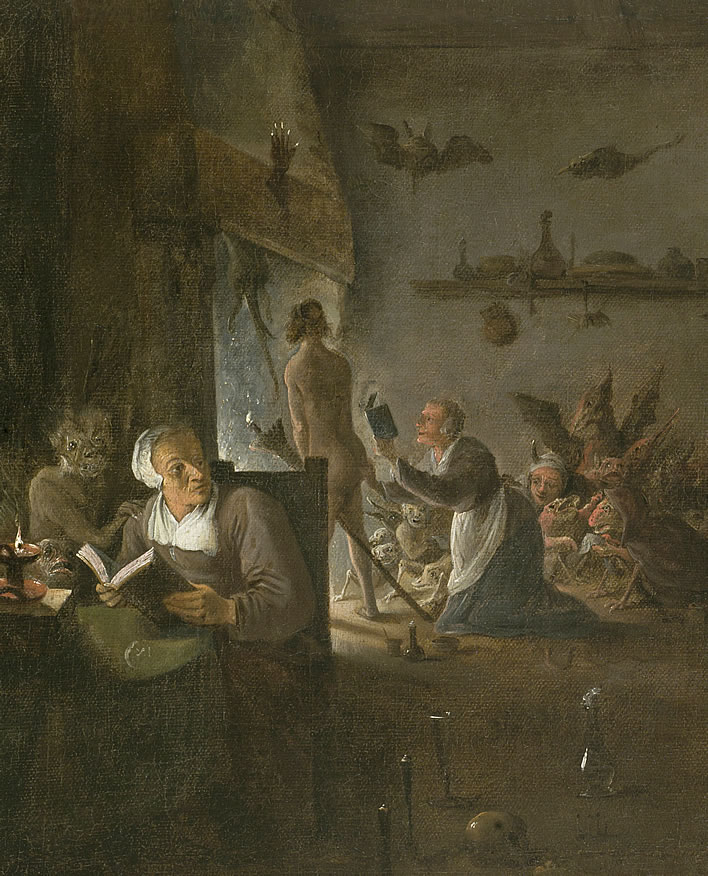 Taken together, the pat on the bottom and the recitation propel the young ladies up the chimney and eject them out of the top, whence they shoot off on their broomsticks about their witch business. The Swiss painter Albert Welti (1862-1912) is particularly remembered for his depiction of that moment (1895-96):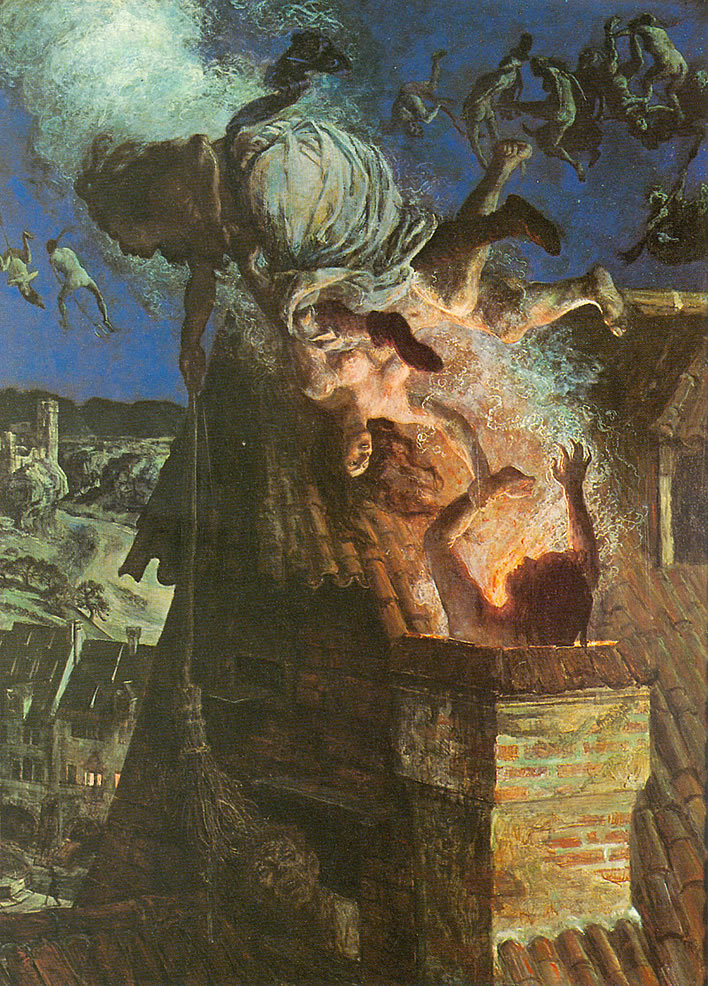 The male head and shoulders poking out of the attic window is a self-portrait of the artist; the head of the upside-down witch just above the chimney is a portrait of his wife Emeline, née Wildbolz (?-1911). Here are Welti's studies for these faces:
All in all, apart from patting the bottoms of naked young women (an extremely dangerous activity these days), this Walpurgisnacht thing does not attract. In these times of underfloor heating, health and safety, climate change, #metoo and cheap Merlot, one must take one's pleasures as they come. If you are foolish enough to take photographs of the fun, just don't post them on social media. Satanic degeneracy can damage your health – worship the Devil responsibly.