Swiss National Day, 1 August
Posted by George Meredith on  UTC 2019-08-01 07:12
A meditation on the alphorn
Sooner or later even the most cheerful and optimistic Swiss person is overtaken by a deep longing to hear the mournful tones of the alphorn sweep down upon them. One alphorn is good, a dozen or more are better.
It is easy to quench this longing: just organize an alphorn concert.
After listening to an ensemble of alphorns hoohting, woohing and moohing in heart-rending harmony for an hour or two, the longing will be permanently sated, certainly for foreigners. Swiss natives find the sound very elevating; foreigners have mixed reactions.
Alphorns can be played anywhere – I've even heard one on a train. There may be carriages where the use of mobile phones is banned, but for the Swiss patriot an alphorn is never out of place.
However, learners are advised to shun human society during their practice sessions and to seek out wild, uninhabited places – the remoter the better.
An alphorn church service
Once proficient, the best location for a performance is somewhere high up, so that as many people as possible can enjoy the sadness. And what better context than a church service, where the afflicted can pray to their God for release:
The event illustrated here took place nearly a dozen years ago in a churchyard at 1,250 m (4,100 feet) above sea level. No dead were awakened during this concert, but the term 'rest in peace' took on an ironic tone.
There are a number of alphorn clubs in Switzerland. The performers at this particular event came from the Zuger Alphornbläser-Vereinigung, an excellent body of skilled amateur alphorn blowers.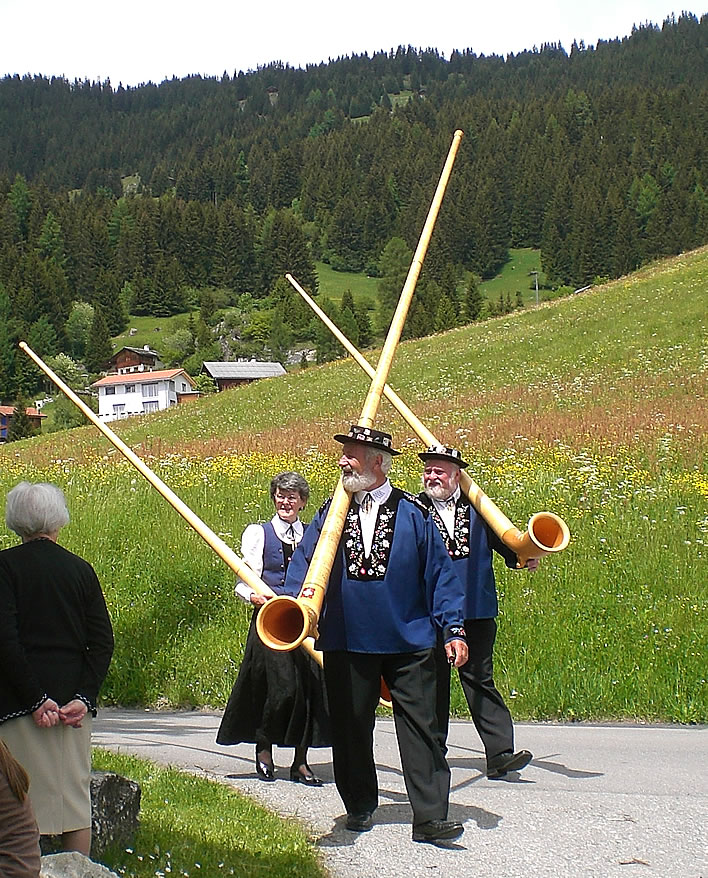 This performance was part of a service in the village church. Whilst the priest was doing his thing inside the church, the alphornists could get their breath back: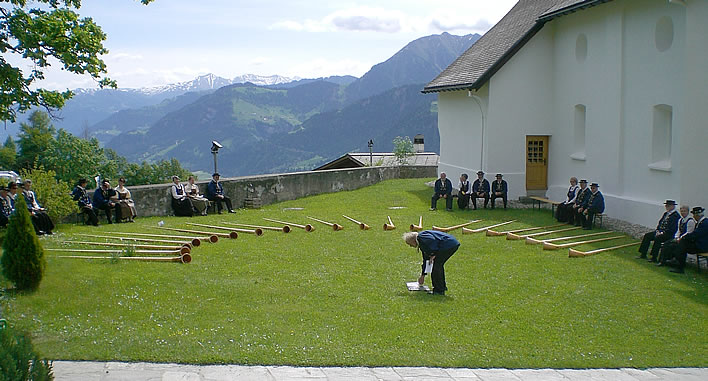 Whenever the priest ran out of things to say, the alphornists took back control: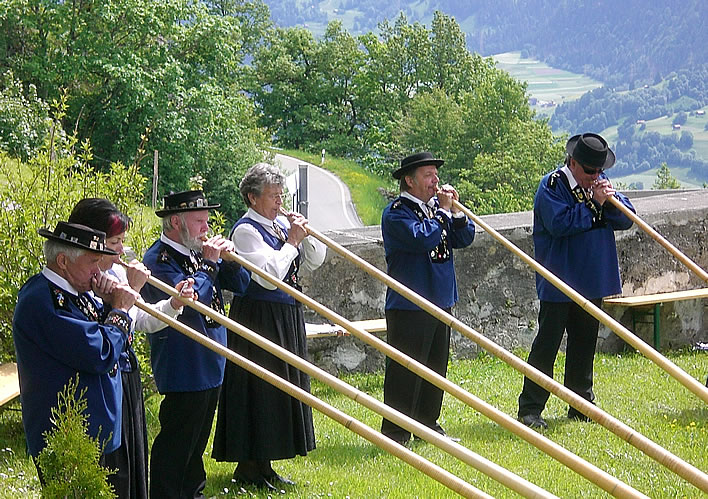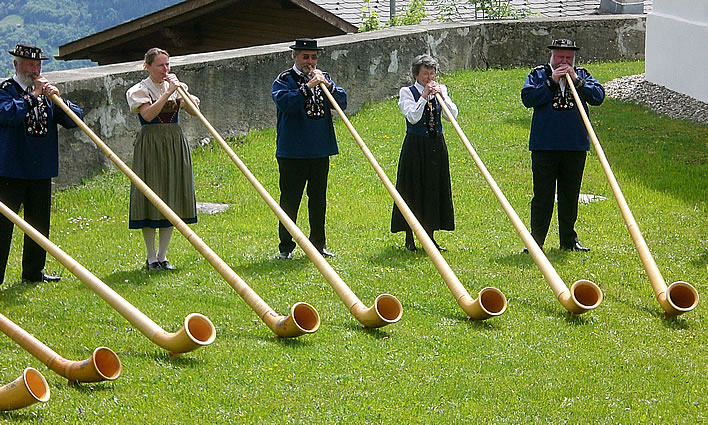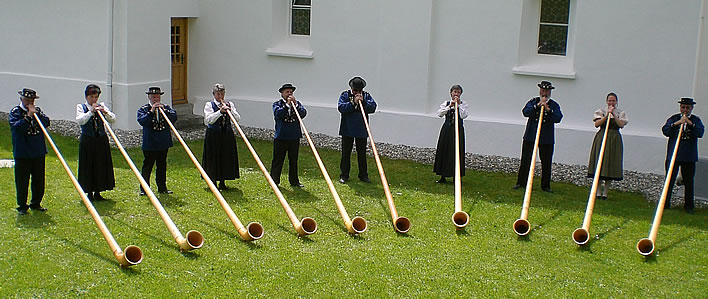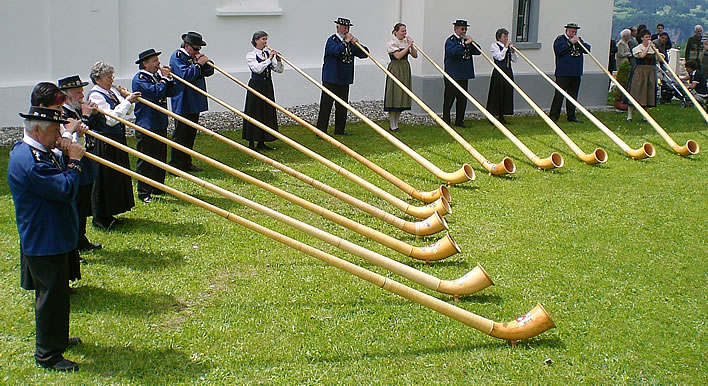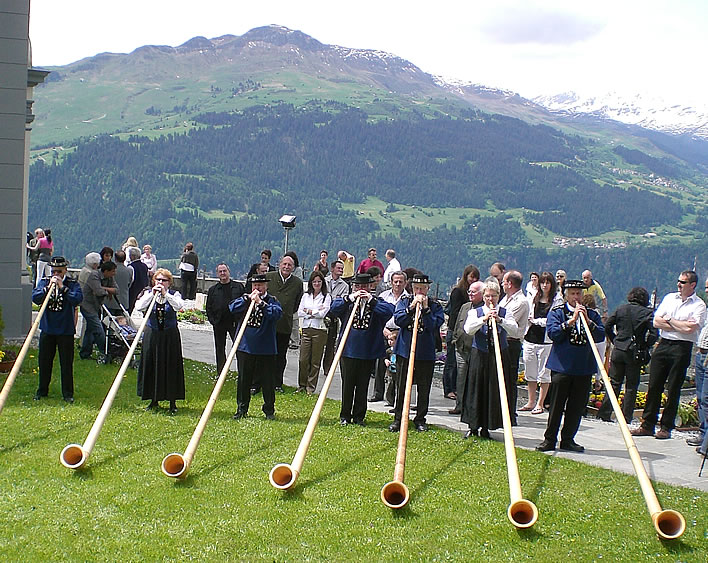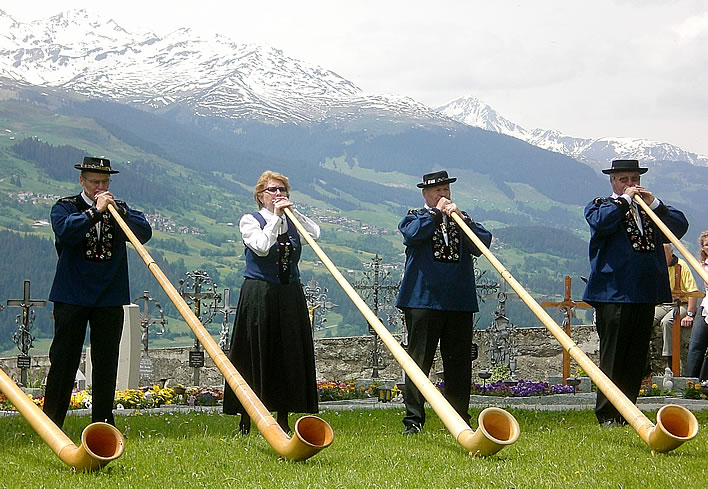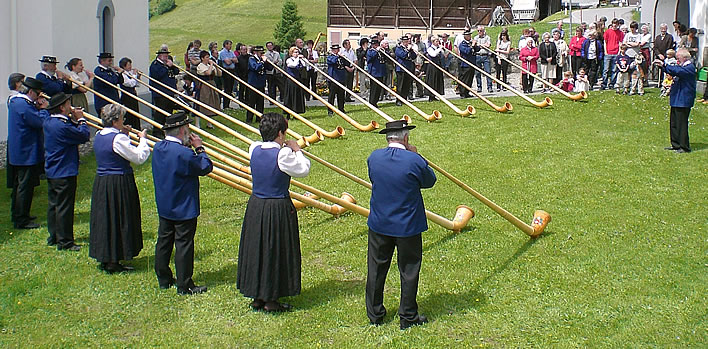 Every good alphorn group relies on a good conductor:
The instruments
Alphorns at rest should be arranged in an orderly semicircle – this is Switzerland, after all.


Each one is decorated with images of wild alpine flowers such as gentians (great and small), edelweiss and alpine roses. The coat of arms of Switzerland is also present, here on the waisted 'Renaissance' shield (the form traditionally held by the standing personification of Helvetia, familiar from the obverse of several denominations of Swiss coins).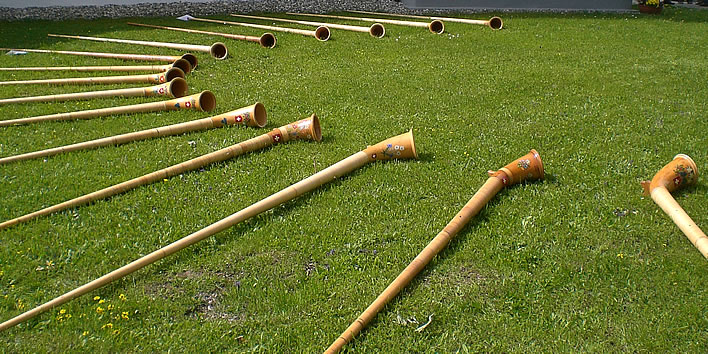 Trying it out
For those unfamiliar with the sound of an alphorn group here are some members of the Zuger Alphornbläser-Vereinigung in action in a concert in the Landsgemeindeplatz in Zug on 24 July 2013. They are playing the popular tune Bim Weidgatter, 'At the meadow gate', by Hans-Jürg Sommer (1950-).
The composer has an audio clip on his website of his own solo performance of the opening of this work.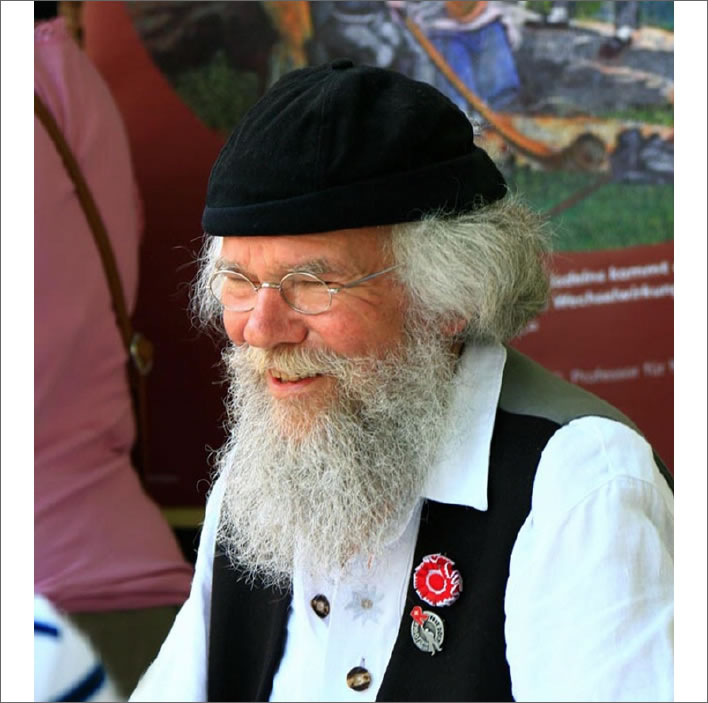 God's own country.
If you want an alphorn and have about 3,500 CHF under the mattress here are some suppliers (all [DE]). The suppliers given here are well worth supporting, but there are many others: google 'schweiz alphornbau' and make your own selection.
If you have particularly unpleasant neighbours then that 3,500 CHF could be money well spent.