Posted by Thersites on  UTC 2019-08-20 09:47
Switzerland will vote for its parliament on 20 October 2019. The conservative Swiss People's Party (SVP) has just published its election poster. Here it is: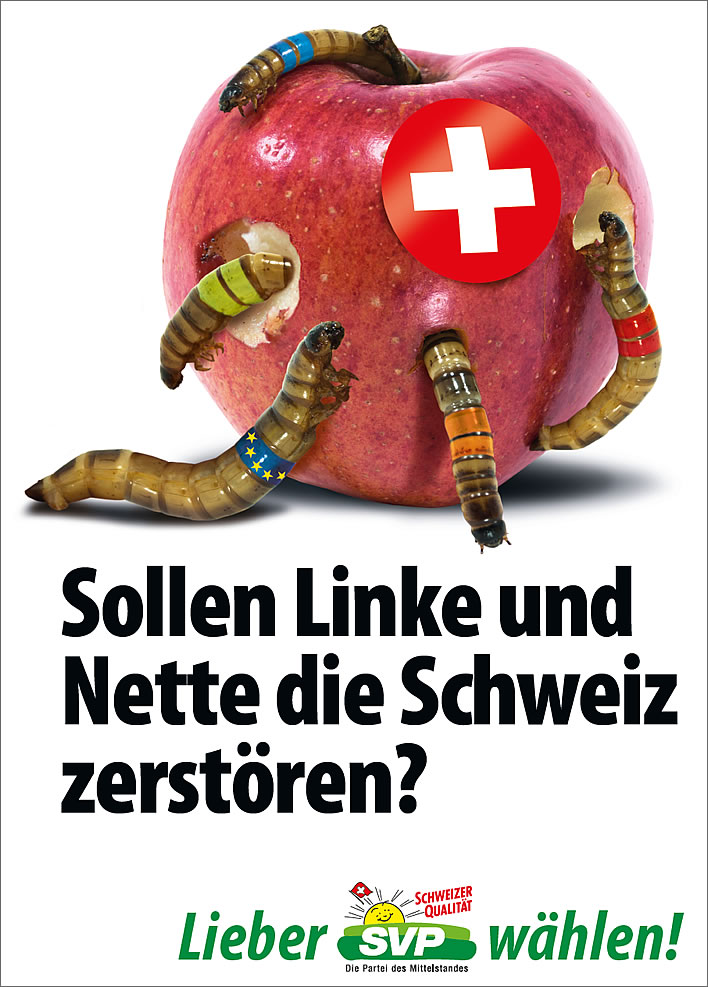 The text on the poster reads 'Shall left-wingers and do-gooders destroy Switzerland?'
The creepy-crawlies invading the apple are helpfully colour-coded according to their party allegiances. The smiling sun in the party's logo looks strangely out of place in this swivel-eyed rant.
Are they mad?
The SVP has now sunk so deeply into a bunker mentality that it is only capable of presenting itself to the Swiss people in angry, defensive and divisive terms. The more it does this, the fewer swing voters will support it.
Instead of offering some positive messages that might win hearts and minds at an election, the SVP offers only fear-filled images from obviously worried minds. It demonises as agents of corruption the people it really ought to be trying to win over. All the other parties produce election material that is full of images of cheerful, smiling people and uplifting messages; the SVP produces a poster that normal people can barely bring themselves to look at.
We have already pointed out elsewhere the lack of political marketing talent in the SVP and particularly its inability to attract young, creative staff.
Nowadays, when most of the other political parties in Switzerland are serving up only slight variations of the same progressive political casserole, it is particularly important that Swiss voters have a genuinely conservative option available. They may or may not choose it, but at least the SVP could try to make it more like a delightful alfresco picnic in an alpine meadow than some reheated stodge eaten from a mess-tin in a bunker. In other words, an option for which someone might wish to vote.