Posted by Thersites on  UTC 2019-10-29 11:04
'Dead in a ditch' – you don't think that was just bluster, do you? Because, as we know, the ditch is still sans corpse – 'unfortunately', some unkind people might add.
As we predicted on the basis of Boris™ Johnson's biography so far and our detailed analysis of his recent speechmaking, it was all bluster, all promises that lay outside his dispensation to deliver: in particular the 'do-or-die' date of 31 October and the subliminal suggestion of no-deal as the preferred option (which his fan club foolishly took at its face value).
We have now learned that the preparations for that bluster of a no-deal Brexit that he was never going to take have cost the British taxpayer 100,000,000 GBP to date, making it arguably the most expensive bluff in British history. In an act pregnant with symbolism, we also learn that the limited edition Brexit 50p coins, dated 31 October 2019, are now to be shredded and melted down.
We know what happens within millenarian cults when such apocalyptic predictions – the destruction of the Earth or the arrival of all-powerful aliens in a spaceship or the appearance of a new Messiah called Greta – fail to come true: justifications are found, conspiracies are exposed, new dates are set, new believers are recruited. Scales rarely fall from eyes, though. Thus in the present case it is all the fault of (pick one or more) Parliament, Remainer MPs, the legal establishment, those sneaky Europeans, the media and so on.
Nothing of the sort is true. The fact is, our boy nailed a date to the church door, a date for the completion of a procedure which was utterly outside his control. It was an act of reckless political bravado. He challenged his opponents to bring it on, the fight would be to the 'death in the ditch' if necessary.
Unfortunately for him, they brought it on, he lost that fight and has now meekly removed his date from the door, tossed the scrap of paper in the bin (no recycling service would accept it) and changed the subject from Brexit to election. Only a moment's reflection is needed to tell us that he never meant any of it after all. It was all just bluster.
The experience of the brief period since he nailed his do-or-die date to the door has shown incontrovertibly that when his fans heard 'leave' and 'no-deal' he was actually saying 'remain' and 'agreement', meaning Mrs May's abysmal, much rejected Withdrawal Agreement.
The 'great new deal' he negotiated in the space of a couple of weeks turned out to be just May's agreement raised to a higher level of ineptitude. Who would even have thought that possible? His renegotiation of the Political Document associated with that agreement can best be described as abysmal 2.0. It appears that, desperate to get an agreement and avoid a no-deal, he simply accepted everything the EU proposed.
Worst of all, showing himself willing to cast Northern Ireland adrift was an act of strategic lunacy. The hated 'backstop should all else fail' became a frontstop, an endless default position. Politicians in the Republic of Ireland are now openly discussing moves towards a united Ireland, the Scottish separatists are considering launching another referendum, the Welsh might follow.
Now our bantam cock is prancing up and down in Parliament, jerking his neck up and down, calling the leader of the opposition 'frit' for not helping him out of the ditch he dug for himself to contain his own body. Corbyn, the 'chicken', should meet him round the back of the bike-sheds and sort it out like a man. But if anyone thinks that an election will somehow deliver a more compliant, Brexit-friendly Commons and that, after the election, all shall be well in Albion's realm… well, what can one say?
All the frantic news of his frantic activity which appeared in the Tory-friendly media turns out to have just been lazy journalists slightly rewriting what the Downing Street Chocolate Factory told them – so manipulative, in fact, that it has now led to moves for the reform of this cosy but wicked briefing system.
In calling an election, Blustering Boris™ is once again rolling the dice without empirical foundation, just as he did when he nailed his do-or-die date on the church door. Studies of the psychology of gamblers have shown that gamblers usually desperately crave some quasi-divine approval or vindication. When, as is usually the case, the approval doesn't arrive they use similar methods of squaring this failure in their minds to those used by the apocalypse cultists.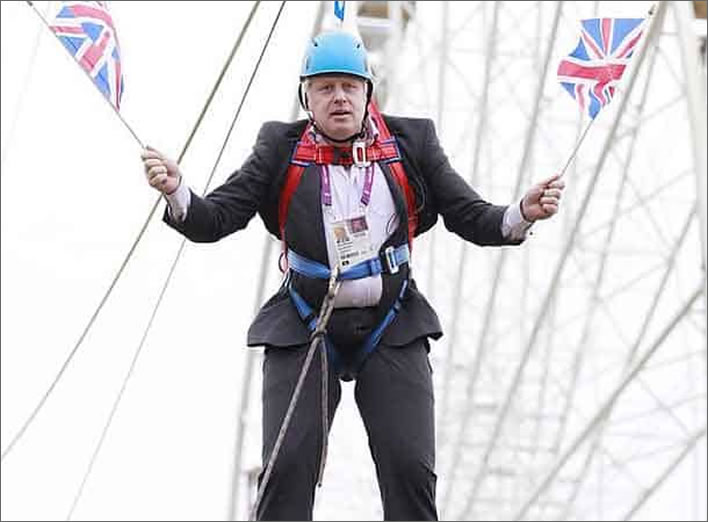 Just as before on that now-famous physical zipwire, he set off down the Brexit zipwire with a mad gamble on the leaving date. That gamble did not pay off and he was left dangling ridiculously in the air, with only flags to wave.
In calling an election and simultaneously calling his opponent a coward he is about to set off down another zipwire, the election zipwire. Will it also get stuck, or will it finally deposit him in his well deserved ditch? Government by bluster, zipwire and dice rolling.