Scrapbook for November 2019
Posted on  UTC 2019-11-01 02:01
14.11.2019 – In the bleak midwinter
That old saw about never holding British General Elections in winter – well, there may just be something to it.
The current election campaign has kicked off with flooding (government incompetence). The yearly NHS breakdown is coming along nicely, with miserable patients groaning their miserable lives away in hospital corridors for hours on end (government incompetence). Blizzards are just around the corner and there will not be enough grit (government incompetence).
There will certainly be power cuts (government incompetence) and many families will wish they had Excitable Edgar on speed dial, if only so that he could finish cooking their Christmas lunch:
Excitable Edgar is truly a tale for the times: a series of mishaps, each worse than its predecessor. The only thing it gets wrong, though, is the happy ending. In this season's Christmas story, no conceivably happy ending is in sight.
Continuing the cooking theme, we are told to consider the Brexit deal 'done', then 'oven-ready', then 'microwave-ready – just prick the cellophane'. Now arrived at the bottom of the culinary scale, the deal has now become a pot-noodle on which we only have to pour hot water – which would be fine, if we had some of that.
Tough times are ahead. The party leaders will burble incomprehensibly and not a word of it will be true, so it's really a blessing that we don't understand them. The same ten songs will be played over and over again on radios and in shopping centres, a cruel and unusual punishment that is probably the only thing that cannot be blamed on the Conservative government that was and soon – Inshallah! Hear my prayer, O God incline thine ear! – will be no more. God is great!
Then, following the receipt of around 23 postal votes per household a decision will be reached, there will be five or more years of socialism and the British will really have something to complain about. Praise the Lord for foodbanks! Just don't complain on social media though – that's really asking for trouble. If the prisons weren't so overcrowded you would be inside like a shot. Still, for a serious offence such as grumbling, exceptions may be made.
13.11.2019 – 240 years ago today
At around ten o'clock on 13 November 1779, Wolfgang Goethe, Duke Carl August von Sachsen-Weimar-Eisenach and two servants arrived at the Capuchin Hospice at the head of the Gotthard pass.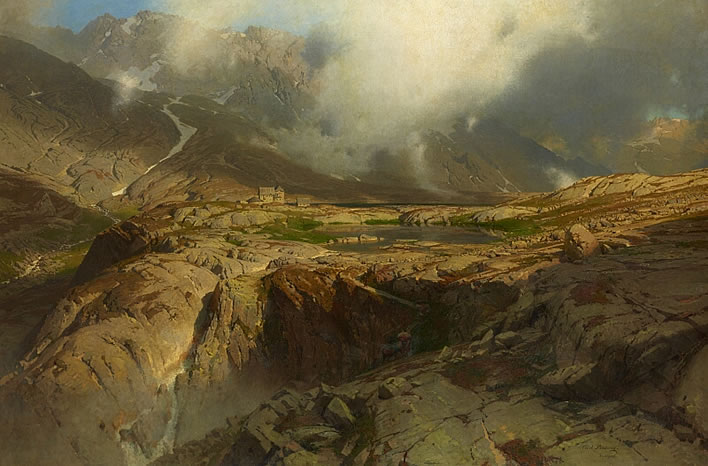 It was Goethe's second encounter with the Gotthard. He would journey there on three occasions in total – the area exercised an almost mystical and simultaneously scientific attraction for him. His fascination with the area we covered in a series of articles two years ago. That moment which took place 240 years ago today is described here.
12.11.2019 – The illustrated Schubert collection
The listing of the Schubert related articles on this website has had a pictorial makeover. No content has been changed, so it doesn't really qualify as an update.
09.11.2019 – A Boris™ Johnson lie tracker
The UK journalist Peter Oborne and a half-dozen other associates have set up a website that will list and counter Boris™ Johnson's lies, boris-johnson-lies.com.
Since Johnson will be improvising wildly in the weeks until the election on 12 December, we can expect that Oborne and Co. are going to have their work cut out in documenting the blustering fantasies that come out of Johnson's mouth.
One of our particular favourites came on 2 October this year in Johnson's speech to the Conservative Party annual conference:
Remember it was only a few years ago when people were saying that solar power would never work in cloudy old Britain and that wind turbines would not pull the skin off a rice pudding
Boris Johnson, Tory conference speech, 2 October 2019.
To which boris-johnson-lies.com points out that the 'people' who said this were was in fact Boris Johnson, the very well-paid Telegraph author, in a 2013 piece. He was then an energy sceptic when he needed something to harrumph about in the Telegraph; now, in 2019, in the Gretaceous, he is a fervent supporter of green energy madness.
All warnings will go unheeded by the faithful, who only have ears for the mood music. Will the real Boris™ please stand up? He won't – because there simply isn't a real Boris™.