Winston Churchill's lifelong love of horses
Posted by Werner Vogt on  UTC 2020-07-09 16:15
The most famous Briton in history, Winston Churchill, was a life-long lover of horses and an excellent equestrian. Whether as a cavalry cadet in Sandhurst, as a polo player, as a war reporter in Afghanistan or South Africa or as a huntsman – he enjoyed every moment in the saddle.
The best known images of the wartime British prime minister Winston Churchill (1874-1965) are of the grim, penetrating gaze of the military leader. His most famous portrait – the one with the bulldog look – is on the current British five pound note.
His great love of animals is less well known. He was a regular visitor to the estate farm of his country house Chartwell in Kent, to the south east of London. One of his famous quotes runs: 'Dogs look up to you, cats look down on you. Give me a pig! He looks you in the eye and treats you as an equal.'
His poodle Rufus watched films with him on Sundays, the cat Jock enjoyed guest privileges in his bed and Toby, the budgerigar, was allowed to fly around his office and land on the shoulders of prominent guests such as government ministers – although the bird, unlike the dog and cat, was not house trained.
Riding out in Blenheim Palace
Churchill had a particular love of horses, even though his very first riding experience, when he was four, ended with his being thrown unceremoniously by a donkey. The little chap put that experience behind him and at the age of seven he was riding around Blenheim Park on his pony Rob Roy.
His grandfather, the 7th Duke of Marlborough, was the owner of this gigantic palace of quite un-English size and assertiveness. Good riding skills were generally expected from a member of the British aristocracy, if only to take part in fox and deer hunts.
Much to the dismay of his parents, Churchill was not an academically gifted schoolboy and the expected transition to Oxford or Cambridge never took place. Instead of that he managed to pass at the third attempt the entry examination for the Royal Military Academy Sandhurst, where he trained in 1894-1895 to become a cavalry officer. The riding training included jumping without a saddle and without bridle and harness. In his free time the young Winston enjoyed playing polo, which emptied his father's wallet even faster than the silk underwear to which he treated himself.
Four wars on three continents in five years
During his young years between twenty and twenty-five Winston Churchill took part in every campaign of the British Empire. Churchill was an action man through and through. That he always managed to be in the right regiment at the right time was due to his mother, who had excellent (and amorous) relationships with top generals.
The horse was his valued means of transport, not only in Cuba, where the scarcely 20 year-old Churchill was a military observer of the uprising of the Cubans against the Spaniards, but also in India and Afghanistan. As a war reporter, he left a striking description of the last cavalry attack in British military history in Omdurman, in the Sudan, on 2 September 1898. Because his right shoulder had been damaged playing polo, he carried a Mauser pistol instead of a sabre. He proudly informed his mother that he had shot seven dervishes. His fame grew during the Boer War in southern Africa, when he managed to escape from military imprisonment in 1899.
Hunting until his 74th birthday
The fame of that valiant escape across the eastern Transvaal and into today's Mozambique helped him in his election as a Member of Parliament. He remained in the House of Commons for the next 60 years. By the time his ministerial career began, the motor vehicle had replaced the horse for daily transport.
Churchill remained a passionate equestrian for the rest of his life, although in the Second World War as First Lord of the Admiralty (1939/40) and then as Prime Minister (1940-1945) he had no time to get in the saddle.
Despite the gap in his riding during the war years he took part in his last hunt at the age of 74. Following that he became Prime Minister for the second time (1951-1955). In these years, though, he suffered serious setbacks to his health.
Racehorse breeder
Nevertheless, Churchill remained true to his love of horses, for in his old age he began to breed racehorses. His most famous horse, Colonist II, was very successful with numerous wins in various races.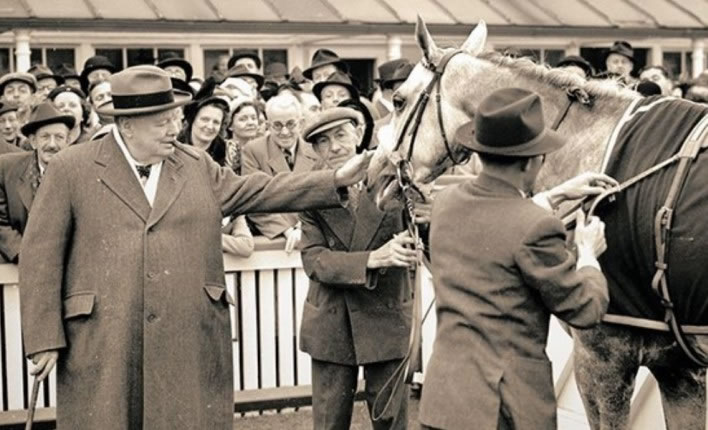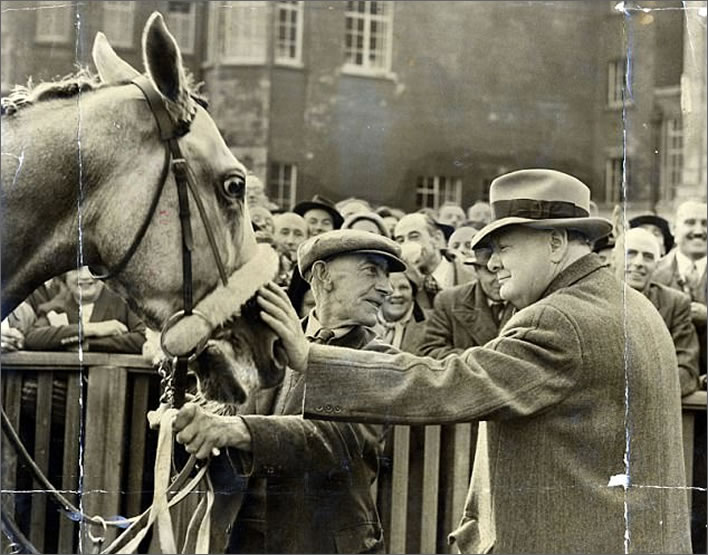 A highlight of this period was Churchill's invitation to lunch with Princess Elizabeth, the daughter of King George VI and successor to the throne. After the lunch in Hurst Park Churchill was able to celebrate the start-to-finish victory of his five-year-old grey Colonist II. His horse had even beaten Above Board, the King's horse.
The British wartime Prime Minister was always ready with a bon mot. His most famous saying about horses is 'An hour in the saddle is never an hour lost'.
---
Dr. Werner Vogt is a member of the riding club Zunft Hottingen and a participant in riding safaris in Africa and elsewhere.
A German version of this article appeared in Kavallo – Das Schweizer Pferdemagazin, No. 7/2020. This translation ©FoS.