Portraits
There is no doubt that the 'official' portraitists 'improved' Schubert in the way that Lieder did not. That was, after all, their job. We find him slimmed down, the pot belly has vanished, the squat face elongated, the stubby nose made noble. Portrait painters would routinely heighten the foreheads of their sitters as a sign of intellect. That pot-belly we see in Schober's vicious caricature, in which the pot-belly is perhaps exaggerated but was clearly not an invention. Schubert liked his food, his wine and his beer.
The most famous and well-documented portrait is a watercolour done by August Rieder in 1825: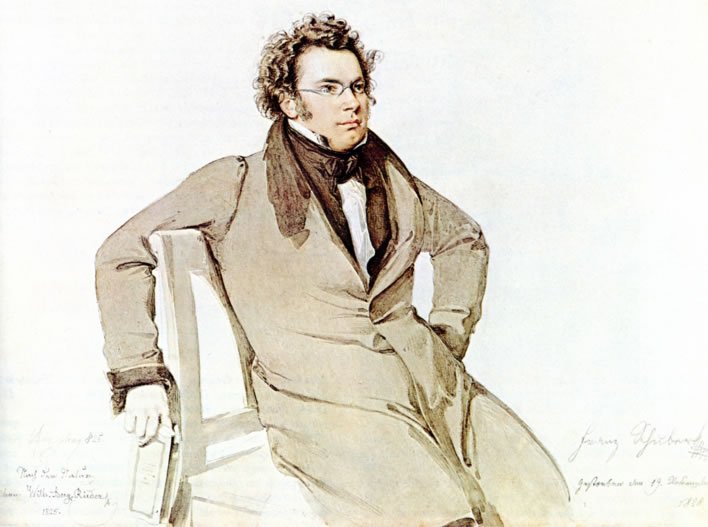 Wilhelm August Rieder (1796-1880), painted Schubert from the life in a lithograph, a sepia drawing and a renowned watercolour in 1825.
Rieder's watercolour has been taken as a model by a large number of artists in different media. You will come across many derivatives of this image or its details.
Rieder's cosmetic improvements to his sitter's appearance are what you might expect from a skilled portrait painter. The relaxed pose reflects Schubert's relaxed personality – he and his circle of friends disliked what they called the 'stiff people' – but allows Rieder to stretch the short and dumpy composer's body to give an impression of stature. The head is correspondingly less massive, certainly less blockish and has been gently narrowed and lengthened.
Rieder's portraits met with the approval of some who knew Schubert well – Schubert, too, since both he and Rieder signed the sepia and the watercolour versions. But, reading between the lines we are made aware of the deficits and difficulties of portrait painting. In 1858 Leopold Sonnleithner, a friend of Schubert during his adult years, discussed Rieder's representation and Schubert's appearance:
[Rieder's] lithograph portrait of Schubert is the closest likeness. However, the body is too heavy and broad. The large plaster bust [based on the mask] is very accurate, especially in the lines of the mouth.

Schubert was shorter than average, had a round, fat face, a short neck, a not very high forehead and full brown, naturally curly hair. His back and shoulders were rounded, the arms and hands pudgy with stubby fingers. The eyes, when I am not mistaken, were grey-blue. The eyebrows were bushy, the nose short and wide, the lips thick, the face slightly negroid. The skin was blondish rather than brunette, but with a tendency to develop small, darker coloured rashes. The head was set deep onto the shoulders and tilted forwards. Schubert always wore spectacles.

At rest the facial expression was more stupid than intelligent, morose rather than cheerful. One would have assumed that he was an Austrian or more possibly a Bavarian farmer. […] He only became animated among close friends, when drinking wine or beer. Even in these situations he never laughed aloud but just gave a muffled chuckle. Shy and quiet, particularly in the elegant circles in which he appeared as a courtesy in order to accompany his songs. During the performance his facial expression was extremely serious; afterwards he retreated to a side-room as soon as he was finished. […]

He attended house balls in initmate family circles. At these he never danced but was always prepared to seat himself at the piano and improvise the most beautiful walzes for hours. Those he liked he repeated, in order to remember them so that he could write them down later.
Deutsch, Otto Erich, ed. Schubert: Die Erinnerungen Seiner Freunde, Wiesbaden: Breitkopf & Härtel, 1997, p. 141. Translation ©FoS.
Joseph von Spaun also took up the theme of Schubert's appearance in a response to the first published biography of Schubert by Heinrich Kreißle von Hellborn (1865):
Schubert has never been properly represented, either in appearance or character. His face is reproduced as almost ugly, negroid, an appearance to which anyone who knew him would object. The portrait painted and etched by Rieder is an extremely good likeness. Just a glance at it will tell you whether the face was ugly and negroid.

On the other hand, one cannot say that Schubert was handsome. He was, however, well-formed and when he spoke with friendship or smiled, his facial features were full of charm. When he worked, filled with enthusiasm and glowing with zeal, his features became exalted and almost beautiful.

As far as his body is concerned, after reading the biography one would imagine him to have been a fat lump. This is completely wrong. Schubert had a solid, squat body, but of fat or of a pot-belly there was no trace. His younger friend Moritz von Schwind exceeded him in circumference even then.
Ibid, p. 416. Translation ©FoS.
We cynical blog writers can only note that in these two accounts each affirmation of the accuracy of Rieder's portrait is followed in short order by statements about Schubert's appearance that contradict that representation.
Two further contemporaneous illustrations of Schubert were produced by Josef Teltscher:[4]