Goethe and Lavater had corresponded for some time before their first meeting in 1774, the year before Goethe's first Swiss journey. Goethe, himself not a Christian, also venerated Lavater at first for his sermons and religious insights, even referring to him gratuitously and approvingly twice by name in Werther, of all places. [Werther 1:38; 1:99] In Goethe's head, sooner or later, everything was connected.
Lavater, himself the owner of a fine nose, is easy to mock for his physiognomic theories: Lavater's 'analysis' of any particular profile was completely subjective and completely unscientific, the terminology used was full of feeling and rhetorical excess, quite poetic in fact. It would not be out of place in a modern Mills and Boon romance.
His religious interpretations were also rather odd, placing great faith in miracles, but in that large contemporary field of religious oddities they were not strikingly bonkers. In an increasingly schismatic, faithless and rationalistic age, a belief in miracles might be a comforting thing. His faith in miracles even convinced him that sooner or later Goethe would come round to Christianity.
But in fairness we must record that Lavater had a freedom fighter personality and had on several occasions in his youth risked opprobrium, his livelihood, his freedom and his life by standing up against injustice. Some of his ideas may have been laughable in our modern terms, but he was a very brave and principled man. He died by the bullet of a French soldier fired at him (probably accidentally) in the Second Battle of Zurich on 26 September 1799. The bullet could not be removed and he died a lingering death, finally expiring on 2 January 1801.
Sticking it to the Stolbergs, part I
Goethe the genius, now staying alone with Lavater the genius, separated from his aristocratic travelling companions, grew tired of them, we might even say that he grew embarrassed at their aristocratic antics – at least, so Goethe tells us in Dichtung und Wahrheit, 'Invention/Poetry and Truth', in a section written around fifty years after the fact in which he viciously attacks them: they had even had the 'youthful aristocratic arrogance' to call on Lavater without an appointment. [Dichtung (4:18)785]
Update: 19.11.2017: The Haus zum Waldries, Spiegelgasse 11 in Zurich, where Caspar Lavater lived and where Goethe stayed on two of his three visits to Zurich. Image: Photographer Wilhelm Gallas. No date. Zürich Baugeschichtliches Archiv. [Click to display a large version of this image in a new tab.]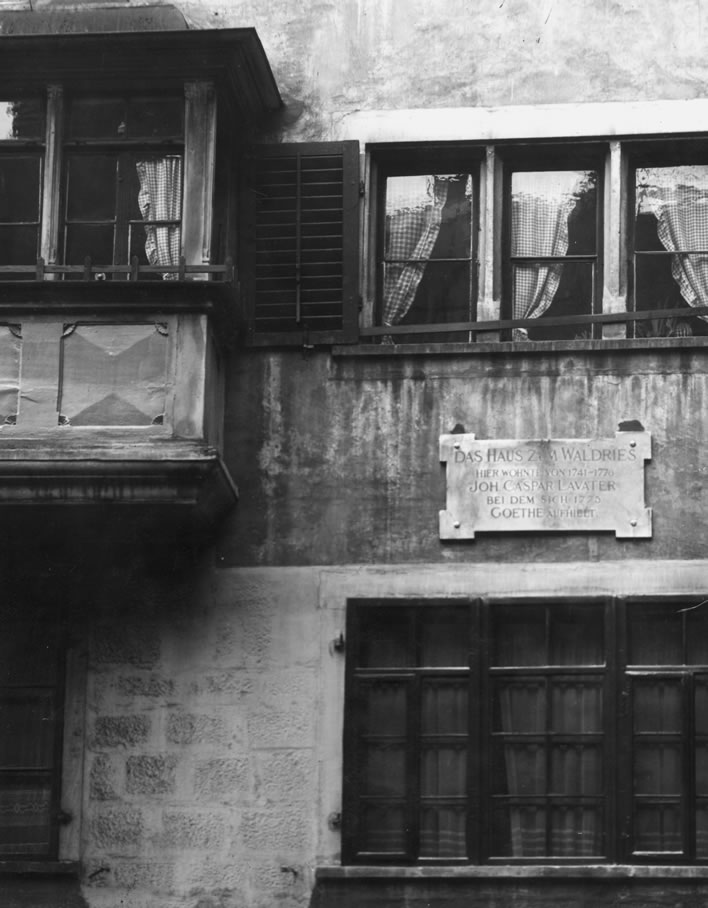 Update: 19.11.2017: The plaque on the Haus zum Waldries, Spiegelgasse 11, Zurich, memorialising Lavater and Goethe. 1930. Image: Photographer Wilhelm Gallas. No date. Zürich Baugeschichtliches Archiv. [Click to display a large version of this image in a new tab.]
Oiled with a large measure of self-satisfaction, Goethe then goes out of his way to tell us of Lavater's explicit condemnation of Leopold Stolberg's character as 'soft and malleable' and Lavater's implicit surprise at why Goethe was associating himself with such noble riff-raff. The memory of Lavater's condemnation of Leopold Stolberg's character was so pleasing to the old Goethe that he included it in Dichtung und Wahrheit twice. [Dichtung (4:18)785; (4:19)806]
In Dichtung und Wahrheit Goethe set the stage for his attack on the Stolbergs before he even set off, using his old friend Johann Heinrich Merck (1741-1791) – whom he would also simultaneously attack – as his proxy. The relevant passage offers an insight into this repellent side of Goethe (and includes even more skinny-dipping):
I spent some time with Merck, who looked with a devilish sideways glance upon my planned journey and on my companions, who had also visited him, describing them with pitiless understanding. He also knew me well: the insurmountably naive amiability of my character was painful to him; my eternal acceptance of others, my live-and-let-live attitude was a torture. 'That you are travelling with these characters', he shouted, 'is a stupid joke'

[…]

'You won't stay long with them!' was the conclusion of his tirade.

[…]

Unfortunately, before the group left Darmstadt, there was an incident that irrefutably strengthened Merck's opinion.

One of the crazes of the time was that one should try to set oneself in a natural state, which included bathing in open water in the open air. Our friends [Stolbergs and Haugwitz] just could not resist, after all other proprieties, this unseemly activity.

Darmstadt, although on a sandy plain without flowing water, has a pond nearby, which I had never even known about before this moment. The strongly natural and continually over-heated friends sought refreshment in this pond: the sight of naked youths in broad daylight was certainly unusual in this area. There was a scandal in any case. Merck hardened his opinions and, I can not deny it, brought forward our departure.
Dichtung (4:18) 775f.
Goethe's distaste for his noble companions is a phenomenon of his later years. It did not prevent him continuing on the next part of his journey in their company or writing effusively to Gustgen about the doings of her big brothers.
It is surprising that the Stolbergs seem to have found so little favour with Lavater, but our witness is Goethe, who came to detest the lot of them. Both Lavater and the Stolbergs – and Haugwitz, too, we presume – shared a reverence for the Genevan academic Charles Bonnet (1720–1793), then renowned, but now just another forgotten name. The deeply religious Stolbergs felt that Bonnet's theories of the development of organisms could contribute to their religious ideas; for Lavater, too, Bonnet was his 'favourite author'. There was plenty of common religious ground between Lavater and the Stolbergs, certainly more than there was between Lavater and the pantheist Goethe, but from Goethe we hear nothing of these affinities. Readers of Dichtung und Wahrheit are left with an impression of the Stolbergs – and Friedrich Leopold in particular – as mere youthful, aristocratic non-entities.
At Lavater's house Goethe met his old friend from Frankfurt, Jakob Ludwig Passavant (1751-1827), who was working as an assistant preacher for Lavater. Goethe tells us in Dichtung und Wahrheit that it was Passavant who suggested that the travellers now take a walking tour through central Switzerland. No one else in the group had ever seen high mountains.
To the mountains
On 15 June 1775, on a 'shining morning' [Dichtung (4:18)788] Goethe, Passavant, Lavater, the pastor and theologian Johann Jakob Hess (1741-1828), Hans Heinrich Schinz (1727–1792), a lawyer and administrator in Zurich and Philipp Christoph Kayser (1755-1723), musician and composer, a friend of Goethe's from his youth now resident in Zurich set off in a rowed boat along the Lake of Zurich, They stopped at Zurich-Enge to pick up the Stolbergs and Haugwitz and were then rowed along the lake shore. After two hours they stopped for lunch in Oberrieden at the country parsonage of a friend of Lavaters, Hans Conrad Däniker (1726–1784), the first vicar of the recently built (1761) church there. The party had a 500 m walk up from the landing place to Pastor Däniker's vicarage, next to the church and the road.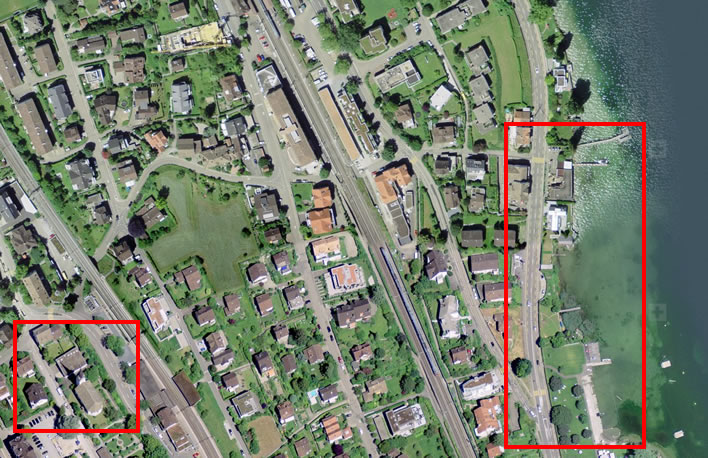 An aerial photograph of Oberrieden, on the shore of the Lake of Zurich. Despite all the roads, railways (two) and houses, the church and the vicarage are still there and relatively close to their original condition (red rectangle, bottom left). One of the lakeside jetties in the red rectangle on the right would have been used by the travellers. Image: Bundesinventar der historischen Verkehrswege der Schweiz (IVS).
Our puzzlement has already set in: the 80-year-old Goethe's description of that day in Dichtung und Wahrheit is confused and confusing. We find no mention of this pleasant lunch in Oberrieden, no mention that the Stolbergs set off from here for Einsiedeln. We only know of all this from a letter that Friedrich Stolberg wrote to his sister.
The Swiss historian Barbara Schnyder-Seidel went to some lengths to reconstruct what really happened on the journey that 15th and 16th June. [Schnyder-2 31-38] Nearly everything that Goethe wrote about this part of the journey to the Gotthard seems to have been confected from the notes dictated to his amanuensis Ludwig Geist during the 1797 journey and some other vague memories. The present piece is not the place to go through all the variants; we shall give instead a condensed, unified version of Schnyder-Seidel's reconstruction with some of our own additions.
After lunch in Oberrieden with Pastor Däniker the group split up: The party from Zurich, Lavater and friends, returned by boat to Zurich; the Stolbergs and Haugwitz walked on to the next village, Horgen, then ascended to the track that runs along the side of the Horgenberg and Hirzel, 'crossing innumerable small streams', presumably through Hirzel village, Schönenberg to Schindellegi; Goethe and Passavant went by boat from Oberrieden to Richterswil, where they landed and ascended the hillside to Schindellegi.
The journey from Oberrieden (top left) to Einsiedeln (bottom right), done one way or another. The Stolbergs and Haugwitz walked from Oberrieden to Horgen and then climbed up to one of the tracks (solid blue and hollow blue lines), probably then passing through Hirzel and Schönenberg to get to Schindellegi. Nearly all of the old routes between Schindellegi and Einsideln have been destroyed by road and rail building through the narrow gap in the hillside.
The route from Richterswil to Schindellegi is an ancient pilgrims' track; the hollow red lines mark remains of it that can be found today.
A very important pilgrims' route can be seen in the hollow red lines at the middle right of the map. This is part of the Jakobsweg, the 'Way of James', the Europe-wide pilgrimage route to Santiago de Compostela in Spain. The path runs from Rapperswil/PfäffikonFreienbach over the Etzel pass, past the chapel of St. Meinrad, the hermit saint associated with the foundation of the monastery of Einsiedeln, then down past the Sihl reservoir to Einsiedeln.
Image: Bundesinventar der historischen Verkehrswege der Schweiz (IVS).
Both groups – whether singly or together, we don't know – then went from Schindellegi to the great Benedictine abbey of Einsiedeln. It seems reasonable to assume, however, that the agreed meeting place would be Einsiedeln, not Schindellegi.
Friedrich Stolberg writes that the journey to Einsiedeln took them seven hours, which is what would be reckoned for the journey today, at a length of about 26 km with an ascent of about 760 m. Goethe and Passavant's walk from Richterswil to Einsiedeln was around 13 km and would have taken them about four hours.
As we have already noted, Dichtung und Wahrheit tells us that the full party visited Lavater's great friend, the medical doctor Johannes Hotze (1734-1801) at his home in Richterswil and that Goethe's group (at least) stayed overnight there. This cannot be true: not only does the calendar of the journey not allow this extra overnight stay, it conflicts with Stolbergs' very credible account of the journey. The clue to the solution is given in a letter from Hotze to Lavater dated 2 July 1775, which is rarely quoted in a sufficient extent:
I, too, dear man, am permanently busy and particularly so in the last few weeks. For that reason I am not able to get to Zurich. Goethe is leaving soon, however. If only I could see, hear and savour this man one more hour. [To be able] to look at this man from the hair on his head down to the soles of his feet, in all his veins, characteristics and movements, that he is the man who could write of Werther's sufferings. He left a handkerchief behind at my house, but I don't want to send it back: the memorial to his existence will stay with me.
Johannes Hotze, letter to Johann Caspar Lavater, 2 July 1775. In Johannes Hotze, 232 Briefe, 1 Beilage an Johann Caspar Lavater, 1769-1800, Zentralbibliothek Zürich, Handschriftenabteilung, FA Lav Ms 514.25-256.
What can we learn from Hotze's words? The letter is dated 2 July, truly only a day or so before Goethe was to leave Zurich for Frankfurt and Lili. Since Hotze speaks of 'the last few weeks' we know that Goethe had not visited Hotze recently and certainly not following his return from the Gotthard to Zurich. Goethe was in Zurich with Lavater from 26 June to 4 July.
Hotze's use of the word 'noch', 'once more' in 'Wenn ich nur diesen Mann noch eine einzige Stunde hätte sehen, hören, geniessen können' implies, however, that Hotze had already seen him at some point on this trip. We also know that this meeting must have been at Hotze's house and not somewhere else such as Zurich, for Goethe had left his handkerchief behind in Hotze's house ('bei mir'). We can debate about Hotze's use of noch, but Hotze's possession of Goethe's handkerchief is irrefutable proof that Goethe and Hotze did indeed meet in 1775. In which case, Barbara Schnyder-Seidel's assertion that Goethe was 'on that day and no other day in Richterswil' is unsustainable.
The only possibility for this meeting is the small window of opportunity opened by Goethe and Passavant's boat journey to Richterswil on 15 June. The most likely solution is that Goethe and Passavant popped in to Hotze's house for a brief meeting on their way from the landing stage on the lake to the pilgrims' road to Einsiedeln. Hotze's property is close to the lakeside and next to the pilgims' way, so would cost Goethe and Passavant only an hour or so of delay and the busy Hotze would not have been greatly disturbed.
If we assume this, then the reason for Goethe and Passavant detaching themselves from the Stolberg group and taking the separate boat trip from Oberrieden to Richterswil also becomes clear. Lavater wished for Goethe to meet Hotze, if only briefly. Hotze was busy and had little time to spare, hence Lavater had sailed back from Oberrieden to Zurich and Passavant was left as the man who introduced Goethe and Hotze for their first meeting. Had Lavater come with them, the rules of hospitality would have extended the visit beyond the time available. Goethe and Passavant, however, had to get to Einsiedeln that evening and so Hotze's time was used frugally.
The group stayed overnight in Einsiedeln. The details of this stay – for example, where they ate and slept – are a mystery. The following morning, 16 June, Goethe and Passavant set off from Einsiedeln for Schwyz without the Stolbergs and Haugwitz. This early separation is a further mystery of this journey: was the tour of the inner Swiss cantons that Passavant had proposed in Zurich just intended for Goethe alone, or was this simply the true starting point of Goethe's Gotthard trip that Friedrich Stolberg informed us about?
They wandered along the Alpthal another 12 km towards the striking pair of mountains that stick up in isolation, the Grosser Mythen (1898 m/6,227 ft) and Kleiner Mythen (1811 m/5,942 ft), 'these imposing irregular natural pyramids', Goethe noted.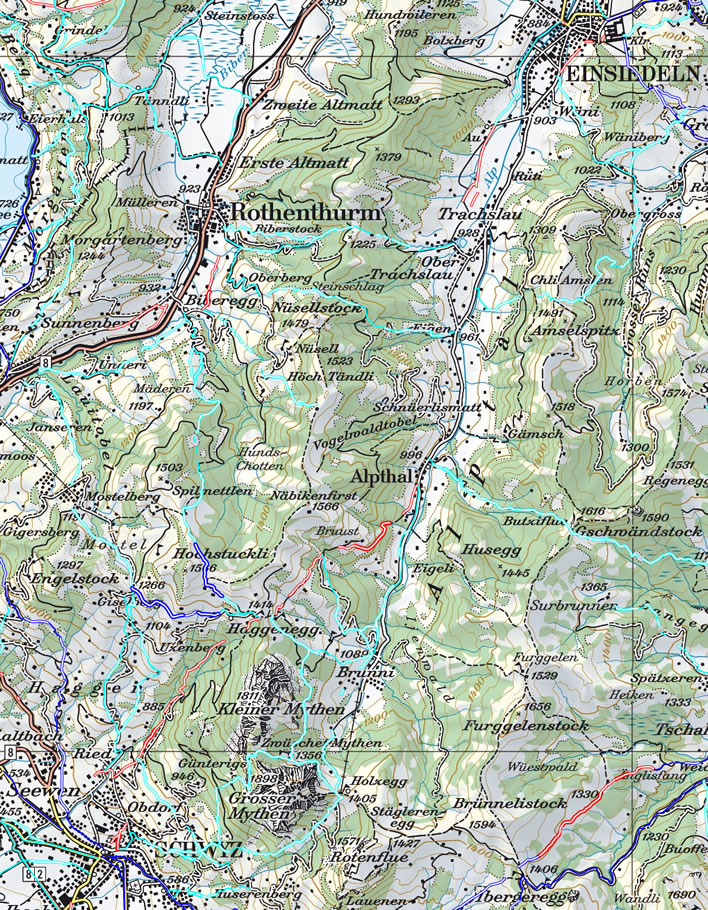 A map of the route between Einsiedeln and Schwyz. The Benedictine abbey at Einsiedeln is the notable black structure on the right of the town. The remains of the old path between Einsiedeln and Alpthal have mostly been destroyed in the building of the road. Follow the red and white line from Alpthal down to Haggenegg then around the side of the Kleiner Mythen to Schwyz. The pair found this steep and varied descent through a small gorge to be quite fun. The distance between Einsiedeln and Schwyz is about 12 km, with an overall descent of about 600 m. Image: Bundesinventar der historischen Verkehrswege der Schweiz (IVS).
Goethe and Passavant came down the steep track from Haggenegg through the gorge around the side of the two mountains – a not unexciting descent in snow and wet weather – arriving exhausted but elated at ten o'clock in the evening in the town of Schwyz, the capital of the canton, where they fed and boozed noisily until midnight (more rowdy Germans, it seems).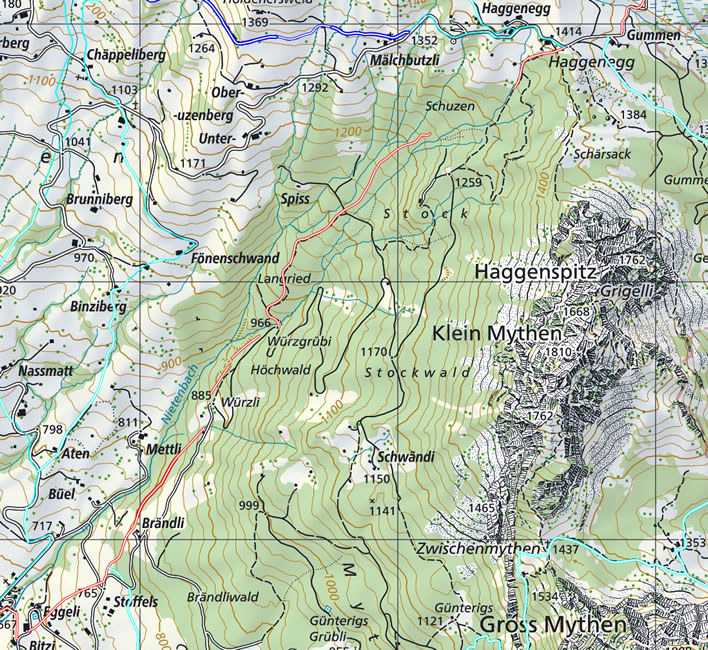 A map of the descent from Haggenegg to Schwyz that Goethe and Passavant found quite memorable. The route is about 4 km long and drops about 750 m, wooded and wet – not simple in twilight or darkness.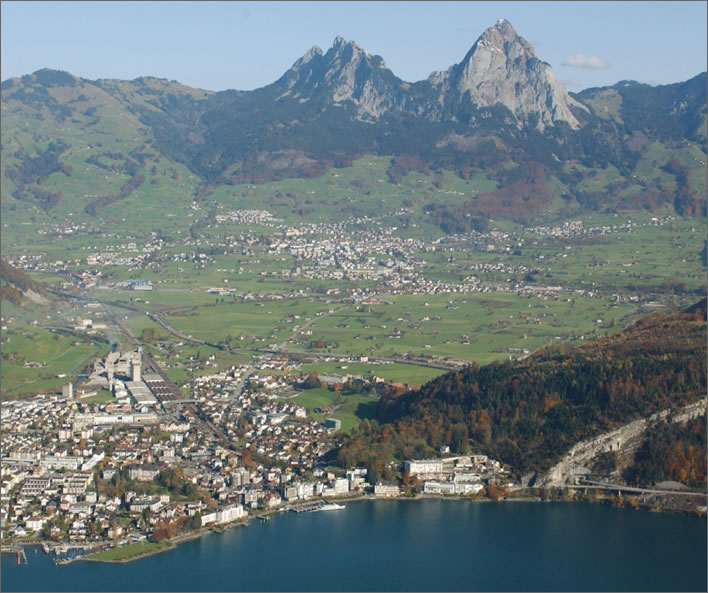 The city of Schwyz is in the centre of the photo; behind it the landmark of the region, the two Mythen mountains. It will not surprise you to be told that the small Mythen is the one on the left and the large Mythen the one on the right. The track followed by our adventurers from Haggenegg runs to the left of the small Mythen in this picture, down the dark, tree-covered gorge. The town of Brunnen, with its harbour, is at the bottom left. [Click on the image to open a larger version in a new tab of your browser, 2124 x 1780 px, 0.5MB.]. Image: ©Schweizer Luftwaffe, 1999.
Goethe has left us a sketch, dated 17 June 1775, of the mountain pair, which he called the Haken or Haggen.
Goethe's quite accurate drawing of the mountain pair Die Mythen in Schwyz. Dated 17 June 1775. Image: Zeichnung Goethes: Die Mythen Datiert auf den 17. Juni 1775 (Koetschau / Morris, Tafel 11a; Corpus I, Nr. 107). Online.
In Schwyz they visited the neighbouring attractions, particularly the Rigi mountain on the 17th, an easy but lengthy ascent that provides a justly renowned view of the surrounding lakes and mountains. After that, Goethe and Passavant headed for the Gotthard. According to Friedrich Stolberg, writing to his sister Katharina on 20 June, Goethe could not be away from Frankfurt for long and wanted to see the Gotthard. The obsession begins.
On the 19th, Goethe and Passavant sailed along the lake past the Tellsplatte/Tellskapelle, the rock outcrop at the edge of the lake onto which Wilhelm Tell is supposed to have sprung in order to escape from his captivity in Gessler's boat. Some said that this was the spot where Tell assassinated Gessler. Whatever. The point of myths is that you can assert anything you like with complete impunity. In Schiller's Wilhelm Tell, however, this flat rock jutting out in the lake is the location of Tell's leap for freedom.
The pair landed at Flüelen and proceeded to Altdorf, at the base of the pass, 'wo Tell seinem Knaben den Apfel vom Kopf schoss', 'where Tell shot the apple from his son's head', as Goethe put it.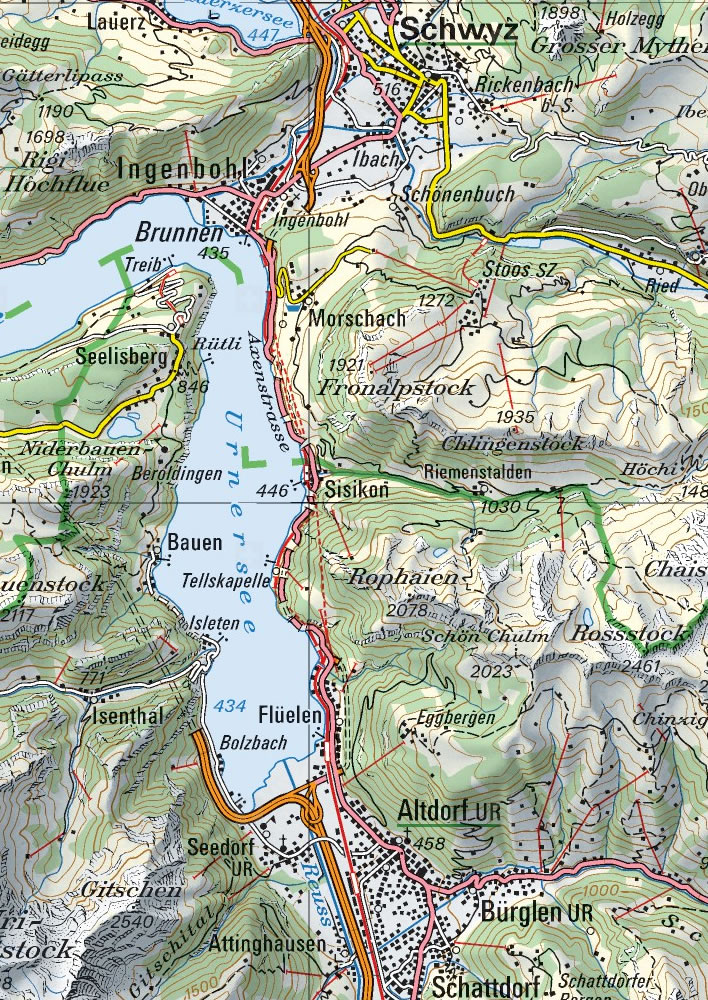 Day 1, 19 June 1775: Schwyz – Altdorf. Brunnen, Tellskapelle, Flüelen, Altdorf. c. 19 km length, 50 m descent. Image: Bundesinventar der historischen Verkehrswege der Schweiz (IVS).
Facing the Gotthard's reputed terrors may have attracted Goethe in the same way that the tower of the cathedral in Strasbourg had attracted him. In an early example of aversion therapy he had cured his fear of heights there five years before, in 1770.
The Gotthard
Goethe and Passavant set off from Altdorf on the 20th. There was some more skinny dipping in the 'snow water' of the Reuss at Amsteg (rowdy Germans again, who shocked the moral sensibilities of the inhabitants of this deeply Catholic region, the women of which were given a view of this exuberance of German members shrivelled in ice water). They encountered pack horses, snow holes, huge pines, sheer cliffs and the deepening abyss. They arrived at Wassen at seven-thirty in the evening.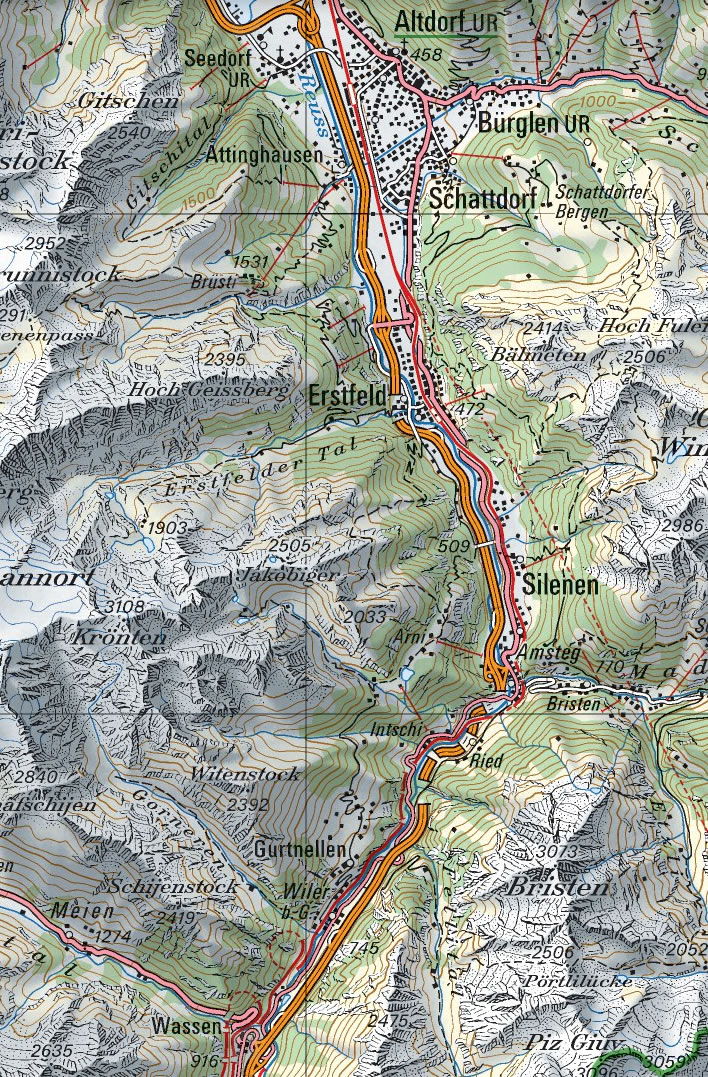 Day 2, 20 June 1775: Altdorf – Wassen. Erstfeld, Silenen, Amsteg, Gürtnellen, Wassen. c. 23 km length, 500 m ascent. Image: Bundesinventar der historischen Verkehrswege der Schweiz (IVS).
On the 21st, the day of judgment came in the Schöllenen:
'Depart 6:30. overpoweringly terrifying. Done. Drew. Desperation, struggle and sweat. Teufelsbrücke and the Devil. Sweating and fading and sinking until the Urnerloch. Exit and revived in the valley. Wonderful happy feeling and projects. In Andermatt excellent cheese. 3:25. Snow, bare rock and moss and stormwind and clouds and the noise of the waterfalls, the ringing of the pack horses. Bare as the valley of death, scattered with bones – fog – lake'.
Tagebuch-1, June.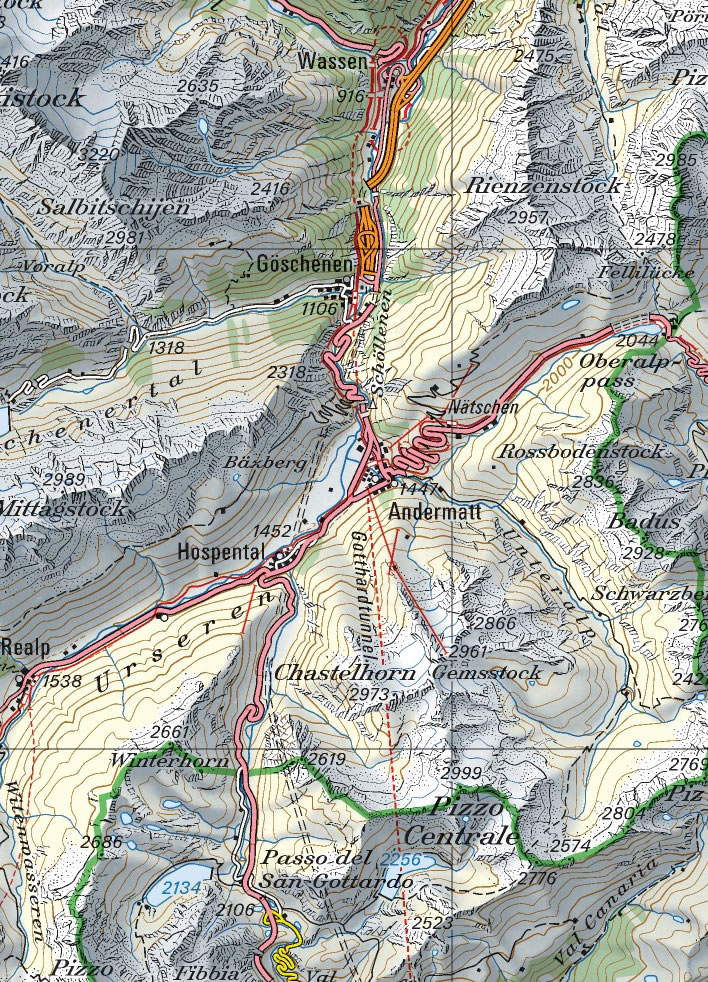 Day 3, 21 June 1775: Wassen – Hospice. Göschenen (Teufelsstein), Schöllenen gorge (Teufelsbrücke, Urnerloch), Andermatt, Hospental, Gotthard Pass summit, Hospice. c. 19 km length, 1,200 m ascent. Image: Bundesinventar der historischen Verkehrswege der Schweiz (IVS).
A sketch of the Teufelsbrücke by Johann Wolfgang Goethe from the first of his three journeys along the Gotthard Pass (strictly speaking four journeys, since in 1775 he went up and down the route). The representation of posts and railings in his sketch is interesting and credible, since someone in a hurry does not make such things up, whereas professional landscape artists do what is necessary to get the desired effect. Image: 'Zeichnung Goethes: Teufelsbrücke Bezeichnet: "23 Teufels Brücke"' in Koetschau / Morris, Tafel 10a; Corpus I, Nr. 127. Online.