Johann Friedrich Rochlitz
Johann Friedrich Rochlitz (1769-1842) was, on the whole, a mediocre writer, a mediocre composer and a writer of evanescent music journalism.
The word 'mediocre' is not intended as an insult, just a statement of fact – for most of the artists of any particular age, the flint may be struck on the stone fiercely and often, but the sparks come seldom and the straw rarely ignites.
In contrast, when the genius – Goethe, Schiller, Schubert et al. – strikes, the sparks frequently fly and the tinder blazes bright, dazzling those around. As Yeats put it, using a related metaphor:
Some burn damp faggots, others may consume
The entire combustible world in one small room
As though dried straw…
W. B. Yeats, 'In Memory of Major Robert Gregory', from 'The Wild Swans at Coole' (1919) in Collected Poems, Macmillan, London, 1965, p. 151.
Rochlitz had one literary hit, an eyewitness account of the terrible Völkerschlacht bei Leipzig, the 'Battle of the Nations' in Leipzig in 1813. This engagement between the French and their allies and the coalition of Prussians and Austrians and their allies in its three days cost nearly 100,000 dead or wounded. British readers may recall Thomas Hardy's poem Leipzig (in Wessex Poems, 1898). The memory of that battle has disappeared in the modern age, written over by the great military-industrial massacres of the 20th century.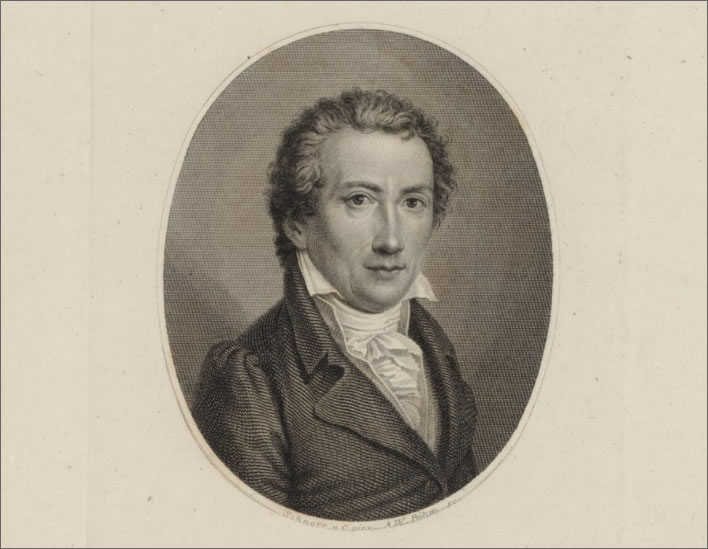 Johann Friedrich Rochlitz by Veit Hans Friedrich Schnorr von Carolsfeld, engraving by Amadeus Wenzel Böhm. c. 1823. Image: Gallica.
He inherited and married money, which allowed him to scribble away without striving. He befriended many of the literary and musical greats of his time, but at his death his damp kindling went out, never to light again. He and his works are nowadays as good as forgotten.
Except, that is, for three of his poems that came into the hands of Franz Schubert in 1827, and one of them in particular for which Schubert struck the flint true and the dry tinder of Rochlitz's verse caught fire. This is Rochlitz's poem Alinde, which Schubert set to music as Opus 81.1 (D 904).
Among the dross
Rochlitz published a first version of Alinde in 1805, in a book entitled Glycine (the botanical name for the soya bean – don't ask…). Rochlitz was around 36 at that time. The book contained a miscellany of short dramatic pieces, prose and poems, among which we find Alinde, well buried on page 223 (out of a total of 341 pages) – and this is only Part I of Glycine. Clearly, we are dealing with a top-notch scribbler here. Whether Alinde had appeared in some ephemeral publication previous to Glycine I do not know. It does not really matter. [Glycine 223]
Nearly 20 years of scribbling later we find Alinde once more, buried deep in volume four, page 153 of a six - six! - volume work entitled Auswahl des Besten aus Friedrich Rochlitz' sämmtlichen Schriften / Vom Verfasser veranstaltet, verbessert und herausgegeben, 'A selection of the best of Friedrich Rochlitz's collected writings / organized, improved and published by the author', published in 1822. Yes, these six volumes are just a selection from his collected scribblings – there would not have been enough paper in the whole of Saxony to publish the lot. [Selection 153]
It says something about Rochlitz's low status as a writer – he was around 53 years old by then – that he had to collect and publish his 'Selection' himself. Rochlitz had plenty of money, so our hard-hearted readers may suspect that the six volumes were not a commercial enterprise but simple vanity publishing.
Rochlitz revised Alinde for its appearance in the 1822 selection. Once more I have to confess that I have no idea whether the poem appeared anywhere else in the meantime or whether this was its only revision stage. Once more, it does not matter.
The way to Schubert
Eyelids droop and weariness creeps over us at the mere thought of the six volumes of scribbler Rochlitz's 'Selection' and the ghostly presence of the huge volume of the collected works which floats behind it. Yet we are shaken awake when we hear the year of the publication of the 'Selection': 1822. For that was the year that Rochlitz was hanging around in Vienna – 24 May to 2 August, Deutsch helpfully notes. [Dok 160]
Rochlitz, who idolised Beethoven, was hoping to get the chance to write a biography of the god. During this period he reported in a letter to his wife on 9 July 1822 that he had met Schubert. However, Rochlitz's account of that meeting lacks all credibility, for Otto Deutsch also. [Dok 159f]
It is unlikely that Rochlitz was handing out volumes of his newly published 'Selection' – although we have to admit that vanity publishers with money to burn are capable of anything. There may have been some contact with Schober during this time, or perhaps later when Schober was mixing in the literary circles of Breslau.
Perhaps Rochlitz's 'Selection' ended up in Schober's library, along with those famous poems of Wilhelm Müller, Die schöne Müllerin and Die Winterreise, all of them waiting for the genius to pick them up and make their authors immortal. Who knows?
But in January 1827, when Schubert set Alinde, he was living in the Schobers' apartment at Zum blauen Igel. It was an interesting and puzzling period in his life which we have discussed elsewhere. In the middle of all this complicated uncertainty, he composed the music for Alinde.
The setting
We can be certain of the date of composition of Alinde because we possess the manuscript, which is titled and dated in Schubert's hand: January 1827. Even better, the censor's written permission to publish is also on the manuscript, dated 26 February 1827.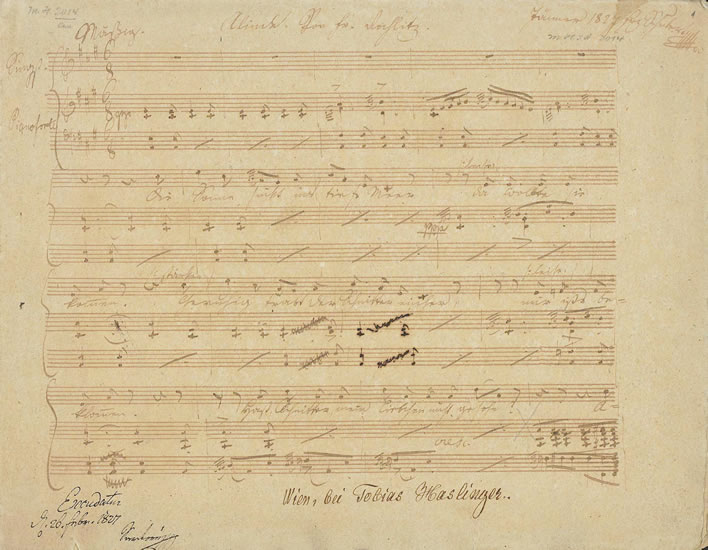 Schubert autograph, page 1. Schubert's signature and the date is at the top right; the censor's permission, Excudatur, which Haslinger needed before he could set or print the work, is bottom left. Remember, we are under Emperor Franz's belljar: even the most innocent piece had to be signed off by the censor. Image: Schubert-Online.
By 28 May the three songs of Opus 81, of which Alinde was the first, were being advertised by Haslinger. [Dok 411 / 434]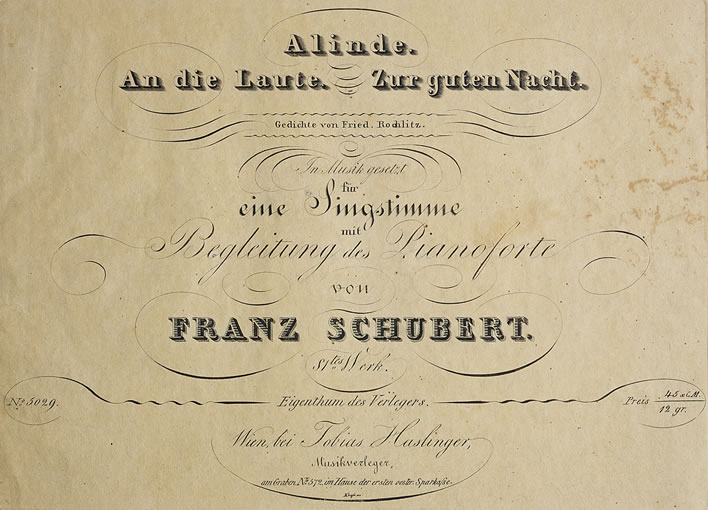 Title page, first print edition. Image: Schubert-Online.
Rochlitz's poem has all the components required for the romantic song: a rustic setting, three rustics pursuing their rustical trades, a boy and a girl and a very happy ending. The girl is always and totally in control of the situation, so the song can be considered a feminist narrative for the 1820s.
Wise musical heads can analyse the music – we, however, are going to play to our strengths and concentrate on Rochlitz's text. It may not be the greatest poem in the world, but it is workmanlike and deserving of a bit more attention than it usually gets when wrapped in Schubert's wonderful setting. It's not a deep or complex poem, its subtleties are all on the surface for those who choose to look.
Schubert made some small changes to Rochlitz's 1822 text. For our analysis we are going to take Schubert's text as written in his final autograph as definitive. At the end of the article there is a variorum text for the curious.
Alinde: text and translation
Die Sonne sinkt ins tiefe Meer,

Da wollte sie kommen.

Geruhig trabt der Schnitter einher,

Mir ists beklommen.

Hast, Schnitter, mein Liebchen nicht gesehn?

Alinde! Alinde[!]

'Zu Weib und Kindern muß ich gehn,

Kann nicht nach andern Dirnen sehn;

Sie warten mein unter der Linde.'
The sun sinks into the deep sea. She said she would be here. The reaper lopes past calmly. I am so anxious. Have you, reaper, not seen my beloved? Alinde! Alinde! 'I have to go to my wife and children, I can't look for other girls. They're waiting for me under the lime tree.
Der Mond betritt die Himmelsbahn,

Noch will sie nicht kommen.

Dort legt der Fischer das Fahrzeug an,

Mir ists beklommen.

Hast, Fischer, mein Liebchen nicht gesehn?

Alinde! Alinde!

'Muß suchen, wie mir die Reußen stehn,

Hab' nimmer Zeit nach Jungfern zu gehn.

Schau, welch einen Fang ich finde!'
The moon sets out on its path across the heavens. And still she's not here. There the fisherman lands his boat. I am so anxious. Have you, fisherman, not seen my beloved? Alinde! Alinde! 'I have to check my nets. I've no longer any time to chase after girls. Need to look what a catch I find!'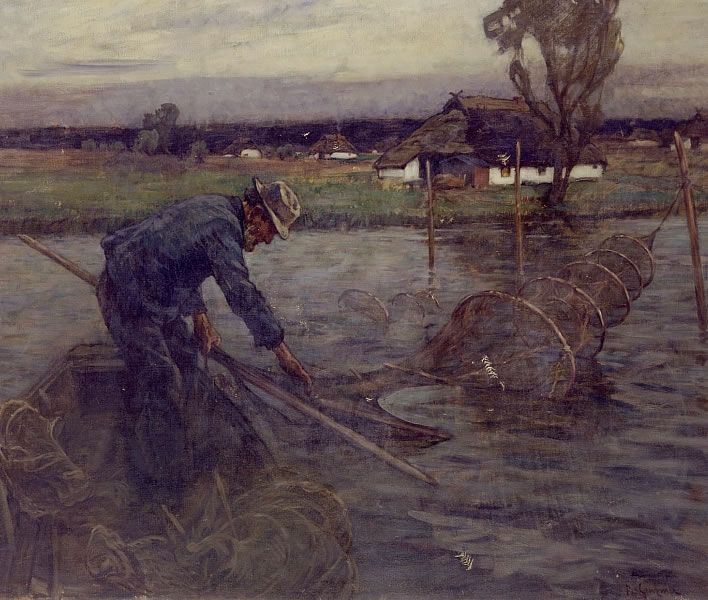 Berthold Genzmer, Abends bei den Reusen, 'Evening at the fishing nets'. Sometime before 1915. Image: photograph ©Andres Kilger, Nationalgalerie der Staatlichen Museen zu Berlin. Online.
Die lichten Sterne ziehn herauf,

Noch will sie nicht kommen.

Dort eilt der Jäger in rüstigem Lauf:

Mir ists beklommen.

Hast, Jäger, mein Liebchen nicht gesehn?

Alinde! Alinde!

'Muß nach dem bräunlichen Rehbock gehn,

Hab nimmer Lust nach Mädeln zu sehn:

Dort schleicht er im Abendwinde!'
The bright stars ascend into the sky. And still she's not here. The hunter hurries along with a sprightly gait. I am so anxious. Have you, hunter, not seen my beloved? Alinde! Alinde! 'I have to follow the brown roebuck, I've no desire to look for girls. There he sneaks along in the evening breeze!'
In schwarzer Nacht steht hier der Hain;

Noch will sie nicht kommen.

Von allen Lebendgen irr' ich allein

bang' und beklommen.

Dir, Echo, darf ich mein Leid gestehn:

Alinde! Alinde!

'Alinde,'

ließ Echo leise herüberwehn;

Da sah' ich sie mir zur Seite stehn:

'Du suchtest so treu, nun finde.'
The grove is now in darkest night. And still she's not here. Of all living things I alone am wandering here, worried and anxious. To you, Echo, may I confess my suffering: Alinde, Alinde! 'Alinde,' Echo wafted faintly back. Then I saw her standing at my side. 'You have searched so faithfully, now find me.'
Rhyme scheme
The rhyme scheme of Alinde is remarkably simple – only two lines change their rhyme from stanza to stanza: