After Napoleon had finally been defeated, the Congress in 1815 brought restoration of the old dispensation; the resentments and aspiration of Germans came to nought and young Germans like Rückert had protested in vain. The problem would rumble along until Bismark solved it in the last quarter of the nineteenth century.
The tall, imposing figure of Rückert affected a Teutonic look – long hair, moustache and long, flowing coat – that would not have been out of place fighting alongside Hermann, the nemesis of Varus' three legions in the Battle of the Teutoburger Wald (around September 9 AD).
In 1815, his wild appearance almost caused him to be ejected from Stuttgart, then within the Kingdom of Swabia, one of those insecure Westphalian fragments always on the lookout for real or imagined troublemakers.
Two years later, the aesthetes of the German poets' colony in Rome, which Rückert visited in 1817, found the 'old German' appearance of the 29 year-old quite unsettling – almost as though he had turned up wearing an MGGA hat (Make Germany Great Again).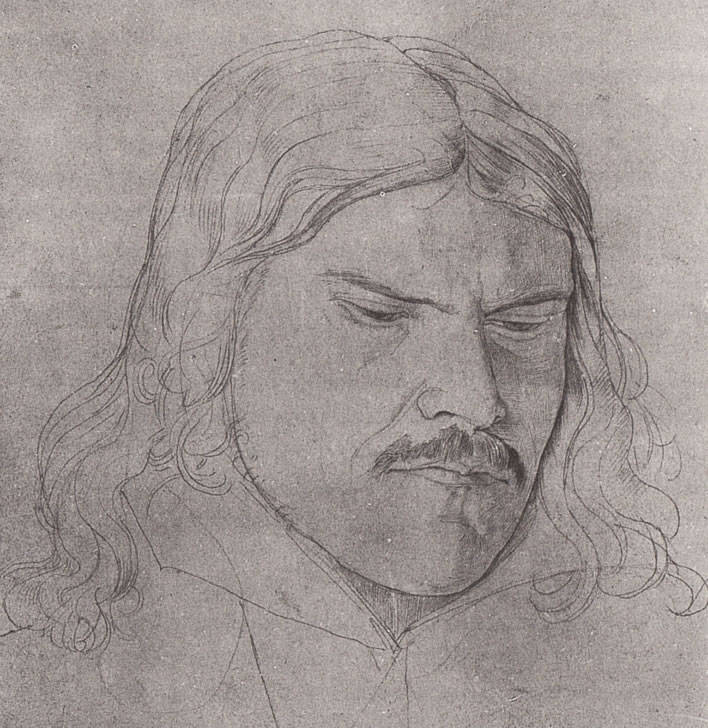 Rückert in Rome in 1818. Friedrich Rückert (1818) by Franz Theobald Horny (1798-1824).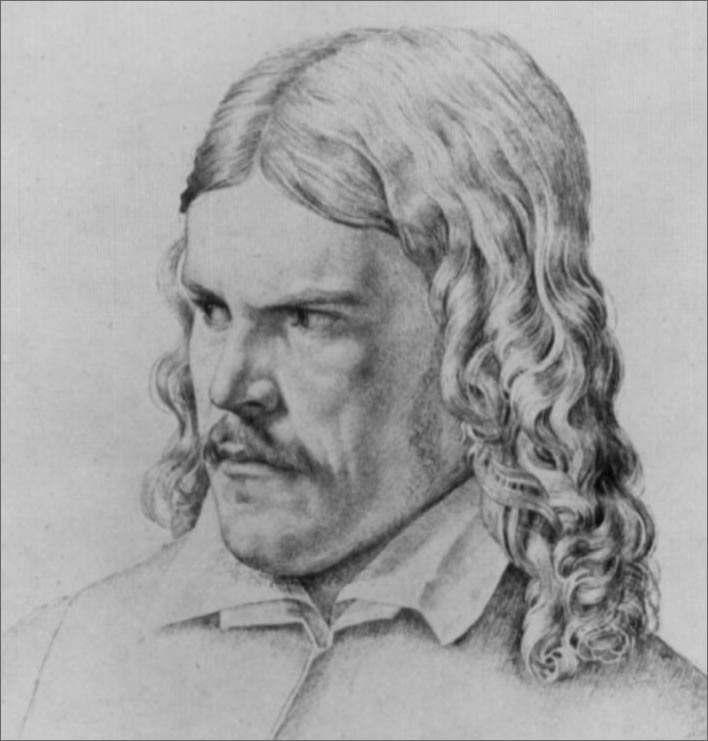 Rückert in Rome in 1818. Friedrich Rückert (1818) by Julius Schnorr von Carolsfeld (1794-1872). Image: Akademie der bildenden Künste, Grafische Sammlung, Vienna.
Those who think of Rückert as an academic drudge or simply a poet of flowery-bowery kitsch should not forget what a stormy, revolutionary, patriot's heart beat within him. Rückert would not live to see the unification of Germany, which took place in 1871, five years after his death, following yet another French provocation.
In 1818 the period of turbulence came to an end for the now 30 year-old Rückert. The interest in oriental languages that would come to define his later academic career and much of his later poetry began. In 1819 the turbulent Odysseus returned to his parents' house in Ebern, (now in northern Bavaria). Two years later, on a stay in nearby Coburg, he met his Penelope, Luise Wiethhaus-Fischer. They married in December of 1821.
For the next five years Rückert followed twin paths as a poet and orientalist, culminating in his appointment in 1826 as a full professor at the University of Erlangen. During that time he supplemented his income with the earnings from the sale of his poetic works, not just as books but in many of the magazines and almanacs which had a rapidly expanding readership, particularly female, during a time of rapidly increasing popular literacy. He and Luise founded a substantial family.
This period brings us to 1834, the moment of the catastrophe documented in the Kindertodtenlieder. Rückert was then 46 and went on to follow a substantial academic career until 1848, when he retired at 60 from his post at the University of Berlin to a house in Neuses, near Coburg – back his roots, if you like – where he remained until his death nearly 20 years later.
Friedrich Rückert (1843) by Samuel Friedrich Diez (1803-1873). Image: ©Foto: Kupferstichkabinett der Staatlichen Museen zu Berlin - Preußischer Kulturbesitz, Fotograf/in: Atelier Schneider.
The poetic scribbling that had started in 1808 never ceased during the sixty or so years that followed. During his long retirement he wrote several thousand poems in his Liedertagebuch, his 'Poetic Journal', hardly any of which he published. In this respect, his poetry strikes us as a kind of 'poetic thinking aloud', not really intended for others to read. From the middle of 1826 until the end of his life, Rückert's academic and poetic reputation grew. He was a frequent recipient of honours.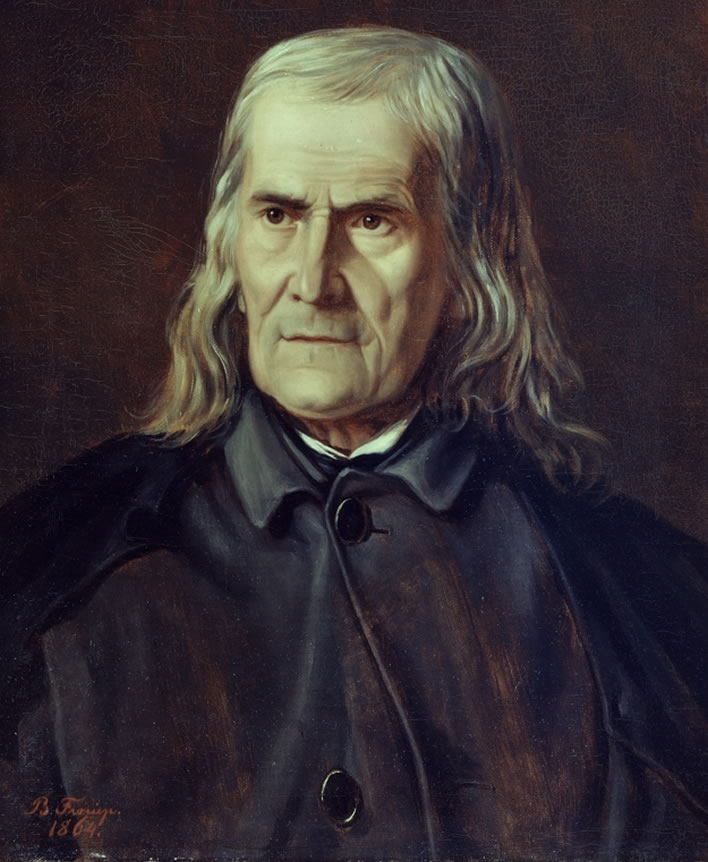 Friedrich Rückert (1864) by Bertha Froriep (1833-1920). Image: © Foto: Nationalgalerie der Staatlichen Museen zu Berlin - Preußischer Kulturbesitz, Fotograf/in: Christa Begall.
Reception and obscurity
Rückert's clever mastery of German and so many forms of versification cannot be denied. He was a German patriot not just in the subjects of many of his poems but above all in his championship of German as a medium of poetry.
This language patriotism may surprise those who have read of his mastery of so many complex foreign tongues, but it is an undeniable fact that Rückert was at least writing German poetry in German – as opposed, for example to those great 'German' authors Goethe, Schiller, Herder and Wieland, the Weimar Viergestirn, 'Four Stars', and many of their predecessors with great names who were effectively writing Greek and Latin poetry in German. Today's Germanists will flutter their fans in horror at the sacrilegious thought that Friedrich Hölderlin (1770-1843) wasted most of his considerable talent writing declamatory Pindaric Greek in declamatory German.
In Rückert's lifetime his Germanic German poetry was frequently misunderstood by contemporary authors. His easier and accessible pieces appeared in magazines and almanacs that were intended for a largely female readership, good reason for literary types to look down their noses at them. Even Rückert's playful internal rhymes could amuse and be appreciated by a non-specialist reader, one who did not care to count out the feet of hexameters, identify classic models – is this an ode or an elegy and if so, what kind of one? – and untangle classical allusions.
Paradoxically, the fiendishly clever poems that he also wrote were dismissed as simply being too clever by half. His work is full of paradoxes, but nevertheless, he was published, widely read and his works sold – yet another reason for the literary panjandrums to view him with distaste.
But after the sufferings of the economic 'pauperism' of the 1830s and the failed, bloody uprisings of 1848, the German Romantic vision of happy rustics cavorting in bucolic surroundings – think of the rural wedding scene which Ernst received as a Christmas present – suddenly had nothing more to say. It jarred with reality, much as it had done for the sick Ernst.
Hard, heavily political realism took over. For the new wave of German writers, Rückert had had his day, though there were still plenty of readers who continued to enjoy his lighter literary touch. It is one of the many, many Rückert paradoxes that Rückert's Kindertodtenlieder, the poetic diary of the awful reality of the loss of his children, was never published until after his death and even then in a completely mangled form.
Rückert was his own worst poetic enemy. During his life a backlog of thousands of unpublished poems built up, so that at his death his literary executors and the literary world were confronted with a mountain of manuscripts from a poet whose time had largely passed. Even if this mountain were to be published, what would be the point? Who would now buy it or read it?
In Schweinfurt in 1963 the Rückert-Gesellschaft, the 'Rückert Society' was founded and since that time has been plugging through the publication of Rückert's literary estate. We could argue that the society's noble efforts are pointless and have in the meantime been overtaken by the digital age: the society continues to churn out unaffordable short-run publications as though the internet had never happened.
Amongst other Rückert productions, so far they have managed to produce ten volumes of the Liedertagebuch, the latest one in 2015 covering the year 1855. Only eleven years more to go! At one every three of four years!
We have to wonder who, apart from academic libraries, will pay anything between 50 and 100 Euros for each of these works.
Rückert's manuscripts have disappeared into various archives, principally the Goethe-Schiller-Archive in Marburg and the Stadtarchiv Schweinfurt. The process is sad and the equivalent of a second interment of poor Rückert: the worthy ones have exhumed Rückert's manuscripts, are transcribing them slowly and then burying both of them again out of sight of the general public.
The publication history of the Kindertodtenlieder illustrates perfectly how the good intentions and well-meaning actions of Rückert's modern admirers have in fact contributed to the continuing neglect of his work and his descent into obscurity.
Burying the Kindertodtenlieder
Rückert finished the Kindertodtenlieder in July of 1834. The stack of manuscript pages (of varying size but most quite small) was given to his wife Luise sometime around June 1834. Rückert never touched them again after that. It was Luise who asked that the work should never be published. She sent the manuscript bundle to various friends and it circulated from hand to hand until after Rückert's death.
It is a major miracle that the manuscripts survived this wandering – however, we must assume that the order of the pages in the bundle was not necessarily preserved.
Having survived that peregrination, around five years after Rückert's death the manuscript bundle came into the hands of Heinrich Rückert (1823-1875), Friedrich's oldest son, who was then a professor of German History in Breslau. He published his father's Kindertodtenlieder in 1872.
That first edition of the Kindertodtenlieder must represent one of the greatest acts of philological barbarism in the history of German literature.
Heinrich took his his father's poems and rearranged them into four 'themes'. The themes are breathtakingly stupid: Lied und Leid, 'Song and Suffering', Krankheit und Tod, 'Sickness and Death', Winter und Frühling, 'Winter and Spring' and Trost und Erhebung, 'comfort and elevation'.
Readers who have plugged at great personal sacrifice through our small selection (about 80 out of 563 – say 14%) of samples from the Kindertodtenlieder will probably understand our bafflement at these ridiculous categories. In creating his categories Heinrich (and possibly the numerous previous readers of the manuscripts) shuffled the poems out of their original chronological order. It seems almost certain that the poems of the manuscripts that left Rückert's hands were in chronological order – how could it be otherwise?
Heinrich didn't number the pages before he shuffled them around. As will be clear to anyone who worked their way through the poems in this article, the chronology of Rückert's experience of his children's deaths is an essential thread on which the poems have to hang. We used the 'live blogging' analogy to describe this. Without that sequence, the poems are largely incomprehensible.
We hope that in this article, by reinstating as best we can some partial form of sequence in the work, we have made the poems comprehensible. We ourselves introduced some categories, but only as a way of coping with a subset of the material. In a full edition this would not be needed.
Interested readers looking for proof of the shambles that is the Kindertodtenlieder should glance at the references on the poems in our selection to the pages on which these poems appear in the critical edition of 2007. The critical edition has kept the poems in the order in which Heinrich first published them.
Thanks to Heinrich et al., poems that are quite clearly related are scattered through the collection, sometimes separated by several hundred pages. Luise and Ernst die many times over in Heinrich's edition. A particularly egregious example is the poem about the Rückert children awaiting the Christmas Eve celebration. The reader encounters this poem, which from its content must appear at or close to the beginning of the collection, only on page 350.
Hans Wollschläger, the principal editor of the 2007 critical edition and, until his death in that year, one of the principal editors working on the Rückert-Gesellschaft's editions, then compounded Heinrich's philological barbarism with philological cowardice in his decision to leave Heinrich's sequence as it was 'in order not to load the text with even more interventions' [KTL 572].
The result is that the Kindertotdtenlieder are now published in a 'critical edition' – with all the authority which that appellation bestows and presumably now in perpetuity – in Heinrich's unreadable order. His blunder is thus perpetuated. As we have shown in our small selection, it would be possible to rearrange the poems in the collection in at least some rough order that would make the collection accessible and comprehensible to 'normal' readers.
In most cases there could be no philological certainty that one particular poem came before or after another particular poem. It is true that risks would be run in doing this – but they would have been risks worth running in the cause of restoring the Kindertodtenlieder to the place they deserve in German literature.
The 1872/2007 sequence is not sacred, it is not Friedrich Rückert's work, but Heinrich Rückert's work. Heinrich, the idiot who wisely remained anonymous in the 1872 publication. The Heinrich/Wollschläger sequence is a barbarism that deserves neither piety, respect nor politeness.
In this benighted 'critical-edition' the shoulder-shrugging resignation continues in the provision of the critical apparatus. This apparatus will be of interest to few readers, but dumping it in 38 page block of tiny type at the end of the book is a sign of resignation. It is a sign that no one really cares – the editors and publishers are just going through the motions.