Saint Zeno's stone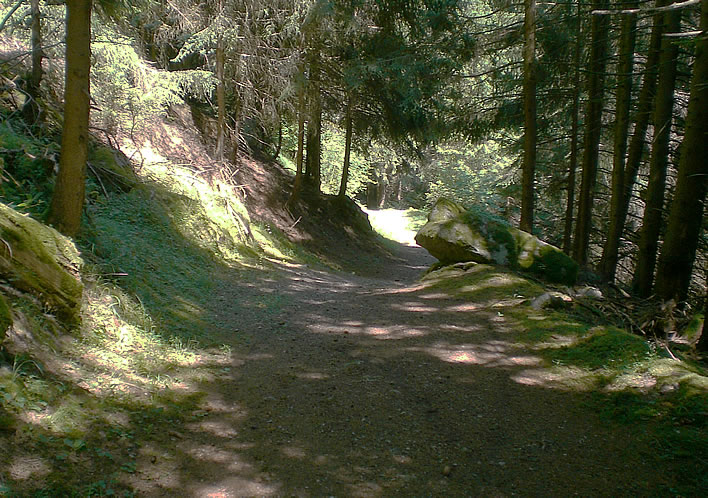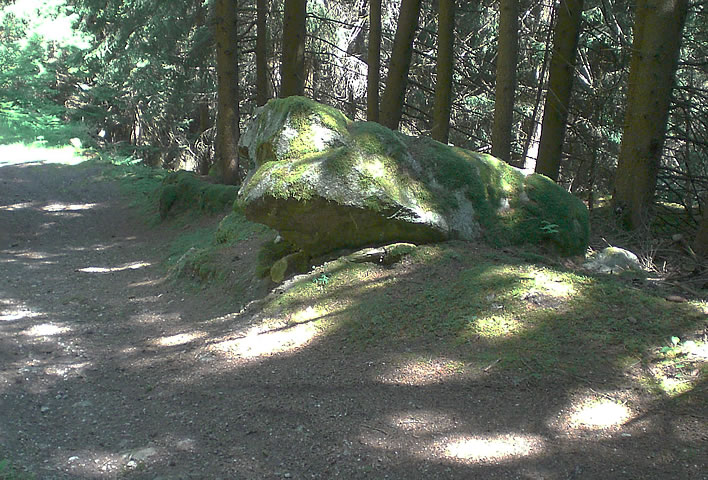 The stone block we are looking at was first mentioned in an undated legend that found its way into the collection of Romansh texts known as the Rätoromanische chrestomathie. The chrestomathy was put together in heroic drudgery by Caspar Decurtins (1855-1916) in the late 19th and early 20th centuries as part of the great revival of interest in the Romansh language that was taking place at the time.
This stone was described in the legend as follows:
The Stone of Saint Zeno. In the forest above Schluein there is a stone where Saint Zeno once was, many who pass the stone lay small branches there on the stone.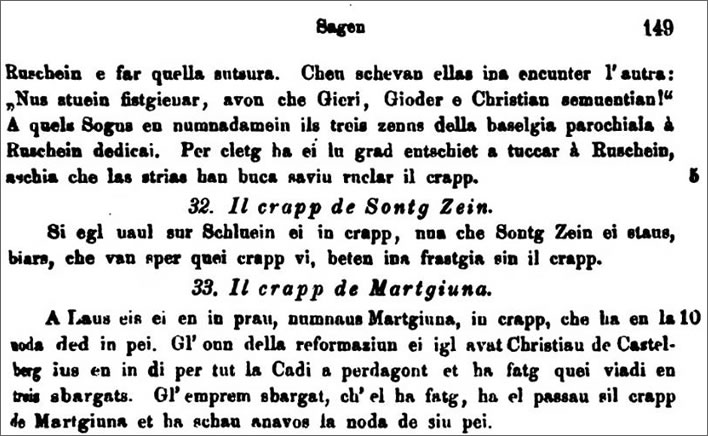 [5 32] Il crapp de Sontg Zein. Si egl uaul sur Schluein ei in crapp, nua che Sontg Zein ei staus, biars, che van sper quei crapp vi, beten ina frastgia sin il crapp.
Online.
The legend behind the association of Saint Zeno and this stone was first described by the folklore collector Dietrich Jecklin (1833-1891). As is the case with all such legends, the story comes out of the fog of time at us, without author or any other identifying features. We must take it as it comes:
From the village of Schleuis [Romansh 'Schluein'] a much frequented footpath goes to the elevated village of Ladir. It passes Löwenberg Castle and winds its way through meadows and woods. — About in the middle of the route there is a stone block in the woods, 1 metre long, 2/3 across and 1/2 high, on the upper side of which two depressions are visible, as though a person had kneeled in the stone mass. — A legend about Saint Zeno is associated with this stone.
Vom Dorfe Schleuis aus führt nach dem hochgelegenen Orte Ladir ein stark betretener Fußweg, und zwar beim Schlosse Löwenberg vorbei, durch Wies und Wald sich schlängelnd. – Ungefähr Mitte Wegs liegt im Walde ein Steinblock, 1 Meter lang, 2/3 breit und 1/2 hoch, auf dessen Oberseite zwei Vertiefungen sichtbar sind, wie wenn ein Mensch in dieser Steinmasse gekniet hätte. – An diesen Stein knüpft sich eine Legende des heiligen Zeno.
It is well known that the church in Ladir is dedicated to Saint Zeno. According to the legend he was at one time travelling through wild mountain areas and the preaching to the still heathen population with such vigour that most of them converted to Christianity. The saint stayed in Ladir and in his honour the believers in Ladir (Ladurs 998) dedicated a house of God to him. The saint remained in Ladir for a long time and went from there up hill and down dale, preaching the gospel.
Bekanntlich ist die Kirche zu Ladir dem heiligen Zeno geweiht. Nach der Sage soll er einstens diese damals noch wilde Berggegend bereist und den noch heidnischen Bewohnern das Evangelium mit solchem Eifer gepredigt haben, daß diese zur großen Mehrzahl das Christenthum annahmen. Der Heilige blieb nun in Ladir, und in seiner Ehre weihten die Gläubigen in Ladir (Ladurs 998) ein Gotteshaus. Der Heilige blieb nun in Ladir lange Zeit und ging von dort aus thalein, thalaus, das Evangelium zu verkünden.
Now however the evil spirit was envious of the saint's success and attempted to stop the work of conversion, and if possible even to drag the faithful back into the Empire of Darkness. But the belief in the Redeemer was too deep for him to destroy the holy work with cunning. Satan had to take refuge in force.
Nun war aber der böse Geist neidisch auf die Erfolge des Heiligen und trachtete darnach, wie er das Bekehrungswerk desselben hemme, womöglich sogar die Gläubigen wieder in's Reich der Finsterniß ziehe. Aber zu tief war der Glaube an den Erlöser eingewurzelt,[3] als daß mit List das heilige Werk vernichtet werden konnte. Satanas mußte zur Gewalt die Zuflucht nehmen.
The construction of the church at Ladir had just begun, so the Spirit of Darkness resolved to destroy the work of the faithful. He fetched a great stone from the bed of the Rhine and carried it up into the woods so that he could destroy the church with it. — On the way he took a rest, laid the burden next to him and lay down under a fir tree.
Eben war der Bau des Gotteshauses zu Ladir begonnen, so dachte der Geist der Finsterniß, dieses Werk der Gläubigen zu vernichten, holte vom Rheinbette herauf einen großen Stein, den er den Wald hinauftrug und mit dem er die Kirche zu zertrümmern gedachte. – Unterwegs ruhte er aus, legte die Last neben sich und sich unter eine Tanne.
As he was resting, Saint Zeno came down through the woods on the way to preach the gospel in the valley. Seeing the Evil One and guessing Satan's intention from the presence of the stone block he had never seen before, he kneeled on the stone, prayed, and robbed the enraged Lucifer of any power to raise the stone again. Through his prayers he even forced the Evil One to leave the area and also leave him, the saint, and his faithful flock in peace.
Wie er nun rastete, kam der heilige Zeno den Wald herab, um in der Ebene zu predigen. Alsbald den Bösen erblickend, und an der Anwesenheit des großen, niemals an dieser Stelle gelegenen Steinblockes das Ansinnen des Satans erkennend, kniete er auf diesen Stein nieder, betete, und benahm dem darob ergrimmten Luziferus die Macht, den Stein weiters zu heben, bezwang sogar durch sein Gebet den Bösen, die Gegend zu verlassen und auch ihn, den Heiligen, und seine Gläubigen fürder in Ruhe zu lassen.
Jecklin, Dietrich. Volksthümliches aus Graubünden. II. Theil, Zürich 1874, p.3. Online Zeno.org.
The impressions Saint Zeno's legs made as he prayed can be seen to this day.
Readers who remember our piece on the Teufelsbrücke on the Gotthard Pass will recall the similar legend of satanic activity that involved the Devil wanting to throw a huge block of stone, the Teufelsstein, in an attempt to destroy the newly constructed bridge that afterwards acquired his name: the Devil's Bridge. That bit of devilry was thwarted by a quick-thinking old lady scratching a cross on the stone.
The entry in the Chrestomathy told us that passers-by were in the habit of laying some small votive offering – pine twigs or attractive stones – on Zeno's stone. The first time I visited the stone two years before the present excursion nothing of the sort was to be seen. On this occasion, all the votive stops have been pulled out: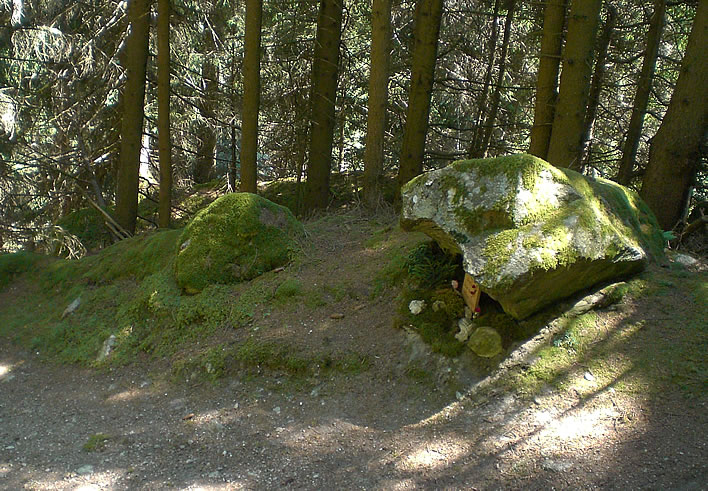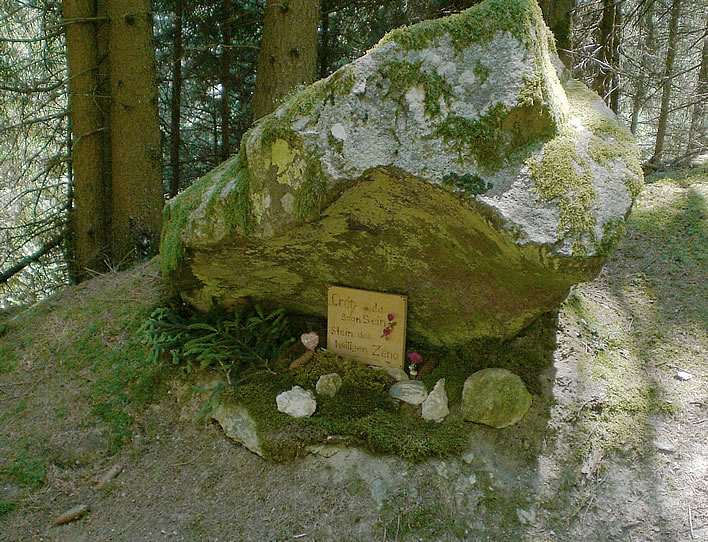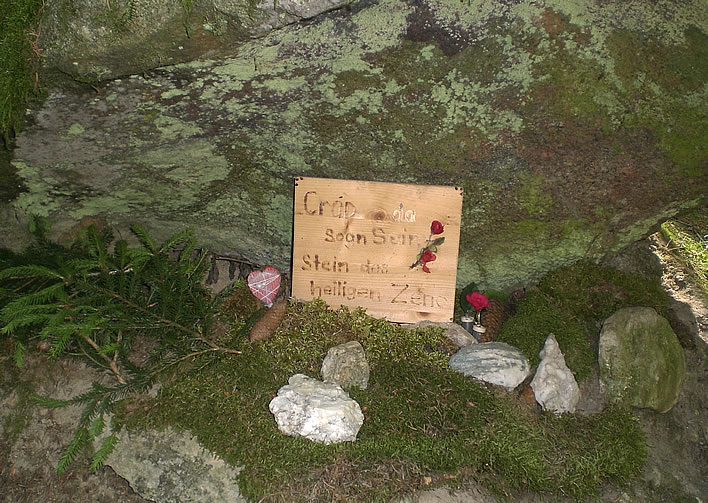 Someone has crafted a wooden board with a poker-work inscription, picked out in gold paint, in Romansh and German, Crap da Sogn Sein / Stein des heiligen Zeno, 'Stone of Saint Zeno' and started a collection of offerings of the usual sort – hearts, flowers in holders, attractive stones as well as pine cones and branches. How many other people have been involved in adding to the collection is unknown. Readers may recall the similar devotional objects at a nearby shrine to Saint Barbara. Yes, I, atheist mocker, leave things at these shrines: you never know…
The smaller stone next to Zeno's stone is colloquially called the Devil's Stone. What role it is supposed to play in the legend is not known, since the stone which Satan intended to heave at the church in Ladir was Zeno's Stone itself.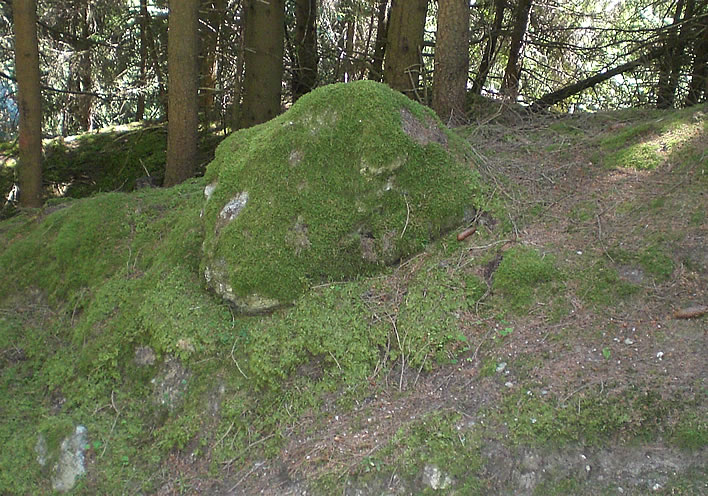 Christian Caminada (1876-1962) was a Roman Catholic Bishop of the diocese of Chur between 1941 and 1962. He was also a Romansh scholar – he brought to a conclusion Caspar Decurtins' Rätoromanische Chrestomathie and spent much of his life investigating the folklore and local history of Graubünden.
In his book Graubünden, die verzauberten Täler, 'Graubünden, the Enchanted Valleys', he investigated the legend of Saint Zeno's Stone:
The Saint Zeno Stone is half fallen over the lower edge of the track, in such a way that one asks whether lightning or an earthquake toppled it so that it became such an obstruction for traffic that the projecting head of the stone had to be broken off. That the Zeno Stone lost the projecting point in historical times was clear when I saw with my own eyes and traced with my own hand the hole made by the iron drill for the insertion of the blasting charge.

[…]

Our own knee tested the indentations. We also saw under the stone a pile of green branches, now dried out, which those passing had left as offerings for Saint Zeno. No one admitted to seeing anyone leaving the offerings or admitted to being one of them themselves.
Der St.-Zeno Stein ist halb hingefallen über den unteren Strassenrand, dass man sich fragt, ob der Blitz oder ein Erdbebenstoss ihn so hingeworfen hat, dass er zu einem Verkehrshindernis wurde - dass man teilweise den vorragenden Kopf abbrechen musste. Dass der Zeno Stein die vorragende Spitze in historischer Ära verlor, sah ich, als mein Auge und meine Hand ein Eisenbohrloch für die Pulverladung entdeckte. [ … ] Unsere eigenen Knie prüften die Einsenkungen. Zugleich sahen wir unter dem Stein einen Haufen grüner Zweige inmitten verdorrter Äste, welche von Vorüberwandernden dem heiligen Zeno dargeboten wurden. Niemand will die Opfernden gesehen haben oder bekannte sich als der Opfernde.
Caminada, Christian. Die verzauberten Täler: die urgeschichtlichen Kulte und Bräuche im alten Rätien, Walter-Verlag, 1961.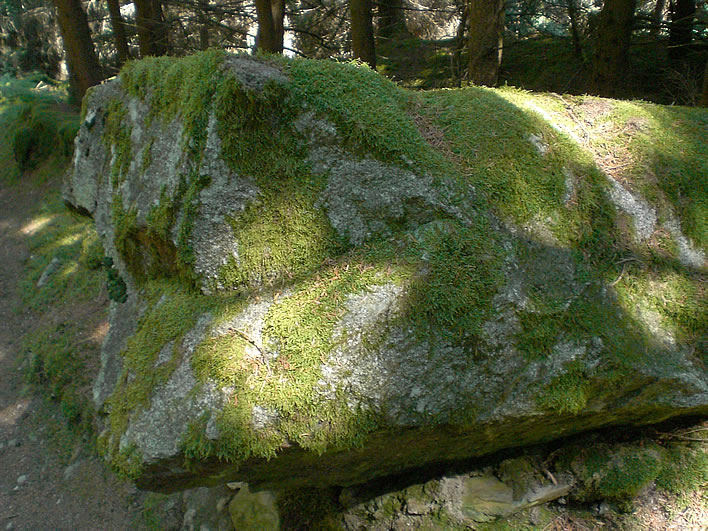 Bishop Caminada is correct. Here is a close-up of the hole that was drilled for the blasting charge and the fractured, uneroded surface left behind by the amputation.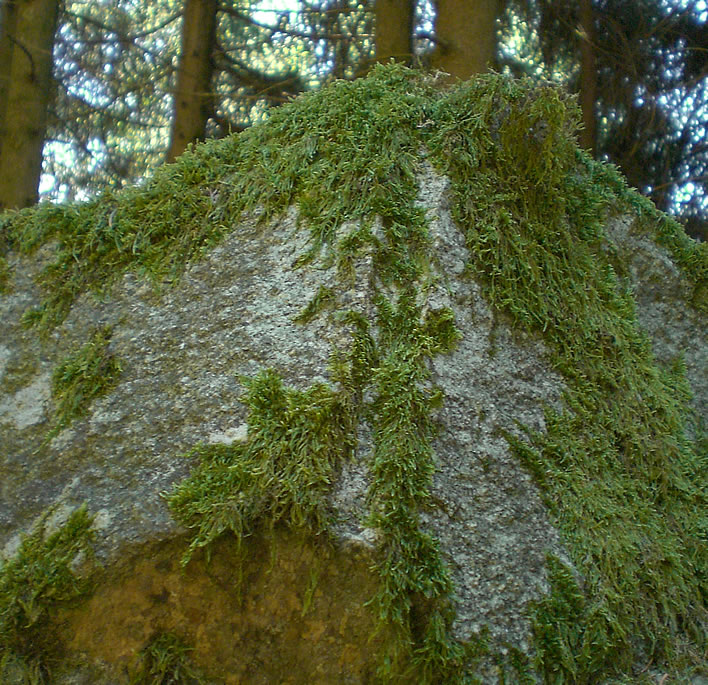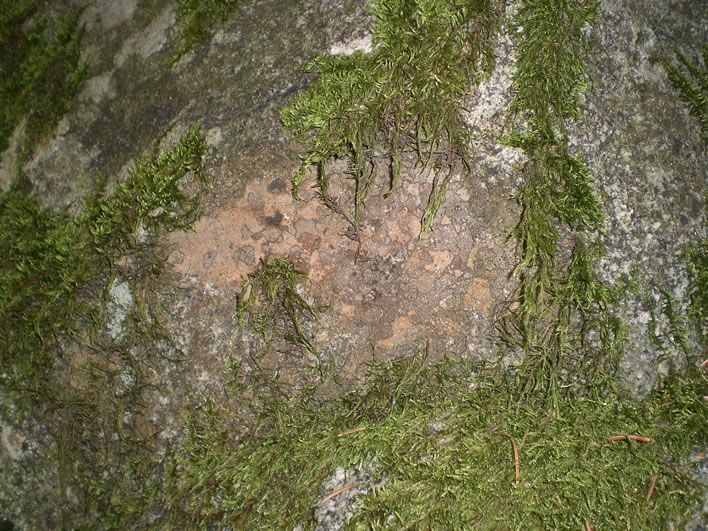 If we imagine what the stone might have looked like when the nose was still attached we have to conclude that the stone would have had a very striking form. It is scarcely a surprise that a legend developed around it. Despite all my search efforts I have been unable to find any remnants that could be identified as part of the amputated nose of the stone. Had the nose been intact it would have merely been rolled out of the way, but we might equally expect that the force of the blast shattered the nose into numerous small, inconspicuous pieces.
The seemingly casual mutilation of a stone with so much religious mythology attached to it leads us to suspect that the myth of Saint Zeno's combat with the Devil may not have been as widespread as we might otherwise assume, but since we don't even know the date when the amputation took place, all must remain unknown.
Bishop Caminada's assumption that the stone was originally a standing stone which fell over at some point seems to be a step too far though. Glaciers don't have to drop stones in a vertical alignment, nor is there any indication that it was ever vertical at any time in the past. The Zeno legend itself requires that the stone lies flat so that the saint can kneel on it.
The large, concave underside with its sharp edges suggests that the stone was no solitary glacial erratic, but that it was split off from another part (in which case, where is the other part?), or perhaps even broke off from a cliff face (in which case, where is the cliff?). Until further research is undertaken, the most plausible hypothesis is that this odd stone was transported here by Satan himself on his way to wreck Zeno's church.
We now leave Zeno's Stone and continue downwards towards Schluein. We are off to see a real standing stone, the 'Baby Stone'.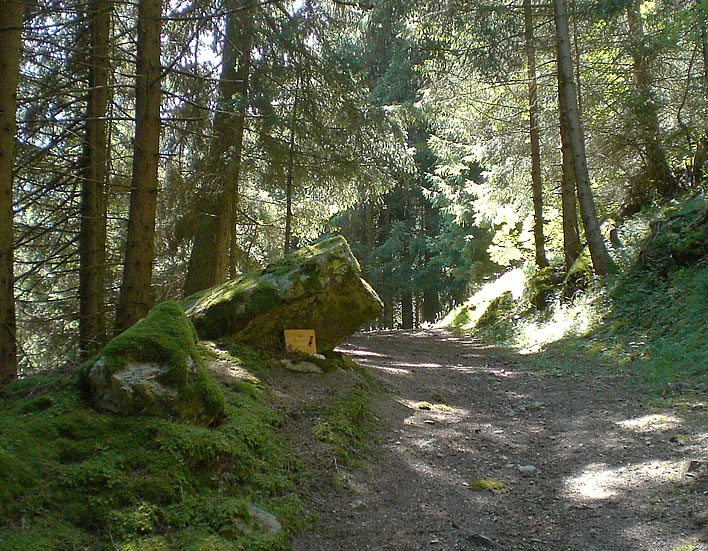 Not far to go, about one hundred metres or so, heading gently downwards.