The Repair Shop
A television programme called The Repair Shop is a hit in the UK at the moment. The action takes place in a photogenic craft workshop located in a bucolic barn. The regular participants are skilled craftsmen and women with years of experience in the restoration and renovation of all kinds of everyday objects. So far so good. The BBC styles it sweepingly as an 'antidote to throwaway culture'.
Well, let's leave that statement as it stands for today: the long and depressing essay on the fatuousness of contemporary delusions will just have to wait. Apart from the obvious skills of the experts, the rest of the programme is as fake and manipulated as everything else in the modern media.
In each episode a few people arrive in turn bringing various family heirlooms to be restored. The craftsmanship on view in the restoration work is fascinating and well-worth watching, but unfortunately there is always some backstory associated with the objects.
Even on arrival clients and restorers are welling up at the deep emotional importance of these heirlooms, but the emotions build up to a climax when the grateful clients take their now restored pieces home – no eye is dry when we are told that long-departed Aunty May will be smiling down with joy at seeing the body of her Little Shepherdess statuette reunited with its head and its crook after fifty years' separation in a shoebox in the attic.
Reader, your author is indeed a crabbed and cynical sociopath without a drop of human feeling in his wrinkled veins, but the thought is not completely unreasonable: if this object is so valued, why has it been left in a shoebox in the attic for fifty years and, more pointedly, if indeed it is so important, why is it only being repaired now, when its repair costs nothing? Was nichts kostet ist auch nichts wert say the Germans, 'What costs nothing is worth nothing'.
They are, you have to admit, fair questions. Alongside long-departed and much-missed Aunty May, long-departed and much-missed Plato is looking down on us, laughing his head off at our attachment to the material world, these shadows of a 'ghostly paradigm of things' (©Yeats).
The Schubert Repair Shop
The Schubert subject coming under our cynical stare today is the 'song cycle' Schwanengesang, 'Swan song' – and more specifically the six poems by Heinrich Heine which Schubert set to music and which are considered part of that 'cycle'.
The visitor to our Schubert repair shop arrives with an ornamental box containing a porcelain object much in need of repair. Our surprise is not feigned when we are told that this erratic construction is a teapot. It was made by great-great-great-great-uncle Franz all those years ago in Vienna and was the last thing he ever made, (are you welling up already?). It has been handed down in the family since then. Because it was the last piece he ever made in his short and miserable life the family call it the Schwanengesang-Teekanne, 'Swansong teapot'. Now you really are welling up, aren't you?
On hearing this, your crabbed author tries to keep a straight face but can only recall Coleridge's epigram: 'Swans sing before they die. 'Twere no bad thing / Should certain persons die before they sing!' (1799). But fortunately a tear of laughter looks much like a tear of sadness. Bwah wah wah!
The Swansong Teapot
So now before us on the bench stands Franz Schubert's renowned Swansong Teapot. Like everyone else we struggle to keep our emotions under control – in our case, manly tears of laughter.
The Swansong Teapot stands there with no spout, no handle and an irregular black lid that not only doesn't fit in the hole available but contrasts oddly with the arcadian decoration of the white body: intertwined flowers, rushing brooks etc. Just like many of the pieces arriving in the television Repair Shop, its desperate state is partly the result of previous restorations. The lack of spout and handle may be explained away with that great Austrian euphemism: 'now lost'.
Although taking a hammer to the monstrosity would be the intelligent option, we promise our Schubertian a 'sensitive' restoration. We must think of Franz – 'Schwammerl' as his family and friends called him – beaming down with joy at his restored teapot.
We lie? We lie. So we get out the solvents and let them work their magic (no sniffing, please!) until there are fourteen erratically shaped pieces of china spread across our workbench. We scrape the pieces into groups: there are seven pieces of mainly bucolic kitsch written by Ludwig Rellstab (1799-1860) that we might be able to sort out later; one large shard that doesn't fit anywhere – a piece about a carrier pigeon written by Johann Gabriel Seidl (1804-1875); and six shards from that strange black lid written by Heinrich Heine (1797-1856).
Let's look more closely at that lid.
Its pieces come from Heine's collection Die Heimkehr, which he wrote in 1823-24. Most of the poems of this collection were published individually in various places. They first appeared as an integral group under the title Die Heimkehr in the book Reisebilder, Erster Theil, published in Hamburg in 1826. With some small changes Die Heimkehr then also found its way into Heine's collection Buch der Lieder, published in Hamburg in 1827.
Just to make things even more confusing, Die Heimkehr continued to be included in the second and third editions of Reisebilder, Erster Theil published in 1830 and 1840 respectively, in parallel to its double life in Buch der Lieder. Clear? Clear.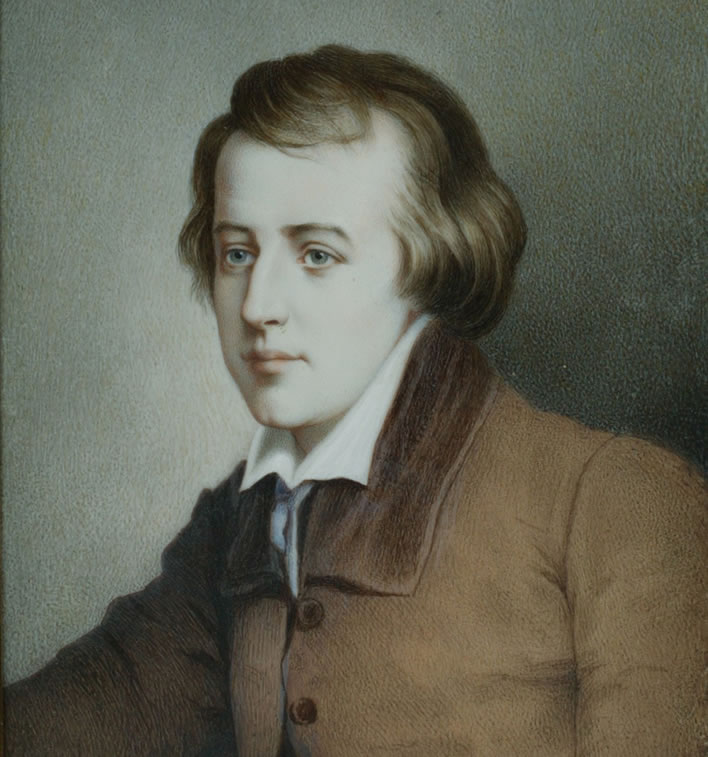 Heinrich Heine, 1825. The young Heine from around the time of Die Heimkehr. Artist Colla(?). Oil on ivory, 113x88 mm, producing that smooth luminosity. Someone here had money. Image: Heinrich-Heine-Institut Düsseldorf.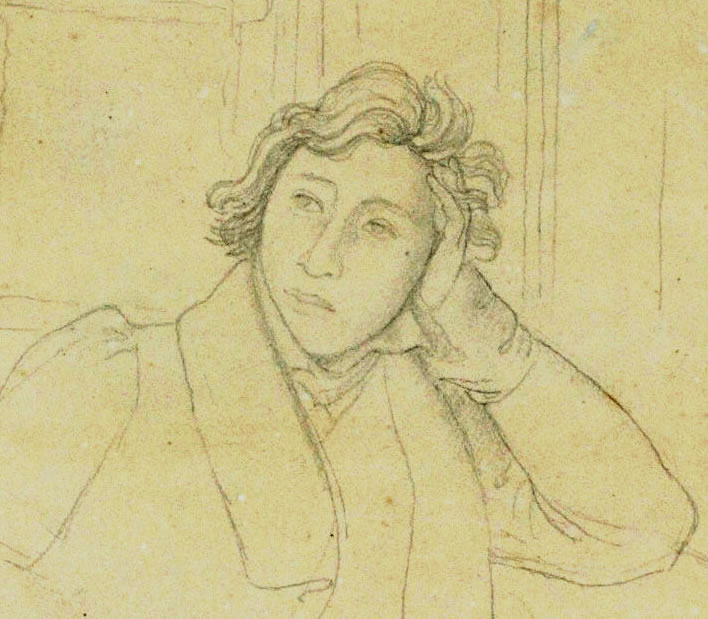 Same year, 1828, same artist, same subject.
Top: Heinrich Heine, 1828, a pencil sketch by Gottlieb Gassen (1805-1878).
Bottom: Heinrich Heine, 1828, oil on canvas by Gottlieb Gassen. Images: Heinrich-Heine-Institut Düsseldorf.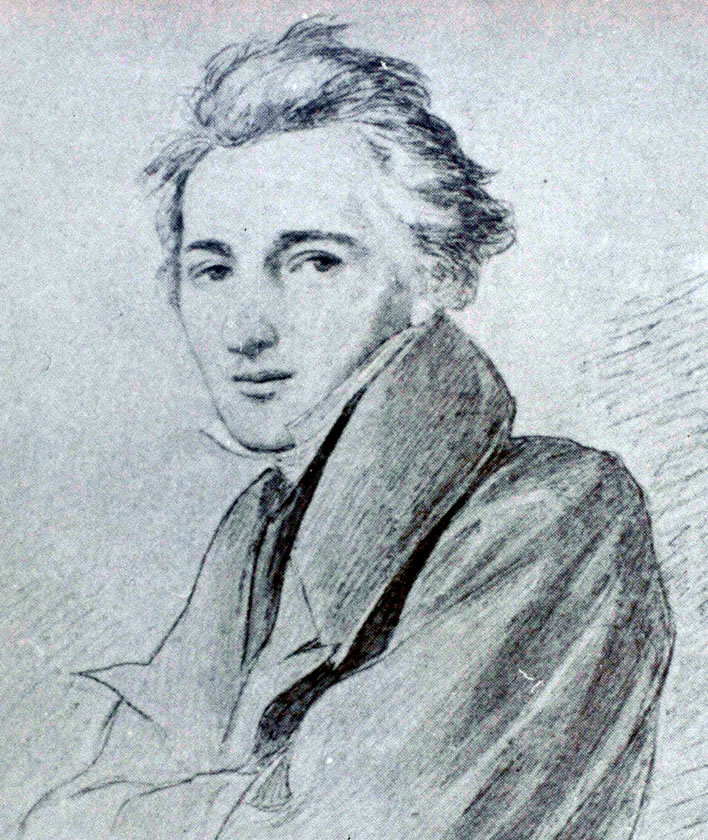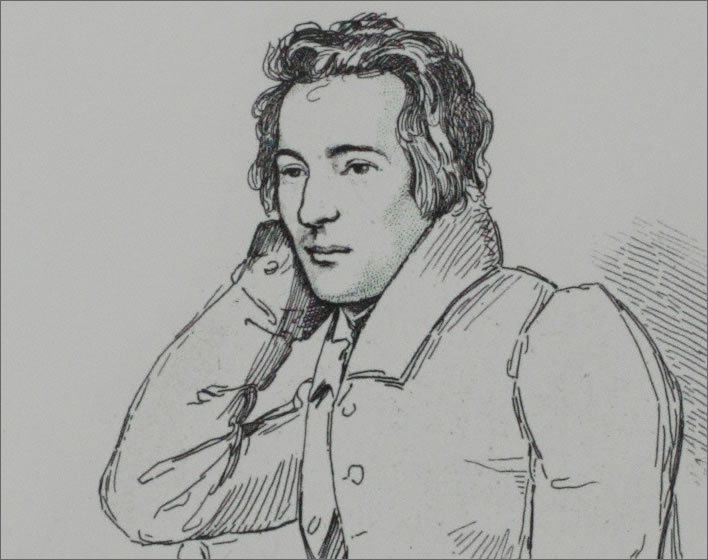 Same year, 1829, different artists, same subject.
Top: Heinrich Heine, 1829. An etching (artist unknown) after a drawing by Wilhelm Hensel (1794-1861).
Bottom: The 32 year-old Heine in an etching by Eduard Mandel (1810-1882) from a drawing by Franz Kugler (1808-1858), 1829. Images: Heinrich-Heine-Institut Düsseldorf.
Buch der Lieder
In the cause of our continued sanity we are going to leave the byways of the Reisebilder, Erster Theil to one side and consider Die Heimkehr as part of Buch der Lieder. That collection was to all intents and purposes finished in April 1827. It finally came off the presses in October of that year. In total it contains around (depending how you count them) 237 poems, a majority of which had already appeared elsewhere.
The phrase 'to all intents and purposes finished' therefore implies no great completion of a giant creative task, but rather the assembly of poems that had appeared in newspapers, magazines and minor books or other collections over the previous five or so years.
The Reisebilder sold quite well; the Buch der Lieder stayed on the bookshop shelves: the first print run of 2,000 copies lasted for ten years. By the end of the first seven years, only 1,200 copies had been sold.
After ten years of quietude Buch der Lieder began to sell – and sell well. The best advertisement an author can have is censorship: the banning of Heine's works in Germany in 1835 was one of the principal factors that led to an increased interest in this subversive and never boring writer, a writer who was a master at speaking to his readers with a directness that was uncommon at the time. Doubling down on the persecution, in 1844 the Prussians issued an arrest warrant for him, as did the French, which had the welcome effect of increasing his fame even more.
Buch der Lieder despite its clever satires and its subtleties ultimately gave Heine a reputation as a people's poet. There was an edge to Heine which caused more sensitive souls to reach for their fans and 'deprecate the lack of taste' (©Eliot), but it was a style which endeared him to the disaffected folk of the new Germany.
The book finally became a bestseller and went through many editions, helping to secure Heine a solid income (much of which was confiscated by the authorities). Heine himself tinkered with its contents up until the fifth edition in 1844. Edition followed edition, its popularity helped by song composers who could always find something to their taste among its 237 poems. By the end of the 19th century Buch der Lieder had gone through over forty print runs in countless editions. Schober's reading circle really had been ahead of the game all those years ago.
The Reisebilder, Zweiter Theil was acquired for the Viennese reading circle towards the end of 1827 or at the very beginning of 1828, presumably by Schober. It is interesting that the circle was not simply following the herd: in choosing that book they were definitely ahead of the literary game in the German speaking world. Note, however, that the Reisebilder, Zweiter Theil, which the reading circle was reading, does not contain the poems which Schubert ultimately set to music. These he must have found in the Reisebilder, Erster Theil, which Campe had published in Hamburg in 1826, or the Buch der Lieder. Schubert was staying with Schober during the first half of 1828 and would have had easy access to Schober's library.
As far as Heine's publisher, Julius Campe, was concerned, the Buch der Lieder was a marketing proposition that might build on the success of Reisebilder, Zweiter Theil, which Campe had published at the beginning of 1827 – the name Heine was becoming familiar among the reading public and thus the time was right to capitalise on that.
As far as Heine was concerned, Buch der Lieder allowed him to collect together his poetic efforts of recent years to form what he called a 'psychological portrait'.
This term is not to be confused with biography – Heine disliked the association his readers might make between particular poems and particular events in his life. Of course, those biographical events formed him and supplied material and stimulation for his poetry, but where they flowed into his poetry they become mere starting points for his artistic imagination.
If anything, the term 'psychological portrait' as used by Heine is the psychological portrait of the artist as a young man in the Germany of the mid-1820s. It is a generic or socio-cultural portrait, not the portrait of a single person, however much it may seem to be that. The work is as much a cultural diagnosis as that which we find in works by James Joyce or Ezra Pound (for example in Hugh Selwyn Mauberley).
That said, we mustn't overload Buch der Lieder with mannered artfulness it does not contain. It has no great thematic structure that we might look for in other epochal works. It was simply put together out of whatever Heine happened to produce during his twenties. Its organization is fundamentally chronological: once he had been persuaded to publish the work, Campe was drumming his fingers wanting a book to publish – Heine delivered it by bringing his young work together in his 'psychological portrait'.
Buch der Lieder : structure
It does contain five major sections, though: Junge Leiden, 'Young Sufferings', Lyrisches Intermezzo, 'Lyrical Interlude', Die Heimkehr, 'The return home', Aus der Harzreise and the two Nordsee, 'North Sea' cycles. The first section, Junge Leiden, has a further four subdivisions: Traumbilder, 'Dreams', Lieder, 'Songs', Romanzen, 'Romances' and Sonette, 'Sonnets'. Although the underlying sequence is chronological, Heine seems to have performed some light grouping work within the sections to create particular clusters.
All of the six Heine poems which Schubert set to music come from the Die Heimkehr section. Since the present piece is neither an essay on Heine nor one on Buch der Lieder, let us just concentrate on that particular section, Die Heimkehr, and leave all the scholarly debate about Buch der Lieder and its author behind us.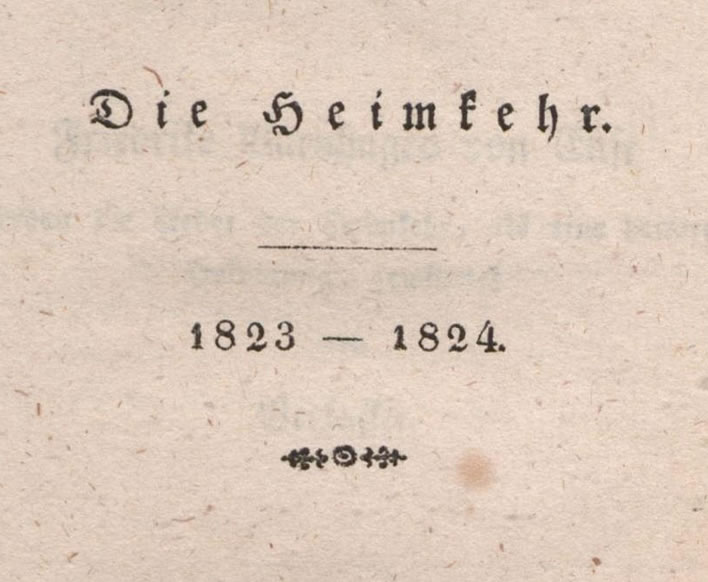 Title page of Die Heimkehr in Buch der Lieder, 1827. Image: Deutsches Textarchiv.
Many analyses have been written concerning Heine's metrical skills and the various influences on his work, in particular the question of the relationship between his own 'malicious metric', as he called it, and the folk poetry that was all the rage at the time. We have to leave that to one side, apart from pointing out that Heine and Wilhelm Müller, the author of Die schöne Müllerin and Die Winterreise, were in loose contact and that Heine wrote to Müller saying how carefully he had studied Müller's poetry. It is not completely clear that this statement was sincerely made. If it was, that would be very problematic for Die Heimkehr, but let's put all that to one side and move on.
Accepting the underlying structure as chronological, what traces do we find of thematic organization in Die Heimkehr?
None. Or more precisely, none worth mentioning.
Where there appear to be thematic groups they seem to arise from the fact that Heine was preoccupied with a particular theme or subject at a particular time. These clusters create thematic islands as it were, but the islands are not intact, they are often interrupted by one or more poems on other themes.
A merely chronological (that is, thematically disorderly) arrangement is irritating – at least for pedants such as your author. For example, the reader will encounter a few poems about the sea (VII-XII), believing this sequence to be closed off by a poem (XIII) with a distinctly political message. But then another sea-themed poem (XIV) pops up, followed by a poem (XV), which turns out to be a satirical persiflage on Romantic poetry.
The only clear structure we find is of the most trivial sort: the last nine (or five) poems are longer than the others. If you stare at a Rorschach Test image long enough in order to find some hidden structure, ultimately you will find one.
A Modernist prelude
But if we cannot see a finished, obviously curated structure that corresponds to our expectations of 19th century poetry, we might at least be able to see some sort of structural principle. After all, we moderns find no difficulty, nothing unusual, in coping with the fractured, heuristic forms of communication that besiege us nowadays.
In 2009, the Germanist Arnold Pistiak drew attention to the possible existence of such a principle in Die Heimkehr – a principle which we would think of as being exclusively modern:
Heine clearly oriented himself on the modern early romantic principle of the fragmentary as well as Goethe's conception of the 'repeated reflection'. Out of that he developed a daring, then as now almost completely unrecognised montage technique, a sort of cinematic technique: single images, commentaries and short sequences alternate like lightning and illuminate each other. Speaking about himself as well as about the world, the speaker reflects the past as the present: individual stations on the way to himself.
Heine hatte sich offensichtlich an dem modernen frühromantischen Bauprinzip des Fragmentarischen wie an der Goethe'schen Konzeption der »wiederholten Spiegelungen« orientiert und daraus eine kühne, damals wie heute weithin unverstandene Montagetechnik, eine Art Filmtechnik entwickelt: Einzelbilder, Kommentare und kurze Sequenzen wechseln blitzartig ab und kommentieren sich gegenseitig. Über sich wie über die Welt sprechend, reflektiert der Sprecher Vergangenes wie Gegenwärtiges: einzelne Stationen auf dem Weg zu sich selbst.
Pistiak, Arnold. 'Heimkehr als Aufbruch. Feststellungen und Lesarten zu Schuberts Heineliedern' in Heine-Jahrbuch 2009, p. 93.
Pistiak's insight may be too daring for some: Heinrich Heine, the first Modernist poet? A full half century before the next Modernist artists?
We reflect on Modernism's abolition of the linear: collage, Cubism, Vorticism, Futurism and Surrealism in the visual arts; Imagism (©Pound et al.), the 'ideogrammic method' (©Pound, Eisenstein), the 'objective correlative' (©Eliot) in Modernist literature; the shattering of form and structure in Modernist music. Heine? In the 1820s?
Well, it may be daring, but it is an organizational principle which matches the empirical reality of the macro- and micro-organization of Heine's texts in Die Heimkehr. And only this principle provides us with a satisfactory critical toolbox for understanding what Heine was up to with the collage of poems we find in Die Heimkehr, as well as the collage of images and themes we find within the individual poems.
In his seminal work on Picasso, John Berger wrote of the new perception, the importance of considering what was 'interjacent', that is, 'it was in the space between phenomena that one would discover their explanation.' [Berger, John. The Success and Failure of Picasso, London, 1965. 67]
But form is restored in Die Heimkehr when we accept that such fragmentary 'cuts' appear to be an astoundingly daring attempt to reflect the fragmentary nature of experience and perception as much as a collage by Kurt Schwitters or a film by Sergei Eisenstein might be. It is therefore quite legitimate – necessary even – to look at the broader context of the individual poem in the search for that 'interjacency'.
Also quite in the mood of Modernism, so little in Die Heimkehr turns out to be what it seemed to be at first: tears of love turn to poison or snakes, the loved one herself, Proteus like, experiences transformations that take place in the mind of the narrator-Ich, who himself undergoes transformations. These transformations occur both within and between poems, which is another reason for casting our net wide in the interpretation of particular poems.
Surface and depths
This thematic insecurity is one of the reasons that Heine's critical reception has been so mixed down the years. Most of the giants of German literature – and Goethe more than the others – curated their works carefully into collections for publication – as carefully as any art gallery curates its exhibitions. This gives scholars, who want to write of periods, moods and development in the works of their victims, a firm footing.
Heine, in contrast, did not curate Buch der Lieder – he assembled it. We have no firm ground at all beneath our feet. Some poems seem quite sincere in their sentiments, others are pure mockery, others – worse still – could be one or the other or perhaps even both.
Because of this, Heine is not an easy read: the reader has always to be on guard, must never be complacent, must never be fooled by the vocabulary of Romantic kitsch when Heine uses it ironically. Which he sometimes does, perhaps quite often, or sometimes doesn't. If Heine leads you into a flowery meadow filled with birdsong and the babbling of a brook, beware – it is almost certainly a trap. Every serious reader of Heine will know the feeling on discovering one of these unsuspected ironic bear traps in a poem that has been read up until then superficially.
Irony, however, poisons the wells of discourse. Just as there are many Heine commenters who are fooled into straightforward readings of poems that are anything but straightforward, so there are equally(?) many commenters who read ironic intent into poems that really are quite straightforward. Within the Buch der Lieder, it is Die Heimkehr which presents the reader with the most fraught mixture of sincere, half-sincere (if there can be such a thing) and completely insincere poetry. Which is which?
One thing that can be said for certain, though: Heinrich Heine is never dull. Here, for example, are the first two stanzas of poem XV in Die Heimkehr:
Up there on that hill there is a fine castle, in which live three beautiful girls whose love I enjoyed. On Saturday Jette kissed me, on Sunday Julia and on Monday Kunigunde, who almost squashed me.
Da droben auf jenem Berge, / Da steht ein feines schloß, / Da wohnen drei schöne Fräulein, / Von denen ich Liebe genoß. // Sonnabend küßte mich Jette, / Und sonntag die Julia, / Und Montag die Kunigunde, / Die hat mich erdrückt beinah.
We today smile at the thought of the passionate Kunigunde almost squeezing the poet to death – suggesting that there was a bit more than kissing going on in that castle. Typical Heine, we say.
However on reading this, any of Heine's contemporaries would have recalled the allusion here to the poem Müllers Abschied, the 'Miller's Farewell', from the epochal collection of (mostly fake) folk poetry put together by Clemens Brentano und Achim von Arnim between 1805 and 1808 in the anthology Des Knaben Wunderhorn. The moment of the appearance of that anthology is generally considered the starting shot for the beginning of the Romantic movement in Germany.
Many of the poems in it became familiar and passed into the everyday German consciousness. This one in particular was widely known at the time and was often alluded to in the work of other poets:
Up there on that hill there is a golden house, from which early every morning three beautiful maidens look out; One is called Elisabeth, the other my Bernharda, the third I won't name, is supposed to be mine.
Da droben auf jenem Berge, / Da steht ein goldnes Haus, / Da schauen wohl alle Frühmorgen / Drey schöne Jungfrauen heraus; // Die eine, die heißet Elisabeth, / Die andre Bernharda mein, / Die dritte, die will ich nicht nennen, / Die sollt mein eigen seyn.
So we can read the surface of Heine's poem and find some pleasure, but should we read the layer beneath we find a wonderful persiflage of the simple-minded, inconsequential Volksleid, 'folk poem', then so much in vogue.
But Heine is not finished with us yet. The next two stanzas take the clumsy complaint of the lovelorn miller of the original poem (which we haven't bothered to reproduce) and turn it into a cutting social satire:
But on Tuesday there was a party with my three girls in the castle; the ladies and gentlemen of the neighbourhood came in carriages and on horses. But I was not invited and that was your big mistake! The gossiping aunts and the women have noticed and laughed.
Doch Diensttag war eine Fete / Bei meinen drei Fräulein im schloß; / Die Nachbarschafts-Herren und Damen, / Die kamen zu Wagen und Roß. // Ich aber war nicht geladen, / Und das habt ihr dumm gemacht! / Die zischelnden Muhmen und Basen, / Die merkten's und haben gelacht.
Heine's poet, good enough for one-a-day romps with the girls in the castle – no 'golden house' here – ultimately finds himself excluded from their society, but can take comfort at the girls' loss of their good name.
Readers are encouraged to ponder this poem and note its several subtle features. Germanists, on reading of Heine's castle up on the hill, may recall the castle on the heights above the Rhine in Ferdinand Freiligrath's (1810-1876) bitterly mutinous poem Von unten auf (1846). The life of ease in the beautiful, sun-soaked country house on the hill is compared to the life of toil of the serfs who labour in the sunless and airless engine room of the river boat: a metaphor of the old feudal order in Germany. In the twenty years in Germany between the two poems, between Heine's rapier and Freiligrath's sabre, subtle satire proved itself inadequate for the circumstances.
Schubert's selection
As already noted, Schubert appears to have come across some of Heine's works at the beginning of 1828, when they were taken up in two of the book club readings he probably attended. We know about the book club readings from diary entries made by Franz von Hartmann on 12 and 19 January. The group was reading from Heine's Reisebilder, Zweiter Theil.
At some point thereafter Schubert set six of Heine's poems to music. These are the six shards we have spread out in front of us on our workbench.
The six poems of Schubert's selection that found its way into Schwanengesang all come from the series of poems running from poem VIII to poem XXIV of Die Heimkehr. It seems reasonable to assume that Schubert did not read intensively throughout the whole of Die Heimkehr, let alone the whole of Reisebilder. For some reason we can no longer fathom, he chose the section Die Heimkehr and out of that section the six poems we have today.
Scholarly discussion is still continuing on the question of the logic behind Schubert's selection of Heine's poems. Schubert's initial drafts are lost. Some believe he intended the order of the Heine settings to be that found in Die Heimkehr.
Since the organization of the poems in Die Heimkehr is a thematic jumble, replacing Schubert's jumble with Heine's jumble improves the coherence of the selection not a jot. Schubert's jumble in the fair copy manuscript is, however, the jumble that we are used to today and as such as good or as bad as any other. All the reasoning on the point over many years has brought no improvement or certainty.
What is certain, however, is that the collection title Schwanengesang is an advertising label thought up by the Viennese music publisher Tobias Haslinger, who bought the manuscripts from Ferdinand Schubert in December 1828, Franz Schubert's corpse at that moment being barely cold. Ferdinand received an initial payment of 150 Gulden, then a subsequent payment of 150 Gulden in June 1929. Haslinger's Schwanengesang collection was put up for subscription in December 1828 and finally appeared in March 1829.
There is some evidence that Schubert intended to publish the seven Rellstab poems and the six Heine poems separately. This makes sense – all the difficulties we face trying to glue these shards together to reconstruct the fabled 'song cycle' of the Swansong Teapot disappear when we give up the effort of fitting pieces together which simply do not fit together however we might twist and turn them.
Even the six Heine poems he chose from Buch der Lieder do not form a cycle – the teapot lid is not a lid. There is no reasoning that can bring these disparate pieces together in any form of sequence, no glue that can join them into an integral, fracture-free whole.
They are six standalone poems, just as the Goethe poems and the Schiller poems which Schubert set in his young days are standalone poems. Those who believe otherwise are welcome to produce a thematic analysis that links these poems in some credible way.
Schubert's fair copy manuscript of the Heine songs is dated August 1828. His intention to publish these songs as a group is evidenced by the fact that on 2 October 1828 he wrote to the Leipzig music publisher Heinrich Albert Probst offering him the Heine songs:
I also have set several songs by Heine from Hamburg, which have found special favour here…
Auch habe ich mehrere Lieder von Heine aus Hamburg gesetzt, welche hier außerordentlich gefielen… [The emphasis is Schubert's.]
Deutsch, Otto Erich, ed. Schubert: Die Dokumente seines Lebens, Erw. Nachdruck der 2. Aufl. Wiesbaden: Breitkopf & Härtel, 1996. p. 540.
Probst responded positively a few days later, but by then it was too late.
Shortly after Schubert's death his idiot brother Ferdinand, who was in charge of Franz's musical remains (a fact from which we have still not recovered), left Probst dangling and sold off the package to Haslinger in Vienna.
We get the impression that Schubert was thinking entrepreneurially in putting together the Heine songs and getting them published in Heine territory – his explicit and emphasised mention of Heine aus Hamburg to the Leipzig publisher is evidence enough for that. He had done much the same earlier in 1828 with his settings of Walter Scott that were targeted at the anglophone market.
Indeed, in picking his six poems he rips them out of the loose context in which Heine had printed them, whatever order we put them in. In Schubert's collection, Das Fischermädchen, for example, floats unattached either in theme or mood to the other five poems he chose, whereas in Die Heimkehr it is embedded in a group of poems ('thematic' would be overstated) that have to do with the beach, the sea and the girls fishing it. In taking it out of that context, Schubert has isolated it and used it as the basis for a musical idea. In other words, since there is no discernible structure to bind him he can pick and choose as he wishes.
We know that Schubert's approach to selecting poetry to set to music was always the first principle of whether a melody formed fluently in his head. Some pieces he found easy, almost spontaneous; with others he struggled. He seems to have abandoned the struggle in most cases, unless the poet was someone he knew and valued (Mayrhofer, for example). We have every reason to assume that his selections from Heine followed this pattern. We repeat: there is no discernible structure in the six poems of Schubert's selection.
If Schubert had wanted to create a song cycle there are clusters of poems in Die Heimkehr he could have taken. Why didn't he do that? I have no idea. But he was feeling tired and ill, had recently finished Winterreise and was preparing it for publication; he had been busy with his concert and various other things. In those ten months in 1828 that he was productive, before he took to the frustrating lethargy of his sickbed, he worked musical wonders. Our expection that he could take Buch der Lieder and knock off a further song cycle is unfair. He had, as we noted of his death, done enough.
He was stimulated by the reading of Heine in the reading club, took the book home and picked half a dozen poems out of it and set them to music. And that is it.
The Schubert lid, part 1
Let's look more closely at the six Heine poems that Schubert set to music. We'll take them in the order they are given in his score. Here is an overview: