This is not the place for a disquisition on the occurrence of the metaphor of water mirroring sky. We only need to note that the metaphor here is not the more usual one of the night sky mirrored in water, but the daytime sky. Here sun and moon set down into the water and rise up out of it, returning with their faces 'refreshed':
Labt sich die liebe Sonne nicht,
Der Mond sich nicht im Meer?
Kehrt wellenathmend ihr Gesicht
Nicht doppelt schöner her?
Lockt dich der tiefe Himmel nicht,
Das feuchtverklärte Blau?
Lockt dich dein eigen Angesicht
Nicht her in ew'gen Thau?
Don't the gentle sun and the moon refresh themselves in the sea? Don't they return breathing waves, their faces doubly beautiful? Doesn't the deep heaven lure you, the blue transfigured in water? Doesn't your own face draw you into the eternal dew?
Frederic Leighton (1830–1896), The Fisherman and the Syren, 1856-1858. Fishy tail and very entranced fisherman. Image: Bristol Museum and Art Gallery.
The verb laben is not simply 'to bathe' or 'to refresh' but invokes a process of cleansing, of renewal, involving pleasure and delight, as much for the soul as for the body.
The daytime heavens reflected in the surface of the water are 'deep heavens' – one has to descend to them as one would ascend to their mirror image in the sky. In this mirrored world, the blue sky is feuchtverklärt, 'clarified' 'modulated' or 'transfigured' by water, the 'eternal dew'.
The spirits of the earth
Goethe, the author of Faust and thus always mindful of the Erdgeister, the 'spirits of earth', contrasts the cool spirituality of the two of the four elements, air and water, in which the mind finds health, with the hot degradation of the other two, earth and fire, wherein there is only 'fiery death'.
Narcissus
What to do about the image of 'your own face' which draws you down into the water?
Simple, down-to-earth people might read the reflection of the angler's face as being a reflection of a familiar object that makes the water seem friendly. Goethe is not a simple person, though. He was deeply read in Ovid's Metamorphoses – just that work that is so full of legends of divine manifestations and transformations of state.
Pretentious commenters might tell us that the Metamorphoses 'informs' or 'stands behind' much of Goethe's lyrical work and Der Fischer in particular, and they would not be wrong: Ovid's Metamorphoses permeates this poem as much as it does large sections of Pound's Cantos, almost as a textbook of Hellenic pantheism.
It comes as no surprise, therefore, to find Goethe's wet woman alluding to the legend of Narcissus, a key source for which is Book 3 of the Metamorphoses (lines 405-507).
Lockt dich dein eigen Angesicht
Nicht her in ew'gen Thau?
Doesn't your own face draw you into the eternal dew?
The reflection that Narcissus sees in the glassy surface of the woodland pool is his perennially youthful image, with which he falls in love. His reflection 'draws him in', but every attempt to unite with that image is a failure, until he is ultimately put out of his misery by being transformed into the flower that bears his name.
Furthermore, Narcissus is the offspring of a river god and a naiad, a water nymph, so there are allusions aplenty here for the mythologically and allegorically minded.
Caravaggio (Michelangelo Merisi, 1571-1610), Narcissus, 1594-1596. Image: Palazzo Barberini.
Unlike pretty-boy Narcissus, who had no way to unite with his younger image, in the present case the water sprite offers just that path. The psychiatrists here will be tickled to note that the wet woman appears not to be the main attraction on offer here, but rather the self-discovery of the narcissist. Tellingly, 'wet woman' is all the description we get of her – we have to use our imagination to probe the damp corners of this apparition. Despite what leering painters like to suggest, there is no hint of lust or sexual attraction in the dealings of the angler and his wet woman.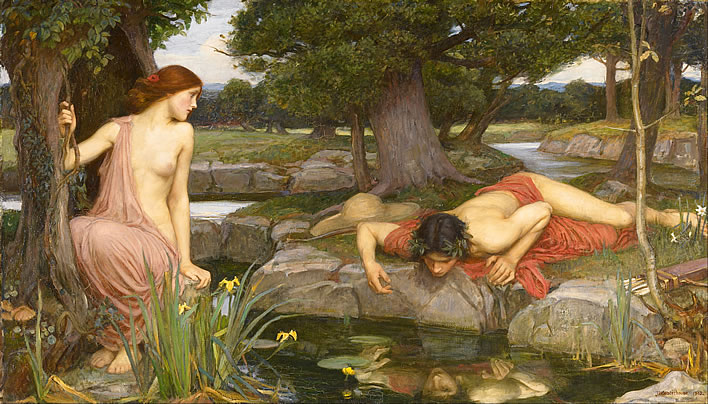 John William Waterhouse (1849–1917), Echo and Narcissus, 1903. Image: Walker Art Gallery.
The moment of submission
In the first stanza we found ourselves in the reality of everyday life, albeit at the beginning of a trance-like state. The second and third stanzas revealed the content of the trance. The fourth and final stanza brings us back to the intersection of trance and reality.
Das Wasser rauscht', das Wasser schwoll,
Netzt' ihm den nackten Fuß;
Sein Herz wuchs ihm so sehnsuchtsvoll
Wie bei der Liebsten Gruß.
Sie sprach zu ihm, sie sang zu ihm;
Da war's um ihn geschehn:
Halb zog sie ihn, halb sank er hin,
Und ward nicht mehr gesehn.

The water rushed, the water swelled and wet his naked foot; his heart filled with longing, as though at the greeting of the loved one. She spoke to him, she sang to him; with that he was done for: she half pulled him, he half sank down and was never seen again.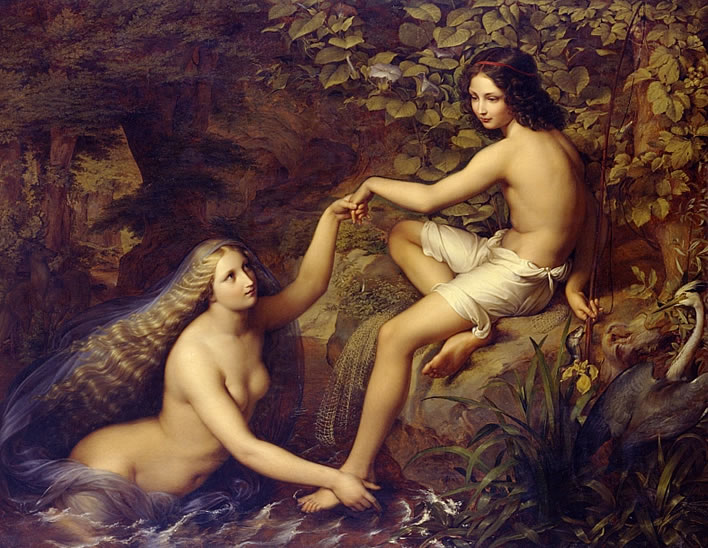 Julius Hübner (1806-1882), Der Fischerknabe und die Nixe, 1827-1828. Image: Nationalgalerie der Staatlichen Museen zu Berlin.
The real world occupies the first half of the stanza and is reintroduced by repeating the formulation at the opening of the poem, das Wasser rauscht', das Wasser schwoll. We have the clever physical interface of angler and water, Netzt' ihm den nackten Fuß, the hint that he is being drawn in to the water.
We are told of the longing that is now in the angler's heart as a result of the enchantment. In Goethe's poetry every word counts and has its particular gravity field. Here we read that the angler's longing is Wie bei der Liebsten Gruß, 'like the greeting of the loved one'. Not 'a' loved one but 'the' – that is, 'his' – loved one. Our angler is therefore not some pimply nerd who spends his evening tying flies in his bedroom, hoping one day to meet a woman (any woman, wet or not). He already has a loved one. He now experiences yet another Ovidian transition, in that the water sprite now speaks to him in the tones of his loved one, displacing and replacing her.
The second half of the stanza returns us to the world of the water sprite, Sie sprach zu ihm, sie sang zu ihm, but this time with speech coming before song, both instances taken together forming reasoned speech bracketed by sung incantation: song-speech-song.
The descent into the water is shared half-half – the angler's death is not really a suicide or a murder, just an assisted transition. And anyway, we should not speak of death, since there is no death here. In a quite Ovidian way the angler has transitioned from one world to another; in the world he left he was never seen again.
Water: dangerously attractive
Well, that's beaten the poem half to death, there can be nothing more to say, really. Can there?
Not so fast: we must not neglect what is taken to be a biographical background for the poem, a tragic event that was no metaphorical transition but a real death.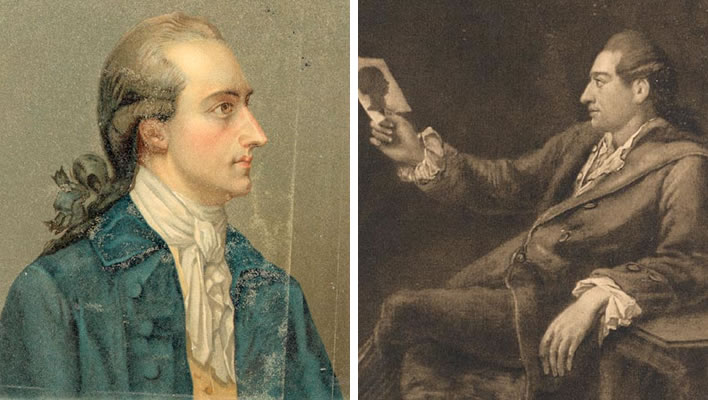 The two images we have of Goethe from his early Weimar years.
Left: Goethe in 1778. The picture is a coloured copy by Prof. Eberhard Ege (1868-1932) of an original by Georg Oswald May (1738-1816) painted in 1779.
Right: Goethe with a silhouette, painted by Georg Melchior Kraus (1737-1806) in 1775-76.
Images: Goethezeitportal.
Goethe wrote Der Fischer sometime in 1778. He was in Weimar at the court of his patron, Carl August, the Duke of Sachsen-Weimar-Eisenach. On or just before 16 January that year one of the ladies of the court, Christiane Henriette von Laßberg, 'Christel', only 17 years old, threw herself to her death from a bridge over the river Ilm in the centre of Weimar. Historical precision demands that we note that no one saw her 'throw herself' (it was a lonely end) – she might simply have slipped on an icy patch. But since all her contemporaries assumed that it was 'throw herself', that is the interpretation we shall take.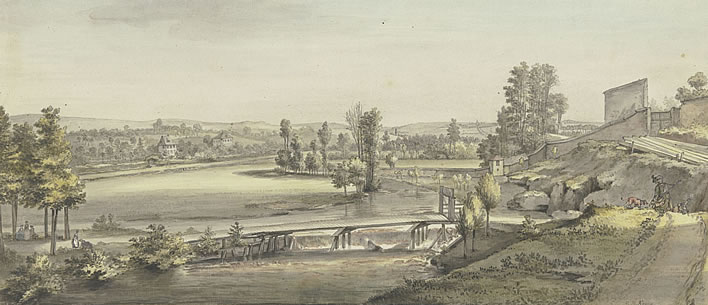 Georg Melchior Kraus (1737–1806), An der Floßbrücke bei Weimar, c.1775–1779. A view closely contemporary with the time of Christel's suicide. Note the lack of railings on the bridge. Image: Städel Museum, Frankfurt am Main.
According to the gossipy chronicles of the Weimar court written by Baron Karl Wilhelm Heinrich von Lyncker (1767-1843), she was one of the ladies of the ballet troupe and the cause of her demise was a passionate involvement with a certain Baron von Wrangel, one of the many scions of that extended, German-Swedish tribe of Wrangels, he being from the Livonian branch of the family.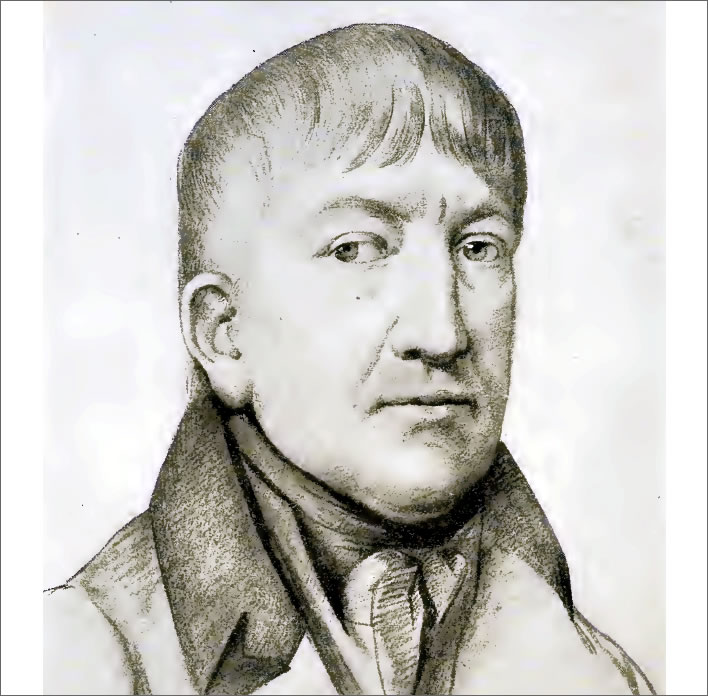 Karl Wilhelm Heinrich von Lyncker (1767-1843) by Johann Joseph Schmeller (1796-1841), 1824. Image: unknown.
Christel was well-known to Goethe: at the time of her death she was taking part in the rehearsals for a play Goethe had written for the theatre in Weimar, of which he was at that time the Director, Der Triumph der Empfindsamkeit, the 'Triumph of Sensitivity', a title offering, in the circumstances, a substantial degree of irony.
Four years previously Goethe had found almost overnight fame – a better word would be notoriety, although there is really no such thing as bad publicity in this literary world – notoriety in German-speaking countries and even other parts of Europe for his Briefroman, 'epistolary novel', Die Leiden des jungen Werthers, 'The Sorrows of Young Werther', published in 1774. In this book the hero, Werther, killed himself rather inelegantly out of passion for a married woman he could not have. The succès de scandale that was Werther arose from the widespread moral and religious objections to suicide.
The novel sparked a predictable craze: clerics and prodnoses of all hues ranted against the work, which is why young men dressed themselves like Werther, mainly to spite them, we imagine. Young, love-struck people across Europe were said to be killing themselves because of the book's malign influence. Werther was the climax of the Empfindsamkeit, 'empathy' or 'sensitivity,' movement in German literature – we discussed this in connection with Klopstock and Haller. The format of the Briefroman was ideal for representing raw mutual emotions without the mediating presence of a narrator.
But now we are in 1778 and that 'Werther madness' has largely fizzled out. The play that Goethe was staging in Weimar, the 'Triumph of Sensitivity' was a heavy-handed satire on Werther and the obsession with feelings upon which it rested – Goethe attacking his own early work, in other words. Irony upon irony: a beautiful, impressionable young girl in the ballet troupe in that play kills herself for love.
When Christel failed to appear for a rehearsal an extensive search found her dead in the icy Ilm. Her body was found in the river by three of Goethe's servants, Seidel, Sutor und Götze, taken to a nearby house and laid out there. Irony upon irony, the house was that of Charlotte von Stein, Goethe's lover at the time.
The wagging tongues of the Weimar courtiers and their ladies claimed that a copy of Goethe's Werther was found on Christel's body. Whether this was true or not doesn't really matter – that the suggestion went the rounds in the social pressure cooker of the ducal court was enough. When von Lyncker retails the story with such frisson, we can be sure it was the topic at every card table and every soirée in Weimar.
Goethe launched himself into manic distraction activity. The day that she was found he, an assistant and a gang of workers, carved out a place in a rock outcrop at a point overlooking the bridge where young Christel had put an end to her sorrows. It was never fully completed: time floods past like the river itself and young ladies of the court are – let's face it – of only passing interest – two a penny, in fact. The project faded with her memory.
On 19 January, Goethe wrote to his mistress Charlotte von Stein:
In place of my person comes a letter. After I left you I was not able to write. There were workers down there and I found an unusual location where the memorial to poor Christel would be hidden from view. That was what I disliked about my idea, that it was on a path on which one can neither walk nor pray, nor love. With Jentsch I hollowed out a sizeable piece of rock, from where one can see in the greatest seclusion her last path and the place of her death. We worked into the night, at the end only I on my own, right until the hour of her death. It was a remarkable evening: Orion was in the sky just as it was when we rode happily from Tiefurth together. […] This beckoning sadness is as dangerously attractive as water itself, and the light of the stars in Heaven that twinkle from both of them lures us.
Statt meiner kommt ein Blätgen. Da ich von Ihnen wegging, konnt ich nicht zeichnen. Es waren Arbeiter unten, und ich erfand ein seltsam Pläzgen wo das Andencken der armen Cristel verborgen stehn wird. Das war was mir heut noch an meiner Idee misfiel, dass es so am Weeg wäre, wo man weder hintreten und beten, noch lieben soll. Ich hab mit Jentschen ein gut Stück Felsen ausgehölt, man übersieht von da, in höchster Abgeschiedenheit, ihre lezte Pfade und den Ort ihres Tods. Wir haben bis in die Nacht gearbeitet, zulezt ich noch allein bis in ihre Todtes Stunde, es war eben so ein Abend. Orion stand so schön am Himmel als wie wir von Tiefurth fröhlich heraufritten. […] Diese einladende Trauer hat was gefährlich anziehendes wie das Wasser selbst, und der Abglanz der Sterne des Himmels der aus beyden leuchtet lockt uns.
[Weimar] d. 19. Jan. 78.
Goethes Briefe.
The Floßbrücke in the Ilmpark in Weimar has undergone a number of transformations down the years. It is now known as the Naturbrücke. Christel's memorial is still there, but integrated into a stone stairway known as the Nadelöhr.
We therefore find Goethe during this frantic labour of distraction musing to Charlotte on the malign power of water to bewilder and to lure humans to their ends, as well as the role played by the reflection of the heavens in its depths.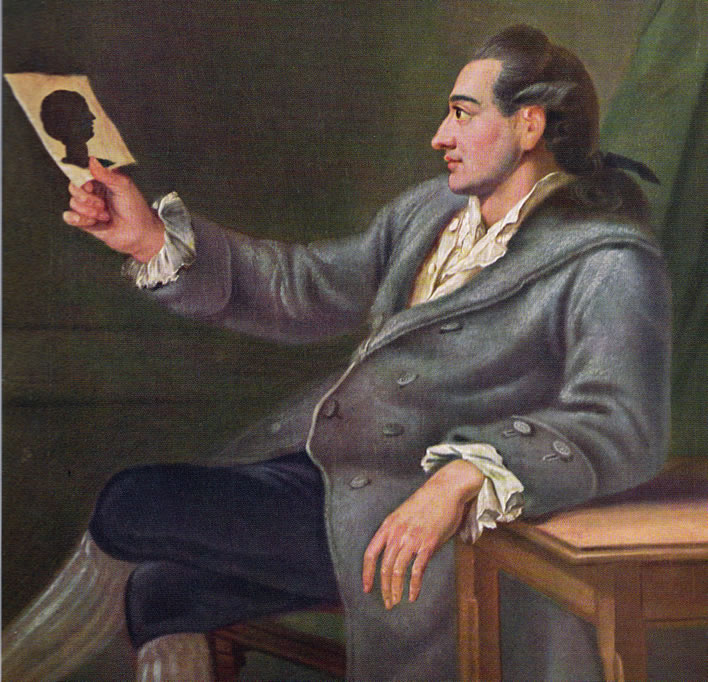 The young Johann Wolfgang Goethe in 1775/76 by Georg Melchior Kraus (1737–1806). This is a photograph of a copy of the original painting made in 1778 for Goethe's parents.Image: Goethe-Museum Frankfurt am Main.
Our psychiatric team would call this displacement thinking, since even if he had not heard the rumours, Goethe, not an idiot, must have been aware of the obvious parallels between Christel's demise and his own depiction of suicide as the inevitable end of high passion, sensitivity and rejected love. Baron von Lyncker hints at as much, albeit in his roundabout, courtier's way of casting aspersions. We can easily imagine the gossip and whispers that the famous commoner and tame court intellectual Goethe had to endure, but von Lyncker drops a heavy hint:
That this event gave plenty of material that could be used to defame the climate of sensitivity in which Goethe's books and dramas had set young people can be well imagined.
Daß dieses Ereignis Stoff genug gab, die empfindsame Stimmung zu schmähen, in welche die Goetheschen Bücher und Theaterstücke die Jugend versetzt haben sollten, läßt sich wohl denken.
Karl Freiherr von Lyncker, Am Weimarischen Hofe unter Amalien und Carl August, Berlin, 1912, p. 66. Online.Lyncker manages to get some important items wrong, even down to Christel's name, so those who read this entry online should also read the correction in the notes.
Now we find Goethe, a short while later, writing in Der Fischer of the dangerous allures of water and the deep heaven of stars reflected in it. It is the mark of the true artist, that nothing that happens is so bad but that it cannot be worked into a new creation.
Goethe in Weimar
Mephistopheles, our devil's advocate, tells us that we shouldn't be so hard on his creator Goethe.
In 1778, three years had passed since Goethe was invited to the Weimar court by Carl August. His appointment to the court offered the recognition that every artist needs as well as financial security. But he remained a commoner for some time – although a trusted advisor he was still a mid-ranking servant in a feudal system which fundamentally cared nothing for learning or literature. He was surrounded and usually outranked by fatuous court groupies with little in their heads and few responsibilities on their shoulders beyond organizing the odd boar hunt. He was merely the intellectual bling of a feudal court.
In contrast to the gentlemen of the court, Goethe was one of the few competent administrators there and was overloaded with work trying to bring the finances of this clown circus of parasites and drones into some rational order. The parasites and drones frequently fought back to protect their comfortable existences. He was a serious man in a very unserious position. It would take another seven years before he was finally ennobled and could look the other courtiers in the eye.
Now, not quite three years into his post, we find him utterly depressed. His Faustian bargain to obtain rank and security as an artist at the court of an enlightened, would-be Renaissance prince had revealed its darker side: he was a commoner at the court of the typical feudal despot of the times, an aristocrat who was concerned essentially with hunting, dining, dancing and philandering. Like everyone else at court he must humour his master, attend to his whims and be on hand to talk to him whenever his lord required some elevating conversation.
A year after the moment of Christel's death he would attempt to counter his Weltschmerz by taking his Duke over the Gotthard Pass in winter. The success of that expedition was temporary: after all the great sights they had seen and the impressive people they had met, once home his Duke quickly rediscovered his old ducal self.
But that was still a year away. Goethe's diary for January of 1778 tells us not only of the events around the death of poor, broken-hearted Christel but of the undertone of depression which was amplified by that shocking event. The first half of January passed with the usual distractions: boar-hunting, sleigh-rides, picnics, dances and dinners. The 16th of January started in the same way:
16— Early pig-sticking competition in the riding course I broke a lance in an attacking boar, just beneath its shoulder ridge. Witzleben's hunters were beaten. Midday with the company to Tiefurt. The thaw prevented a large sleigh-ride. In the evening picnic. Slept at Duke Carl August's. Had days withdrawn into myself with sadness.

17— Cristel von Lasberg was found by my people under the weir in front of the Flosbrücke. She had drowned the previous evening. I was with Duke Carl August on the ice. In the afternoon I was occupied with the dead girl, whom they brought up to Frau von Stein's house. In the evening to her parents. To Cr from the rehearsal.

18— Rode out with Duke Carl August, an hour on the ice. Dined at the court. In the afternoon to Frau von Stein, in the concert at the Stern for a moment. In the evening with Duke Carl August. Knebel came to visit. Knebel stayed with us overnight. Spoke a lot about Cristal's death. Her whole being and her last path etc. Occupied for several days in silent grief at the scene of the death, afterwards forced once again into theatrical frivolity. Various rehersals.

30— The new piece performed on H's birthday.
16 früh Hazze in der Reitbahn mir brach ein Eisen in einem angehenden Schweine, unter der Feder weg. Wizlebens Jäger ward geschlagen. Mittags mit der Herrschafft nach Tiefurt. Das Thauwetter hatte eine grose Schlittenfahrt gehindert. Abends Picknick. bey [*Herzog Carl August] geschlafen. Hatte traurig in mich gezogne Tage.
17. Ward Cristel v Lasberg in der Ilm vor der Flosbrücke unter dem Wehr von meinen Leuten gefunden. sie war Abends vorher ertruncken. Ich war mit [*Herzog Carl August] auf dem Eis. Nachmittags beschäfftigt mit der Todten die sie herauf zu [*Frau v. Stein] gebracht hatten. Abends zu den Eltern. Zu Cr aus der Probe.
18. mit [*Herzog Carl August] ausgeritten, ein Stündgen aufs Eis. an Hof zu Tisch. Nachmittag zu [*Frau v. Stein] einen Augenblick in Stern ins Conzert. Nachts mit [*Herzog Carl August]. Knebeln herüber. Knebel blieb bey mir die Nacht. Viel über der Cristel Todt. Dies ganze Wesen dabey ihre lezten Pfade pp.
In stiller Trauer einige Tage beschäfftigt um die Scene des Todts, nachher wieder gezwungen zu theatralischem Leichtsinn. Verschiedene Proben :|
Den 30 zur H. Geburtstag das neue Stück.
Tagebücher, 1778, Januar.
We are reading the diary of a lonely man who was surrounded with people – lonely even with such close friends such as Karl Ludwig von Knebel (1744-1834) in the vicinity. Two weeks of a life marked by social frivolity, which continued largely unaffected by the death of an aristocratic chorus girl.
If Werther had been one of the markers of the German literary era of Empfindsamkeit, 'sensitivity', we now find its author partaking of the sensitive pastime of pig-sticking and the superficial pastimes of court life in Weimar. And he is in the middle of putting on a play to entertain the frivolous, mocking just that sensitivity.
Christel was quickly forgotten in the occupational therapy of court life. Her suicide was seemingly not allowed to have any impact on the noble Baron von Wrangel or his family.
The stigma attached to suicide let her unfortunate death fade quickly from memory. Remarkably quickly, as Goethe's diary told us: the day after the discovery of her body there was riding and dining and there were concerts as usual.
Goethe's Ur-Freund Knebel seems to have been the only one with whom he could talk about her. Even Goethe's mistress, Charlotte von Stein, does not seem to have been the right sort of soulmate for such a conversation. The project of Christel's memorial was never completed.
Goethe's pious occupational therapy of erecting a memorial to Christel speaks well of him, but we cynical moderns are left wondering what that was all about.
In life he seems to have had no connection with the pretty young dancer, she wasn't even in his troupe of actors – the ballet troupe was under the direction of Karl Siegmund von Seckendorff (1744-1785), Carl August's Directeur des plaisirs. We suspect, though, that whether Goethe's Werther was found on her or not, the connection was there in the mind of its author and induced in it feelings of guilt. What other explanation can there be for this sudden frenzied hollowing out of a stone memorial, away from the paths of other people, deep into the night? What other explanation for his being 'occupied for several days in silent grief at the scene of the death'?
You may believe that Christel's love affair with 'Baron von Wrangel' was just one of the many apparitions floating around in von Lyncker's gossipy mind, as unreliable as much of the rest of his phantasmagoria. You may think that Goethe's manic displacement activity points at a closer relationship between the writer and the showgirl. Well, think away – some real evidence would be nice, though – and there isn't any.
We read in Goethe's account that poor Christel's body was found 'under the weir in front of the Flosbrücke', a place where even in winter the water would rauschen, a turbulent, noisy death. A weir is a specially dangerous place in a river: the falling water generates rotating currents under the surface which drag and hold objects down – even good swimmers can die in that grip. Her body was recovered and taken to Charlotte von Stein's house, where she was laid out – a true feuchtes Weib. Can we see the elements of Goethe's poetic imagination coming together? Who knows?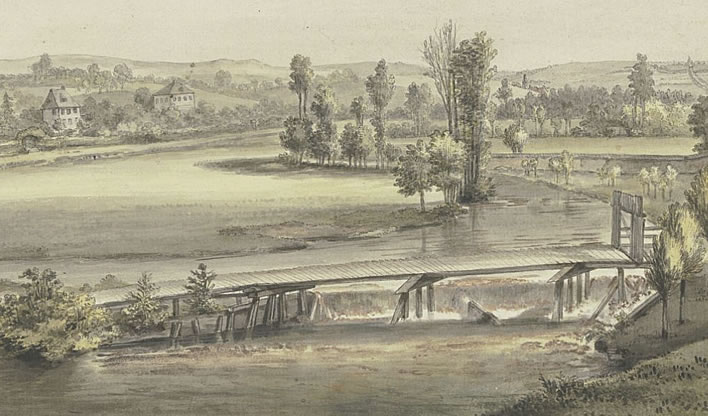 A detail from Georg Melchior Kraus' illustration An der Floßbrücke bei Weimar, 1775-1779, showing the bridge in more detail, its lack of railings and the turbulent weir just beneath it. Image: ibid.
We respond to Mephistopheles, our devil's advocate, by saying that all that he says about Goethe is indeed true – he was a sensitive chap, a serial flirt with lots of what we now call emotional intelligence. But there was something demonic about that too, since Goethe seems to have been able to switch it on and off at will.
In all his tears and agonising over poor, dumped Christel, Goethe was just as capable of dumping his lovers as Baron von Wrangel seems to have been. Goethe's biography has its share of brutally dumped women: Friederike Brion in Sessenheim near Strasbourg in 1771, Barbara Schulthess in Zurich in 1797, to name but two. He left them both without even saying goodbye. His feelings of regret only came some time after, when the jilted ones told him exactly what they thought of him.
Der Fischer
We can therefore quite reasonably understand the origin of at least some of the main elements of Der Fischer in the events of that time in Weimar. The poem is not the account of the biographical event of Christel's suicide, but it is informed by it in clear, though oblique, ways.
It was Siegmund von Seckendorff, the Directeur des plaisirs in Weimar, who had the first shot at composing and publishing a musical setting for Der Fischer. This was in 1779, 18 years before Schubert was even born. Our musical readers can judge what Seckendorff made of it: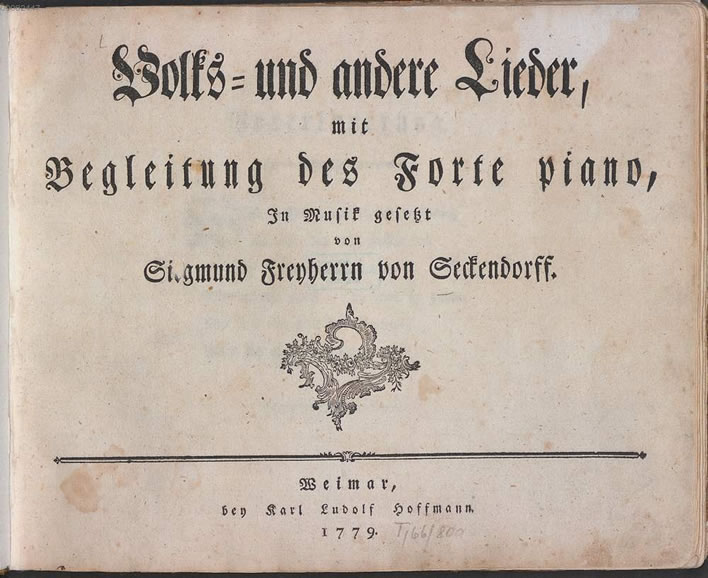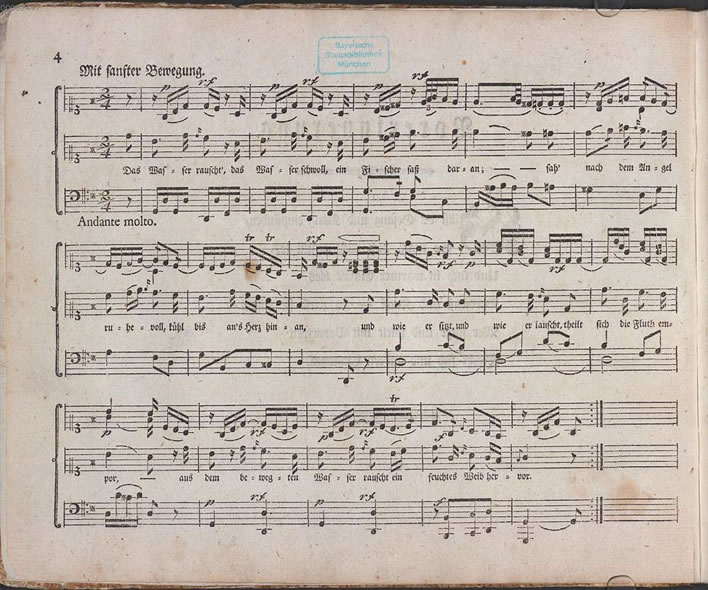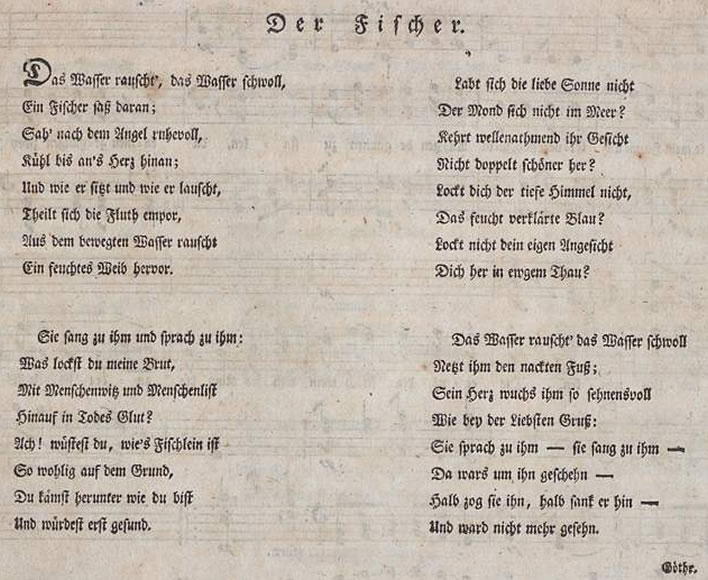 Seckendorff, Karl Sigmund von: Volks- und andere Lieder, mit Begleitung des Forte piano, In Musik gesetzt von Siegmund Freyherrn von Seckendorff , Bd.: 1. 1779. - 29 S., 1779. Images: Bayerische Staatsbibliothek. [Click to open a larger image in a new browser tab.]
Herder used Seckendorff's text as the source for his reproduction of the poem in his Volkslieder in the same year, but seemingly changed the title for some reason to the clunky Das Lied vom Fischer.
What the glittering ones at the court of Carl August made of it – if they even noticed it at all – is unknown. Lyncker, the gossipy page, mentions nothing of it, of course, even though Goethe's poem and Schubert's song outlasted all the courtiers and drones and their courtly fripperies.
The feeling of water
Goethe's displacement therapy about Christel's suicide strengthened over the years. He was a master at displacement thinking anyway, as anyone who reads his autobiographical work Dichtung und Wahrheit will soon realise.
In the case of Der Fischer we have an account from 1823 in which the now 74 year old Goethe, at the pinnacle of his fame and respectability, looked back on that poem written in 1778 by his 29 year-old self. A conversation reported by his dogged young worshipper, Johann Peter Eckermann (1792-1854), tells us by its dissembling nonsense just how well 45 years of displacement therapy had done its job:
'Only a few artists,' he continued, 'understand this point and know how to cope with it. They paint, for example, my "Angler" and never think that it is not able to be painted. This ballad merely expresses the feeling of water, that lovely thing that lures us to bathe in summer; further than that there is nothing else in the poem, and how can that be painted!'
Die wenigsten Künstler,« fuhr er fort, »sind über diesen Punkt im Klaren und wissen, was zu ihrem Frieden dient. Da malen sie z. B. meinen ›Fischer‹ und bedenken nicht, daß sich das gar nicht malen lasse. Es ist ja in dieser Ballade bloß das Gefühl des Wassers ausgedrückt, das Anmuthige, was uns im Sommer lockt, uns zu baden; weiter liegt nichts darin, und wie läßt sich das malen!«
Johann Wolfgang Goethe, Gespräche, 1823, 3. November.
Well, the poem in question does indeed open with the key object das Wasser, 'water', and, as we have seen, the rhythms and noises of water pervade the whole poem. But to say that water is the only thing in the poem and that it is incapable of objective representation is high-grade nonsense.
Here we encounter one of the less appealing sides of Goethe's old age, his ability to serve up the first nonsense that came into his head and project it largely unopposed because of his enormous authority as the sage of Weimar. What he tells Eckermann here about Der Fischer is not just nonsense, it is the final stage of decades of detaching himself from his early life, from the emotional turmoil of his Sturm und Drang period, from all that Empfindsamkeit, 'sensitivity' and, of course, Werther.
'It's just a poem about water and the way it lures us to bathe in it' – really? Pull the other one, Herr Geheimrat.
Unless, of course, that is all that is left in Goethe's mind, the worn and polished remnant of a memory of a winter night almost half a century before, in that period when the depressed Goethe had 'days withdrawn into myself with sadness'; that night just after Christel's death when he stood on the slippery Floßbrücke and looked up to Orion glittering in the cold sky and looked down deep into the icy water at his feet where Orion was glittering too; standing poised in the great vertigo between that height and that depth made more vertiginous by the rauschen of the weir and the vision of the wet woman, the tormented Christel, pulling him in to join her in a place where he would at last be healed and become whole – gesund.
Now, finally, we understand what he wrote to Charlotte:
This beckoning sadness is as dangerously attractive as water itself, and the light of the stars in Heaven that twinkle from both of them lures us.
Diese einladende Trauer hat was gefährlich anziehendes wie das Wasser selbst, und der Abglanz der Sterne des Himmels der aus beyden leuchtet lockt uns.